Michael Dausch, the 2016 Georgia Section Merchandiser of the Year for Private Facilities, is the PGA Director of Golf at Dunwoody (Georgia) Country Club.
Michael Dausch on the importance of using the golf range for fun member events during down times:
To encourage member participation, we do events on the driving range during down times. These include concerts as well as an annual camp night called Campground Dunwoody. For the concerts, people spread out a blanket on the range and enjoy listening to well-known singers like Edwin McCain and Kevin Griffin (formerly of Better Than Ezra), Emerson Hart (of Tonic), Emily Saliers (of Indigo Girls), and Ken Block & Andrew Copeland (of Sister Hazel).  It's a little intimate concert with a few hundred people, and there's even a "meet and greet" with the band for people who arrive early enough. For Campground Dunwoody, fathers and their kids pitch a tent and spend the night on the driving range. This Friday night event features a campfire, scavenger hunt, outdoor barbecue, and fishing derby, which is special because fishing is not normally allowed on the golf course. We cap things off with a big buffet breakfast the next morning, and everyone must be packed up by 6:30 a.m., when the driving range is open for golfers. In addition to the Concert Series and Campground Dunwoody, the staff also annually hosts their 4th of July Celebration, Easter Egg Hunt, Fall Festival/Halloween Carnival, Glow Putting, and Screen on the Green on the driving range as well.  These events are an added incentive offered by the staff to encourage more participation at the club.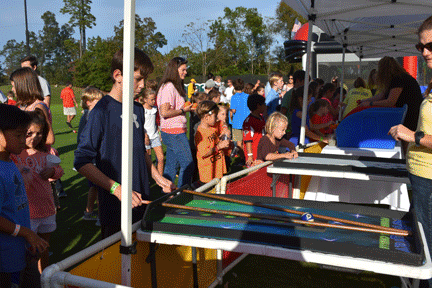 Michael Dausch on the business impact of using the golf range for fun member events during down times:
Coming up with some non-traditional events on the golf range has been a home run for Dunwoody Country Club. I believe it has helped Dunwoody become one of the more popular clubs in the Atlanta market and has helped encourage membership. At the height of the recession, we had about 50 open membership spots, and now we have roughly 50 on waiting list. In addition, it has helped encourage more participation by members in club activities. We're competing for our members' time, trying to offer more reasons for them to use and prioritize the club for their leisure activities. Our goal is to have members use the club, be active, and be on property as often as possible, and events like this are helping us move in a great direction.