The practice range is an important part of most golf operations, giving members and guests a place to hone their swing or work with an instructor to improve their game. However, it's easy to overlook the range's potential for selling merchandise–and we're not just talking endless buckets of practice balls. Many golf courses have discovered they can use the range to ramp up their club fitting business, leading to increased club sales, while others are profiting from trunk shows and other events held in this space, which can create new revenue streams for the facility.
In the clubfitting arena, Carlsbad (California) Golf Center has an active range where customers are encouraged to work with professionals and try out 10-plus top club brands. In fact, the facility does about 95 percent of its club sales through fitting, while also selling grips, accessories, shoes, gloves and apparel in it's adjacent shop.
"It's kind of like 7-11, with accessories by the front counter, a grab-and-go setup," says PGA Professional and owner Susan Roll. "We're a destination shop. A lot of people who come to the range live within a 10-mile radius, but our clubfitting has a much wider audience around the world."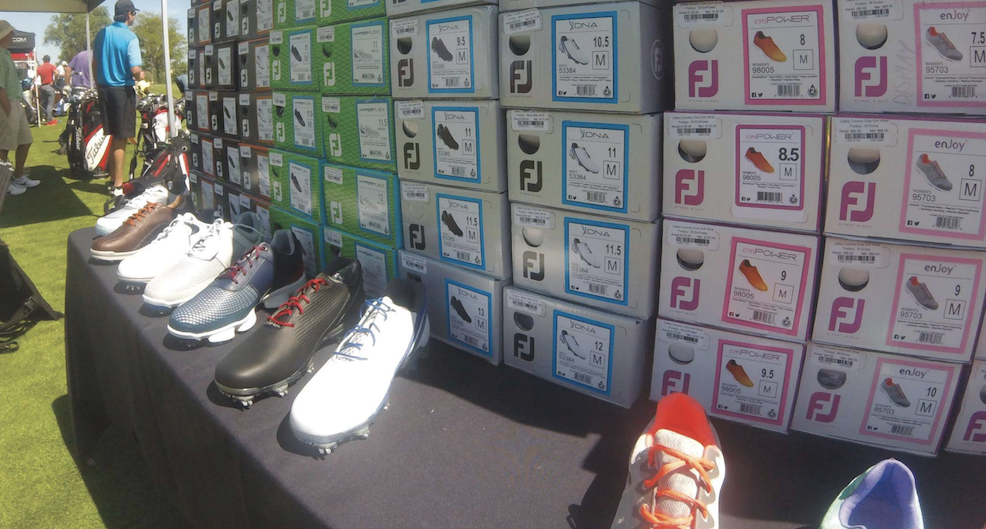 In the northern part of the state, Haggin Oaks Golf Complex in Sacramento, California, has taken advantage of the large Millennial audience its attracted with its "24-hour range" by holding sidewalk sales adjacent to the practice area. The events are stocked with a selection of trade-ins, which are priced according to the PGA Trade-In Value Guide and marked at a 40 percent margin. "We took some of our inexpensive equipment and set up the sale down by the range stalls between 8 p.m. and midnight," says Ken Morton Jr., AGM, VP of Retail and Marketing at Haggin Oaks, which held two such events last summer, setting up four eight-foot tables for iron sets and single golf clubs like drivers, fairways, hybrids and wedges.
These range nights were promoted via social media and email blasts, but Haggin Oaks relied mostly on the heavy Millennial audience found on the range in the evenings – with the two events bringing in about $4,000 in total revenues. "We continue to find that Millennial customers are looking for fun, inexpensive social activities. As a result, our 24-hour range does more business when the sun is down than when it's up during the summertime, and it's done heavily with the 20-something crowd," Morton Jr. says. "In an effort to tie in our retail business to this active Millennial scene, we brought some of our merchandise to them."
Clear across the country in Lake Worth, Florida, the John Prince Golf Learning Center has a full inventory of new and pre-owned clubs, fitting carts from all major brands, a good stock of women's and left-hand clubs, and closeout apparel. The staff does a lot of suggestive selling on the practice range, and the facility publicizes its quick turnaround on club repair and same-day re-gripping services – backed by a full selection of grips from all major manufacturers with a full inventory in stock.
"The (teaching) pros will normally mention it to their students during the lesson if they see the student's grips are worn out or need replacing," says Martin Paluch, merchandiser with Custom Fit Golf and Club Exchange, which services the John Prince Golf Learning Center. "There is also signage and special grip displays that help with merchandising grips. Our slat wall display lets the customer feel the grip with a shaft inside of it to help them choose what style they want."
Special events on the range can also drive additional dollars. For example, Valley Country Club in Centennial, Colorado, hosts an annual demo day at the start of each season that includes a tent set up with equipment, three to four apparel lines, five shoe lines, golf bags and a wide array of accessories. All this is complemented by lively music, food and cocktails, and the tent includes a fitting room with mirrors and fans.
"It's a big day; in fact, it's the biggest sales day of the year," says Barry Milstead, PGA Head Professional at Valley Country Club. "Between the equipment and added bonus of apparel, sunglasses, shoes and other products – it becomes a big revenue opportunity for us."
Having the dressing room on the range so people don't have to go back to the golf shop makes them much more likely to try on apparel, which leads to increased sales, according to Milstead, who adds: "Holding the event in late April or early May at the start of the golf season makes it even more successful. It kicks things off and gets things in our members' hands. Everyone is excited, so we are able to capitalize on that."
Mill Creek MetroParks in Youngstown, Ohio, holds Family Range Nights once a month from April through October, where the staff offers a free 90-minute lesson to anyone who signs up for the event, which usually attracts 80 to 100 people. According to PGA Director of Golf Brian Tolnar, when parents bring their children into the golf shop on Family Range Nights, he can almost guarantee they will walk out with something – whether it's a hat, glove, shirt, tees or golf club.
Mill Creek MetroParks averages an additional $700 to $1,000 in shop sales on those evenings, with a total of $5,000 to $6,000 added to the bottom line since the program started in 2015.
"The event kills two birds with one stone: growth of the game and new customer merchandise buying development, especially junior golf and beginner golf clubs," Tolnar says. "The program has proven to be a great way to train customers and educate them on the golf business, all while giving us the opportunity to nurture them as loyal customers."
At Union League Golf Club in Philadelphia, PGA Director of Golf Sean Palmer says he no longer devotes much "valuable real estate" in the golf shop to selling golf equipment. Instead, he holds "Clubfitting Saturdays" each week from April through July, with the club's professionals setting up shop on the range from 8 a.m. to 5 p.m. Members are welcome to spend time with the staff to evaluate their equipment and get fitted for what they need, free of charge.

"We have seen a huge spike in club sales by offering this hands-on service for golf equipment by showing the improvements new equipment will yield on the range," Palmer says. "Not only did we increase club sales compared to last season by 36 percent, but we also keep our golf professionals teaching lessons rather than doing hour-long clubfitting sessions that may or may not result in a sale."
Facilities that benefitted from holding trunk shows at the range include McDivot's Golf Range in Helena, Alabama, whose Midsummer Ladies Golf Clinic in July included a presentation of Callaway and PGA Tour apparel on a patio area next to the range.
"Most of the women attending were professionals in the Birmingham area, and it was a great way for them to network," says Shella Sylla, director of operations at SisterGolf, which organized the event. "The trunk show, which featured women's golf shirts and skorts appropriate for tournament play, highlighted the importance of having proper golf attire. Women are always interested in fashion, so I felt I could use it as a draw to get more women to participate."