Matt Borocz, the 2014 PGA North Florida Section Merchandiser of the Year for Resort Facilities and the Section's 2018 Golf Professional of the Year, is the PGA Assistant General Manager and Director of Golf at TPC Sawgrass, in Ponte Vedra Beach, Florida.
Matt Borocz on the importance of utilizing simple methods to have a safe yet effective practice facility:
Here at TPC Sawgrass, we have taken multiple steps to make our practice grounds as safe as possible, engaging in social distancing guidelines while still serving as an effective practice area. First, we eliminated all the touch points in that area, including bag stands, benches, and club cleaners. A multi-level practice range, the only touch point we still have up is rope designating where to practice or warm-up. We typically have players warm-up or practice on half of our "resort tee," which entails around 20 hitting stations. (You can see that area in the yellow circle in the pictures.) We've expanded that to now utilizing the entire resort tee daily, which totals around 40 hitting stations (the red rectangle in the picture).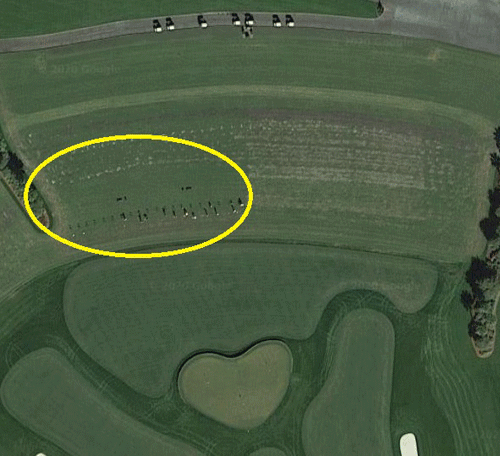 Matt Borocz on the business impact of utilizing simple methods to have a safe yet effective practice facility:
By expanding to 40 available stations we now can have 20-25 people spread out over a larger distance, enforcing social distancing while still letting the amount of people who need to utilize the practice grounds have access to it. The bag stands typically designate where someone could hit, but with those removed we have "Practice Partners" and PGA professionals monitoring the range to ensure that people are following the guidelines. (We're finding most people are adhering to it on their own, seeing that we've given them additional space.) Because domestic and international travel has largely ceased during the pandemic, it's almost entirely members who are playing TPC Sawgrass at the moment. Consequently we are sending out emails two times a week to provide new information and reinforce guidelines, and are sending daily emails to staff to make sure they are up to date on any changes. We've added signage for both entry points and the practice grounds to help reinforce social distancing guidelines. All told, opening our entire resort tee and ensuring everyone warms up or practices more than six feet away from other players has helped keep everyone safe, active and with an opportunity to get some fresh air and enjoy the game of golf.
If you would like to contact the author of this Best Practice directly, please email mborocz@pga.com