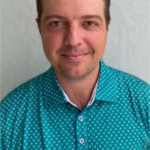 Martin Paluch is the PGA (Associate) Head Professional at the John Prince Golf Learning Center, a GRAA Top 50 Stand Alone Facility in Lake Worth, Florida.
Martin Paluch on the importance of offering "All You Can Practice Days":
John Prince Golf Learning Center is a busy stand-alone range in Palm Beach County. We offer mat hitting station four days per week and all-grass stations the other three days. On those mats-only days, we have an incredible deal known as "All You Can Practice Days" from Sunday to Wednesday. For just $18 per person per day, golfers have unlimited access to the range, short game and putting areas and our special three-hole practice course. They can come and stay for the day, or stop by for a few swings before work, and return afterwards for a more extensive practice session or fun with family and friends. The diverse clientele that takes advantage of this offer includes beginners and seasoned golfers, men and women and boys and girls of all ages. It's a great way to engage the many new golfers who have come our way over the past year. Once we have them onsite, we can talk to them and see what their needs and desires in the game of golf might be. It's understood among golf facility operators and head professionals that the keys to golfer retention are helping them play better through instruction, offering a genuine golf experience through on-course play, making it affordable and convenient for their schedule and finally, highlighting the fun and social aspect of the game that so many new golfers seek as we continue to come out of the pandemic. Our "All You Can Practice Days" promotion checks many of those boxes.

Martin Paluch on the business impact of offering "All You Can Practice Days":
"All You Can Practice Days" are the most popular days at our facility, and we welcome many golfers. This promotion breaks down some of those cost and time barriers that often hinder growth in our industry. With so many people coming and going, we have the opportunity to promote our player development programs and private lessons. Our teaching staff is always hard at work to offer something for everyone in this regard. With four other golf facilities run by Palm Beach County, all GRAA award-winning facilities as well, the more golfers we can get through our player development programs, the more rounds we'll see at the other venues. So, not only are we cross-promoting amenities at John Prince, we're highlighting all aspects of Palm Beach County Golf.

If you would like to email the author of this Best Practice directly, please email customfitgolf@icloud.com.