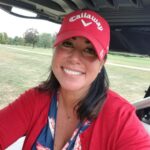 Marissa Kulig Crow, the 2019 LPGA Northeast Section Teacher of the Year, is an LPGA Golf Coach at Lyman Orchards Golf Club in Middlefield, Connecticut.
Marissa Kulig Crow on the importance of increasing golfers' practice and play through clinics and leagues:
The Lyman Orchards Golf Center opened in 2012 with less than 200 women participating in classes. In 2013, there were two classes, Golf FORE Women 101 and Golf FORE Women 201, modeled after the PGA Get Golf Ready Program. I tweaked the classes in 2014 and added a Golf FORE Women 301, an on-course class. In 2015, I added a Golf FORE Women 401 and in 2017 a Golf FORE Women 501 was added. The 401 and 501 classes are on-course classes as well with play between our Par-3 executive course and our two 18-hole courses. Each season, numbers increased and I knew women needed to continue to progress in their skills. After the season ended, I surveyed the women and was able to tailor the classes to what they wanted. I offered a new women's league that helped me again tailor the on-course classes with a program called, "Practice with the Pro's". Golf FORE Women 301 through 501 includes five on-course classes and five range sessions, called, "Practice with the Pro's". Last year's season was cut short due to COVID-19 but we still broke our previous year's record with 820 students in our program. This season we are tracking toward over 1,200 students in our Golf FORE Women program. We have four special events each season for women, including non-competitive scrambles called Golf FORE Fun Scrambles, exposing the women to an outing setting, with contests, raffles and dinner. We have 260 women in our golf league. The club's General Manager, Jason Beffert, PGA, has been entirely supportive; he has welcomed my ideas and been an overall help. New staff or coaches have to be on the same page with teaching the Golf FORE Women classes. I want the women to have fun learning, which means keeping the information simple and easy to understand. Early on, we promoted classes through radio, our website and to four or five local adult education coordinators. Recently, we added social media, e-blasts and coordination with nine adult education offices to the promotion mix.

Marissa Kulig Crow on increasing golfers' practice and play through clinics and leagues:
Women golfers generate revenue for our practice facility and the courses through more classes, recreational play, league play, the purchase of clubs and merchandise, Apple 9 (executive course) memberships, range memberships, and food and beverage sales. According to Jason Beffert, PGA, the revenue generated from women's clinics increased from $83,000 in 2017 to $160,000 in 2020, and are forecasted to be over $200,000 in 2021. Our Golf FORE Fun women events result in 500 rounds and over $27,000 in revenue. The women's league on the Apple 9 brings in over $23,000 in fees; the women play about 250 rounds per week in the league for an additional $4,300 in revenue weekly and that doesn't include merchandise and food and beverage sales. We use the league to "graduate" ladies from the Apple 9 to the 18-hole courses, and we have nearly 50 women golfers a week playing the regular courses that have higher greens fees. In total, the women's league generates 5,500 additional rounds, and nearly $120,000 in greens fee revenue annually. Our lesson program has also had an impact on our couple's league that has 40 couples. Overall, our women's golf program helps generate over $300,000 for the club.

If you would like to email the author of this Best Practice directly, please email marissakulig@gmail.com.