Tour players who'd gamed Nike equipment describe the testing and decisionmaking process behind their new sticks
BY: GARRETT JOHNSTON
When Nike announced last August they would no longer produce hard goods, the company's PGA Tour staffers knew they had some key decisions ahead.
Five-time tour winner Nick Watney, who missed all of last season with a back injury, did not rush the process even though he made his decision quickly.
"I didn't hit any balls or chips or putts for five months (while injured), which I haven't done since I took up the game," says Watney, who learned that Nike would be leaving the equipment industry during his time away. "I didn't rush it though, once I started hitting balls again but it was an easy transition, pretty seamless. I think it would have been tougher had I been playing."
His transition to TaylorMade only took a couple days once he tried clubs out in both Southern California and near his home base in Las Vegas. It's one thing for amateurs to get new golf clubs for Christmas or a birthday, but how does this potentially overwhelming process begin on the PGA Tour level?
Russell Henley began with the golf ball, then the irons and wedges, and lastly the woods.
For Henley, the aesthetics of other clubs outside the Nike family were understandably different and he had to make a visual adjustment.
"I think there's a little different look over the ball but you've just got to give yourself a little bit of time to get used to it," Henley says. "They're all great clubs and if you just give your mind some time to adjust then you'll be fine."
Henley played Titleist through the fall and is now playing them completely throughout the bag. His fellow Nike staffers are essentially free agents, and as such the choices they're presented from other companies can be more than one's ready to digest.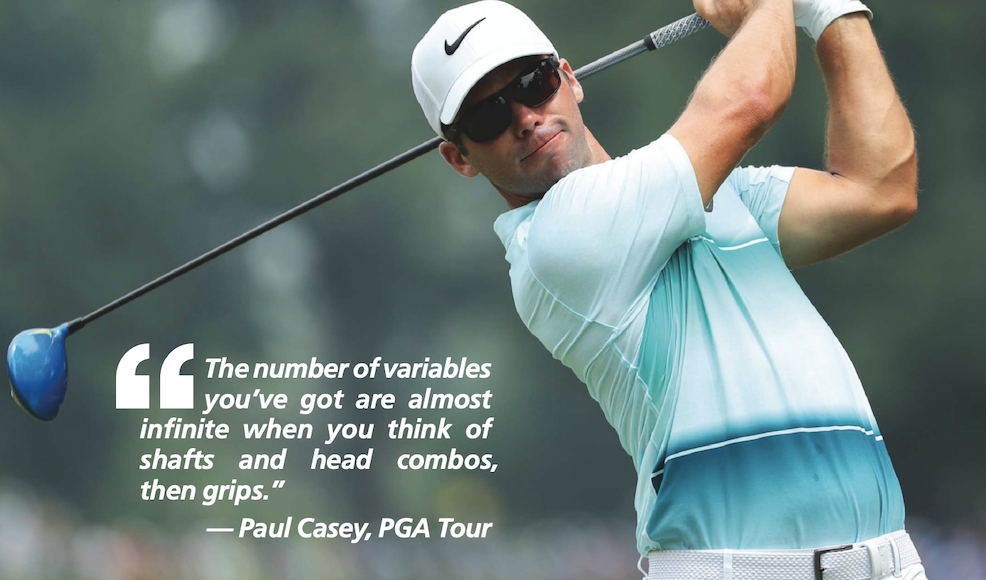 "It's a lot of fun but it's actually way more daunting than people think," Paul Casey says. "The number of variables you've got are almost infinite when you think of shafts and head combos, then grips. It's like those people who figure out how many sandwich combinations there are. You start to add mayonnaise and mustard and pickles into the equation and it gets into probably billions of combinations."
Casey did, however, find a convenient way to simplify the process at least with his driver.
"I took that Diamana 70x prototype shaft straight out of my Nike, threw it in a TaylorMade head and it works great," Casey says. And the name of Casey's son, "Lex," remains ingrained on the shaft.
Understandably, Casey is taking a slow approach on equipment overhauls, especially with big events on the horizon.
"You don't want too many variables when your season gets going quickly and before we know it we're at Augusta and we'll be in for some serious stuff," Casey says. "Sometimes the best thing to do is realize, even in golf, that if it ain't broke don't fix it."
Casey showcases that philosophy most by sticking with his old Nike Vapor irons for now. He figures his ranking of second in greens in regulation on the PGA Tour last year was good enough reason to hang on to them longer. But he found inefficiency in his clubhead speed (top 30) and driving distance (54th) last year, thus the change to the 2017 TaylorMade M1 driver and 2016 M1 3-wood.
Casey's contract with Nike goes through the end of 2017, but he's still able to play whatever he likes.
Perhaps Nike's biggest athlete announced their switch to TaylorMade, as well. During the PGA Merchandise Show, the company unveiled a new multi-year equipment partnership with Tiger Woods. Woods is expected to eventually play 13 TaylorMade clubs, although at the time of this story his Nike irons remain in the bag.
"Throughout my career, I've always been meticulous about my equipment. Over the past few months, I've had clubs from every brand sent to me to test. When it came to making a final decision, the choice was easy—it all came down to performance, which is why I chose TaylorMade," Woods said in a statement released by the company.
On the other end of the career spectrum, PGA Tour Rookie J.J. Spaun called the transition "particularly daunting" because he felt he'd played the best golf of his career with Nike equipment. But like everyone else, he had to adapt. The 26-year-old decided to make the change first with his putter, and immediately won the Web.com Tour's News Sentinel Open in August.
Spaun knew a big adjustment between the Web.com to PGA Tours would be speed of the greens, so he prioritized finding the right golf ball combination for his clubs – eventually settling with the Srixon Z-Star after tinkering with a Titleist ProV1.
As far as equipment, Spaun ended up with Srixon irons (both Z 965 and Z 765s), Cleveland wedges, the new TaylorMade M1 driver and the new M2 3-wood, and the Scott Cameron Newport Timeless GSS putter.
"I felt like that was the best combo for me just because you can't go wrong with TaylorMade woods, and the Srixon irons were probably the most identical to my Nikes, which I like because it felt like I didn't have to adapt as much. Just the way they sat, the top line was really similar to the Nikes I'd been playing," Spaun describes. "When you look down and like the way something looks that often transpires into a good swing and ultimately good shots."