By Jeremy Schilling
What does golf mean to you?
For many that's a cliché question, which typically leads to an equally-cliché response.
16-year old Athens, Georgia resident, Cooper Burks, looks at that question differently, however. To understand the impact golf has had on him, you need to first ask a different question: What defines a practice facility?
Because, for Burks, the location where he picked up the game wasn't a golf course or a driving range – it was a hospital. Yes, a hospital.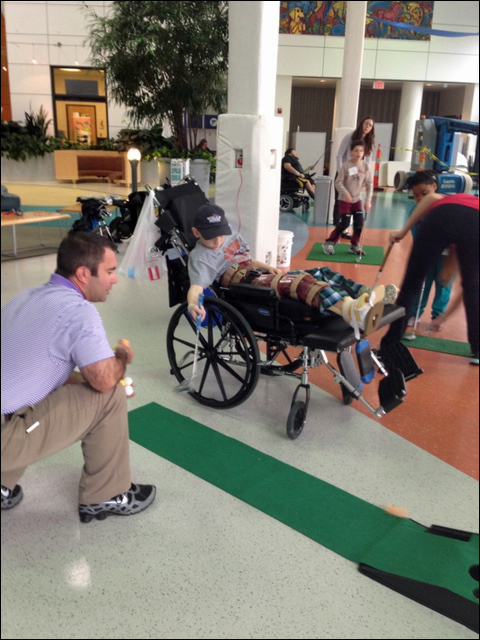 Cooper, age 9, practicing his swing at Ranken Jordan's makeshift range
The Nashville, Tennessee native was born with arthrogryposis and hip dysplasia (two dislocated hips). A surgery at nine months old fixed the left hip, but he went on to have over two dozen surgeries trying to get the right hip to stay in the socket before doctors finally did a hip replacement on that right hip in January of 2016 at age 12.
A complex case, in 2012 he was transferred from a Tennessee hospital to Ranken Jordan Pediatric Bridge Hospital in St. Louis, Missouri. There, one day eight years ago, in the cafeteria, he met a PGA Professional named Kevin Corn, who holds weekly golf sessions at Ranken Jordan. Burks, eight-years-old at the time, was a diehard sports fan and enjoyed watching golf, but playing golf was another story. Corn's persistence changed everything.
"He said 'We're about to play golf if you want to,'" Burks remembers. "I said that I didn't think that I could in my bed….And he said 'Oh it's easy – you definitely can.' I initially looked at him for a few seconds like he was nuts. [But] he put me over where they were playing golf and put the tee onto the mat and pushed my bed onto where I could lean over the side and use one arm to hit the ball. When I hit it I thought, 'Okay, I can actually do this, this is something I would really like to do.'"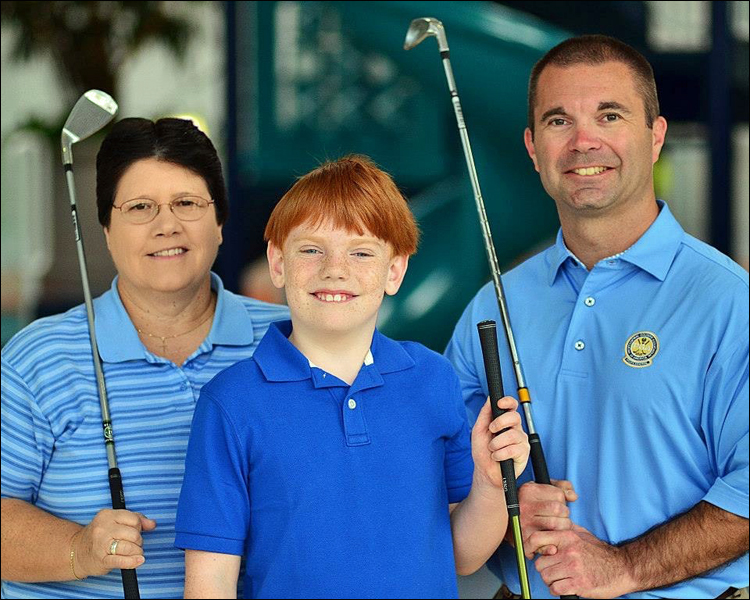 Cooper, Kevin and Ranken Jordan's Community Program Coordinator Janine Roe, CTRS
Needless to say, playing golf from a hospital bed was also a shock to Burks' mom, Kellye, who happened to be with her son at Ranken Jordan that day.
"I walked in right after Kevin had told him he could do this," Kellye Burks remembers, "and [hospital staff] said [Cooper] was over in this area playing golf. And I said 'Playing golf? What are you talking about?'"
"I kind of walked over there with a look on my face of 'You are out of your mind!' I remember looking at Kevin for the first time thinking 'You are crazy, what's going on?' And I saw Cooper hit the ball and I remember looking at [Corn] thinking 'Oh my gosh, you are the most amazing person in the world. You found a sport my son can play'…I think I was pretty much in tears."

Cooper, Kevin and Cooper's mom Kellye Burks in 2012
By day, Corn is the PGA Head Professional at Innsbrook Resort Golf Course, in Innsbrook, Missouri. However, every week his team volunteers their time at Ranken Jordan. Using donated equipment and Almost Golf Balls, they seek one goal: that feeling of hitting the ball in the center of the clubface. Like Burks, it may be from a hospital bed or a wheelchair or a walker, and it may simply be a four-foot putt or a full swing in the simulator, but Corn and his team make every accommodation to achieve that goal. In ten years they've touched over 5,300 patients.
Burks and Corn's relationship continued long after Cooper was discharged, with Corn providing clubs to Cooper upon being released from the hospital. He also provided ongoing support, swing tips, coach recommendations, and more. Burks' love of the game has continued to grow stronger – even through more surgeries – and he consistently gets out to the University of Georgia Golf Course. If he feels up to playing, he plays. If he wants to just hit balls on the range with his brothers or his frequent playing partner Jacob Peterson, so be it.
"I first met Cooper when he was 8 years old and an inpatient at Ranken Jordan Pediatric Bridge Hospital. From the first time he put a golf club in his hands, he was hooked on the game, and we quickly developed a special bond through a mutual love of sports. It was obvious to me what incredible strength and determination Cooper had! He attacked learning to play golf with a passion I had rarely seen," Corn said.

"Over the next several years I watched Coop grow, heal, endure more surgeries, and heal some more — all with a big smile on his face and while swinging a golf club. He is one of the strongest people I have ever met and I am proud to say he is my friend and a hero of mine."
Next up is hopefully a spot on his high school golf team next year, something Burks never thought he'd possibly be able to do.
"It means a lot to me," Burks says, "because I never thought I would be able to be on a team with other people where they can play golf like I can but [they] just have more mobility in their legs to be able to do it."
And what are his golf hopes and dreams beyond high school? Without hesitation Burks said, "probably to play in a PGA Tour tournament one day….any event that I can do, I would be down to do it."
So what does golf mean to Cooper Burks?
"Golf is the sport that I love to play that I've known to play since I was little, in the hospital with Kevin."