What you can learn from four of the most distinguished facilities in the country
BY: SALLY J. SPORTSMAN
Ever wonder why there are so many repeat major championship venues? What sets those facilities apart? Magnificent oceans views could have something to do with Pebble Beach Golf Links' five U.S. Opens. Ties to the greatest amateur golfer of all time, Bobby Jones, made Atlanta Athletic Club an attractive destination for the 1963 Ryder Cup, 1976 U.S. Open and three PGA Championships. In 1965, Bellerive Country Club became the "youngest" course to ever host a major championship when the fiveyear-old "Green Monster of Ladue" hosted the U.S. Open – now it will bring the 100th playing of the PGA Championship to St. Louis in 2018. Historic Pinehurst No. 2 has its own "grand slam," as the only course to have hosted the PGA Championship, Ryder Cup, Tour Championship and U.S. Open.
These venues all have tremendous golf courses and great history in the game. Beyond that, each of their practice facilities provide members, guests and tournament participants with a major experience. We're taking a look at the four aforementioned venues and what they've done to enhance the practice experience and set themselves apart on a day-to-day basis.
Atlanta Athletic Club
Memorabilia of Bobby Jones' historic accomplishments adorn Atlanta Athletic Club. Although laser-powered devices that measure precise distances to the flag would seem farfetched to Jones in his heyday, it's hard to believe that he wouldn't be enamored by the fact that his home club now provides them for members to use on the practice range.
Both sides of the double-ended range – one side with 60 hitting stations, as well as a practice fairway bunker, and the other with 30 stations – are adorned with Laser Link rangefinders that members and guests can use at their leisure while practicing.
"We try to cater to people who are really serious about their practice," says PGA Master Professional Rick Anderson, the director of golf at the private club in Johns Creek, Georgia. "For those players who don't have their rangefinder with them, or they haven't purchased one, we give them one to use.
"They are spaced evenly behind the bag racks, with one for about every eight hitting stations," adds Anderson. "There are four stations to one side and four to the other, so those eight locations share one device." The Laser Link rangefinders are housed in a box that's attached to a 4-foot tall metal stake. They can easily be moved from one hitting area to the next, as golfers use a foot peg to jam the stake into the ground near their practice stations. The stake, as well as a drawstring that joins the rangefinder to the box, keeps them from being stolen.
"The Laser Link Practice System is that extra touch that puts a practice facility in the upper tier. It' a detail that golfers notice," says Dan Steiner, vice president of Laser Link. "All golfers recognize that knowing the distance you hit each of your irons is an important part of shooting lower scores, but one of the main issues at many practice areas is the lack of precise distance-to-target information."
Bellerive Country Club
Fifty years ago, in 1965, Gary Player became the third golfer to complete the career Grand Slam with his victory at the U.S. Open at Bellerive Country Club. He had practiced there daily with Jack Nicklaus, who had encouraged him to enter the tournament. Today, the practice areas at the St. Louis-area private club continue to be fruitful for players. When Bellerive hosts the 100th PGA Championship in 2018, competitors will encounter a practice facility with enhanced features, including the newly installed wedge range.
Mike Tucker, Bellerive's PGA head professional, is an avid short game teacher. He learned his methods from the club's prior PGA head professional, his brother Jerry – designer of the Tucker Short Game Test. The diagnostic exam calls for golfers to hit a variety of short game shots in order to identify weak areas of their short game, and, furthermore, help instructors know how to best utilize their time with a particular student. The test begins with 100 different short game shots, ranging from three-foot putts to 100-yard wedge shots. For more details on the Short Game Test, you can check out jerrytuckergolf.com or download the mobile app.
"We built our wedge range based on the yardages outlined in the short game test my brother developed here 30 years ago," says Tucker. "We have targets from 30 to 105 yards, arranged in 15-yard increments." The target greens are made of artificial turf designed to replicate the on-course putting surfaces, with radiuses varying from six to nine feet. They're placed among a zoysia grass landing area that mimics the reactions of the fairways and rough found on course.
"A key element of any practice area, especially a short-game center, is it that simulates what players will face on your particular golf course," says Tucker. "As much as we have it set up for the test, it's there for members to practice and improve an important part of their game. The wedge area was inspired by the short game test, but the total area was designed to enhance the practice experience for our members."
Pebble Beach Golf Links
Coastline views and magnificent golf on seven layouts lure golfers from all over the world to this famous public resort. Pebble Beach Golf Links has hosted multiple major championships, including the U.S. Open (five times) and the PGA Championship (1977). In addition, it is home to the AT&T Pebble Beach National Pro-Am and the Nature Valley First Tee Open at Pebble Beach.
Yet there is far more to this renowned California venue than beauty, history and championship golf. The new Pebble Beach Golf Academy & Practice Facility, which opened last year along with a new range, offers individualized and group golf instruction with cutting-edge swing technology.
Cutting-edge is actually an understatement – futuristic cyborg technology is more like it. Pebble Beach is one of eight locations in the world to have a Robotic Swing Trainer, which lets a student feel and duplicate the perfect swing. Pebble was the first in the United States, but since they've popped up in Southern California, Chicago and New York. One question that's heard often by Laird Small, the PGA director of instruction at Pebble Beach Golf Academy, is: "Do you fear that this will make your job obsolete?"
"On the contrary, it actually makes me more valuable," says Small. "It allows students to work on their motor pattern, and then I can show them how to hit different shots with it. How to move it right to left or left to right. How to play the game, manage the game and score better."
Additionally, the Robot is "infinitely adjustable," which allows instructors to calibrate the Robot to target specific swing flaws. It can also be adjusted to show a student the proper feel for hitting precise distances with their wedges.
Since installing the Robot more than a year ago, it's been in high demand among students at the Pebble Beach Academy. "Almost every lesson we give, the Robot is part of that learning experience," says Small, adding that there is no additional cost for students to use the Robot. "It's a chance to really provide deep learning about the swing motion, pattern, synchronizing and how the club should move on a very repetitive and consistent basis." Even PGA Tour players have seen the value. In particular, Vaughn Taylor visited Pebble Beach shortly after the Robot was introduced and was so enthralled that he purchased one himself that he keeps at home in his garage. Since working with the Robot, Taylor has jumped back to the PGA Tour in 2015 after spending all of last year on the Web.com Tour. He's made 10 out of 11 cuts this year and earned two top-10 finishes.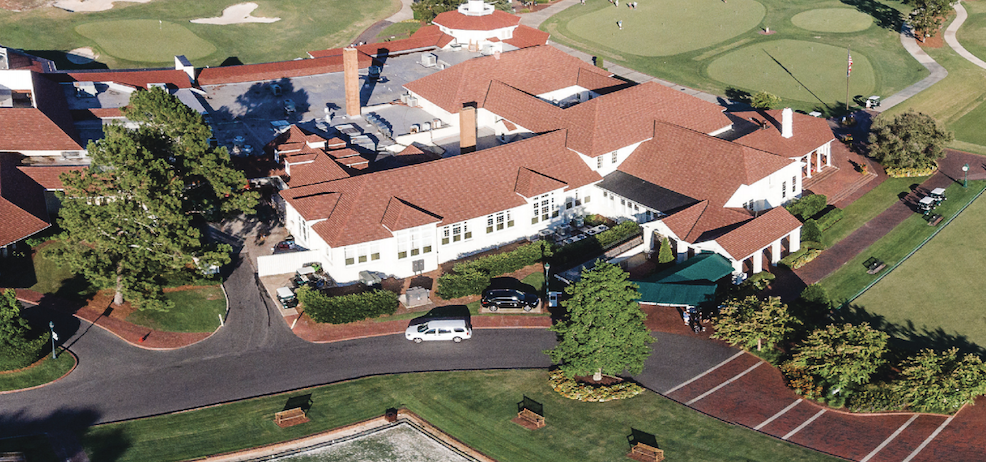 Pinehurst Resort
The relaxed southern hospitality at Pinehurst Resort & Country Club in the North Carolina Sand Hills, is a magnet for golfers. Established in 1895, Pinehurst evokes a sense of golf history. Several major championships have been contested there, including last year, when, in an unprecedented move, the USGA brought both the men's and women's U.S. Opens to Pinehurst No. 2, played in back-toback weeks.
It's the Pinehurst Golf Academy, though, that many golfers seek out as a place where they can learn, practice and sharpen their games. "Our practice facility is special," says Eric Alpenfels, the PGA director of instruction, who has been at Pinehurst since 1985 and also serves as director of the Pinehurst Golf Academy. "It gives players the opportunity to practice what they will see on the courses, especially the Donald Ross-designed No. 2, which has the most undulations around the greens."
Dubbed "Maniac Hill," Pinehurst's expansive practice area near the clubhouse covers over five acres, and features two large putting greens and three greens used to practice chipping, pitching and greenside bunker play. An additional area provides a re-creation of a green from Pinehurst No. 2, including pot bunkers, elevated pitch shots and various short-game shots. "It is visually appealing and active all day long," Alpenfels adds. "It is meticulously maintained to preserve its quality and integrity. Even if guests can't get onto the historic No. 2 course during their stay, we give them a taste of it with our practice range."