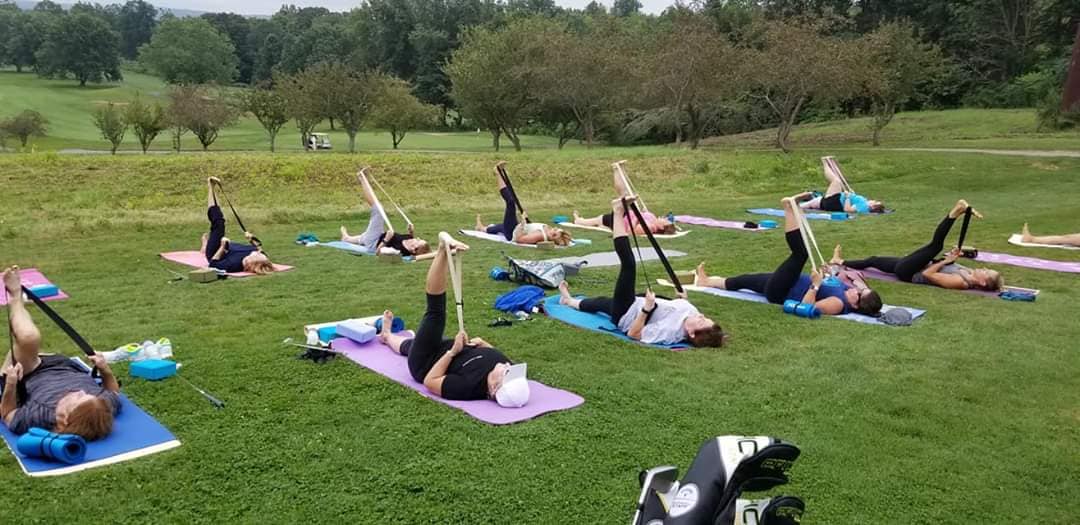 By Marissa Kulig Crow, LPGA
As an LPGA Professional, I wanted to improve my golf instruction by researching the physical and mental aspects of the game through concepts like the Titleist Performance Institute (TPI) and GolfPsych. I was particularly intrigued by Katherine Roberts' Yoga for Golfers Instructor Certification Program, though I had never taken a yoga class myself. I did, however, love the benefits it provides and felt that this program would complement my style of instruction. Since April of 2019, I have completed Levels I and II and have successfully incorporated Yoga for Golfers into my teaching style, as well as offered Yoga For Golfers classes.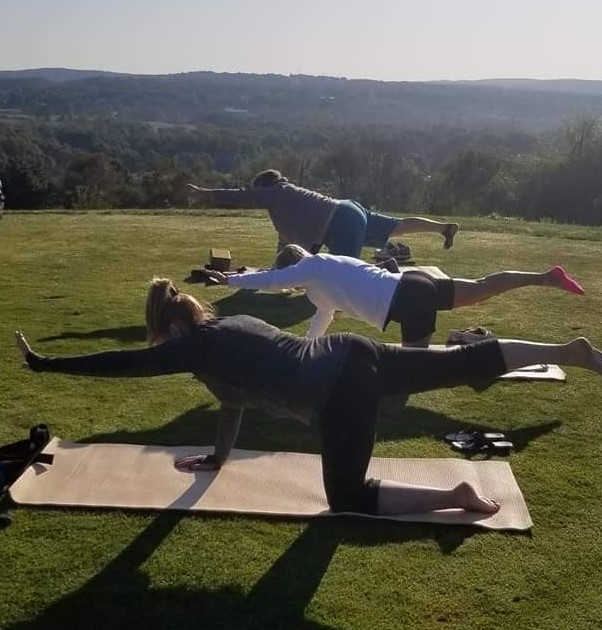 As it says on Roberts' website, "Katherine is a pioneer and leader in the field of yoga-based fitness for golf. Her unique and highly effective approach blends yoga, science, and proprietary golf-specific conditioning strategies into one powerful methodology. Yoga For Golfers harnesses and integrates power of the body with power of the mind to increase and enhance performance, enabling golfers at all levels to play better, play stronger, and play longer."
Going through the certification process, I began to see the golf swing on a different level, understanding the biomechanics. Most golfers' swing flaws are due to weak movement patterns that often stem from issues with lower back pain, lack of mobility with shoulders and/or hips, or lack of flexibility with the back or leg muscles. Yoga For Golfers targets these golf muscles and joints with a sequence of postures. Understanding the impact that movement patterns have on the golf swing helps me pinpoint physical limitations and effectively merge yoga and conventional golf drills to gain optimal results. I feel that this education has elevated my instruction so that I may help all my students improve efficiently and maximize their results.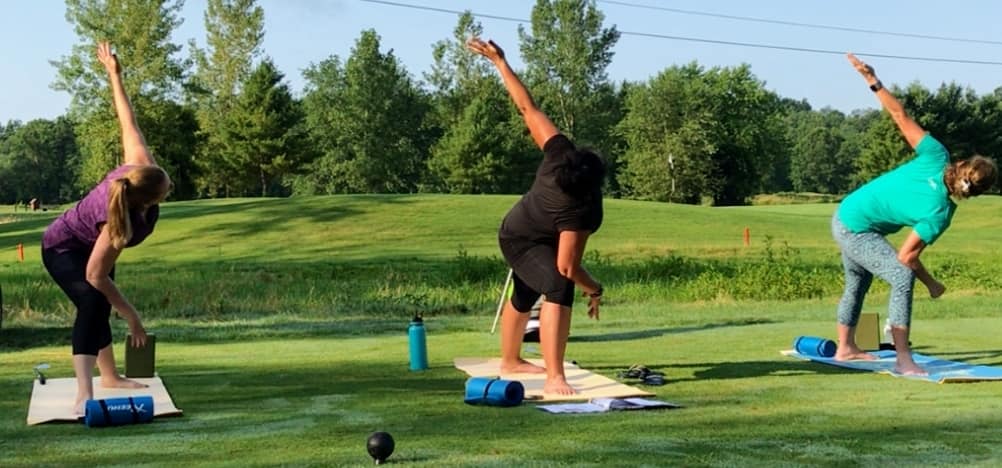 No experience is necessary to take a Yoga For Golfers class. I always start by asking students about their yoga experience, and the majority have never taken any type of yoga before. I put them at ease by telling them that we won't be doing any headstands and I will not put them into a pretzel. Each class follows the same format with breathing, a dynamic warmup, standing poses, balance poses, core, seated poses, and restorative poses to conclude. Yoga For Golfers is a class with a variety of stretches that focus on our golf muscles working in all three planes of motion; frontal (lateral), sagittal (flexion & extension), and transverse (rotational). This one-hour class incorporates flexibility, strength, balance, core conditioning, and breathing awareness.  It also teaches focus, relaxation, and visualization techniques. Katherine Roberts' Yoga for Golfers is not one type of yoga, but a blend of three or four different types of yogas, as well as pilates.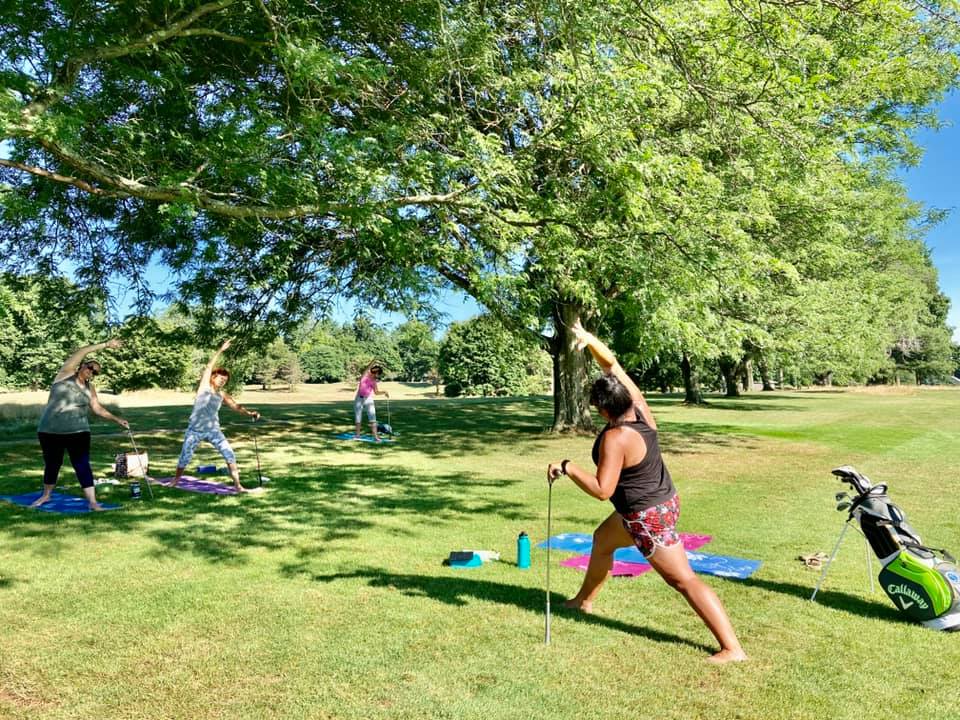 I have a diverse clientele consisting of teenagers, retirees, men, and women of various fitness levels. Anyone can do Yoga For Golf – there are always ways to modify poses to accommodate students with physical limitations, recent surgeries, or injuries. 
Our classes are not taught in a typical yoga studio. I am fortunate to conduct classes outdoors on the golf course and have enjoyed teaching with the most beautiful views of our facility. Saturday mornings have been a popular time slot, as students enjoy starting their weekend with a Yoga For Golfers class and then perhaps a round of golf or a practice session on our range afterward. We conduct a couple of baseline assessment tests at the beginning and end of the class – these tests measure real results. Time and time again, students are blown away by how much they can increase their range of motion and are eager to play or practice with their newfound flexibility. Being outdoors with the sun shining above you, the plush bed of grass beneath you, and the comforting sounds of nature all around is the ideal setting.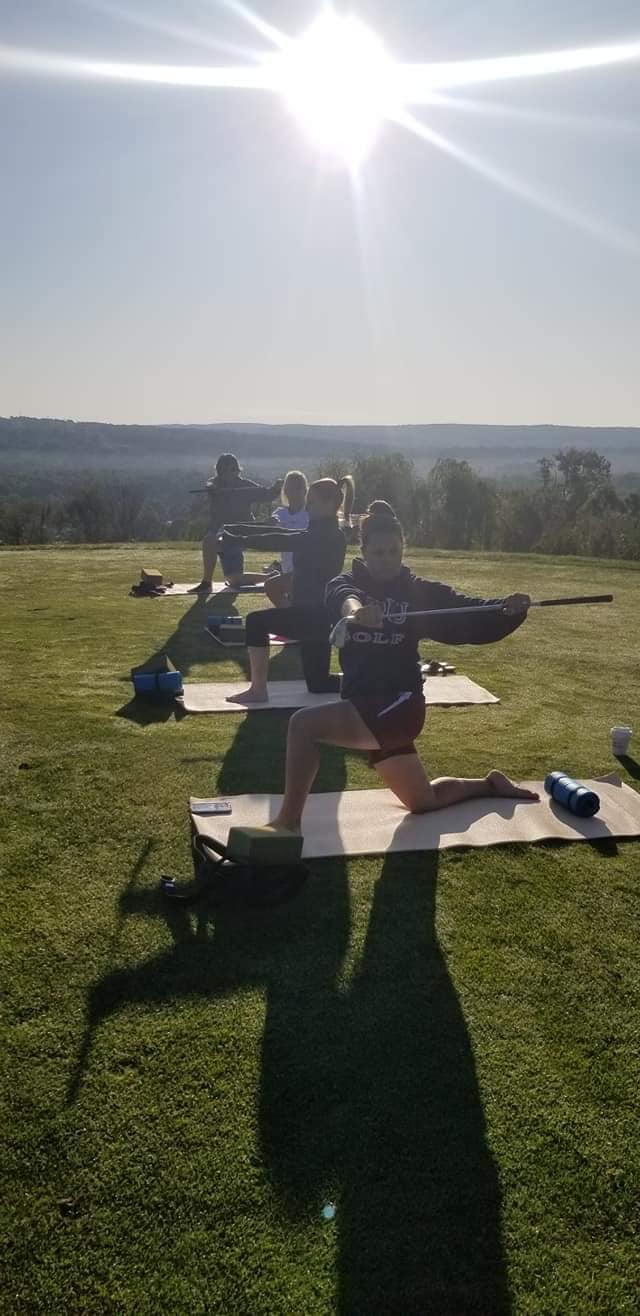 Teaching Yoga For Golfers classes the last two seasons has been quite fulfilling for me, as it has for my students. Teaching full-time and not having the opportunity to practice or play is often a challenge for PGA and LPGA Professionals trying to compete in professional events. Having participated in only two events in the past two seasons, I practiced Yoga For Golfers during the evenings, as well as the mornings prior to play, and I never felt better. Having a four-year-old son can be taxing on my lower back, and the lack of swinging a club only adds to the situation.  However, practicing my breathing and doing specific stretches for my back, shoulders, and hips helped me feel comfortable and confident swinging the club with no aches and pains and even gave me the endurance to complete two consecutive 18 hole rounds. I believe in Yoga For Golf whole-heartedly, having experienced the results myself.
Students who have never practiced yoga had this to say:
"I felt amazing after my first Yoga For Golfers class. I have an unstable LS spine leaving me with chronic pain and tightness in my lower back, butt, and hips. That first class loosened up my back and hips (among other body parts), reducing the level of pain I've been living with. This is the best I've felt in so long. And even better…the class is so enjoyable."  Laurie Whelan, 30-year golf veteran
"'I've always known that stretching before physical activity is important, but the great thing about Yoga For Golfers is that it isn't just doing yoga poses; it focuses on movements our bodies do when swinging a golf club and how important our breathing is when making that swing! I now make sure I do some of Marissa's positions before I go out on the course, and am very conscious to exhale before I start my backswing. And for a first-year golfer, it has helped me a lot!'  Patti Flynn-Harris.
Marissa Kulig Crow is an LPGA Class A Professional at the Golf Center of Lyman Orchards. She has been in the golf industry since 1995 having held positions from greenskeeper to general manager. She was the 2019 LPGA Northeast Teacher of the Year and has been at Lyman Orchards, a 2019 GRAA Top 50 Public Golf Range, since 2013. Marissa lives in Westfield, Massachusetts.