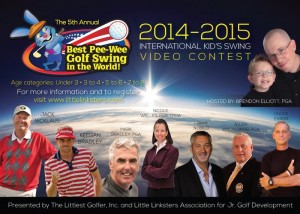 Little Linksters "Best Pee-Wee Golf Swing in the World" 
Video Contest Celebrates 5th Year 
Jack Nicklaus & Keegan Bradley Join Star-Studded Panel of Industry Judges 
Deltona, FL (November 3, 2014) Kids from across the world get ready! Little Linksters, LLC, The Little Linksters Association for Junior Golf Development and The Littlest Golfer Inc. are pleased to announce the fifth installment of their Annual Best "Pee Wee" Golf Swing in the World Video Contest. This is the five straight year Little Linksters, LLC, along with the Little Linksters Association for Junior Golf Development (501c3) and The Littlest Golfer, Inc., have hosted the kid-centric contest for children 8 years old and under. Once again this year, some very heavy hitters from the golf world have joined the cause, including 18-time major champion Jack Nicklaus and PGA Tour star Keegan Bradley.
The popular contest allows parents to upload a video to YouTube of their "Little Linksters" swing. Videos will be submitted over the following two months, and prizes will be awarded in four age groups—ranging from ages 3 to 8. Voting will be conducted by a panel of industry veterans and experts.
"In our first two years, we were very excited to have such a successful launch of what we wanted to continue to grow into an annual showcase of what very young golfers are capable of doing," explained PGA Professional Brendon Elliott, founder of Little Linkster's, LLC and Little Linksters Association for Junior Golf Development. "After last year, we knew we had something special, as almost 200 entries poured in from over 14 countries from around the world.
"We have been very honored to have such a recognized and esteemed celebrity panel of judges in our past contests, including Annika Sorenstam, Hank Haney, Kelly Sheehan, Lexi Thompson, Jim McLean, Win McMurry, Paula Creamer, Nicole 
Weller, Chuck Evans, Brittany Lincicome, Gary Player, Allen Wronowski, Frank Nobilo and Holly Sonders. This year might take the cake in terms of our judges!"
Elliott, who was a US Kids Golf Top 50 Kids Teacher (2010, '11 and '12), a 2013 US Kids Golf Top 50 Master Kids Teacher, a four-time NFPGA Junior Golf Leader award winner (2011-14), as well as a two-time Top 50 Growth of the Game Teacher as named by the Golf Range Association, will lead the judging. He will be assisted by this year's celebrity panel of judges, which is arguably one of the best assembled groups the contest has seen in its five years. Taking part in the 2014-2015 campaign:
 Jack Nicklaus—Considered by many as the greatest that has ever played the game, Jack has set the standard in professional golf. His record 18 major championship wins continue to be the benchmark by which the best in the game measure their careers. Jack was inducted into the inaugural World Golf Hall of Fame in 1974, was named Sports Illustrated's Individual Male Athlete of the 20th Century, and was awarded the Presidential Medal of Freedom—the highest honor bestowed on a U.S. civilian. He is a global businessman, acclaimed course designer, philanthropist and advocate for junior golf programs worldwide.
 Keegan Bradley—In the short time Keegan has been a PGA Tour professional, he has quickly risen to the top of the golf world. In 2011, Keegan won the PGA Championship and was named Rookie of the Year. He is and will likely be a Ryder Cup and President Cup member for many years to come.
 Mark Bradley, PGA—PGA professional at the Jackson Hole Golf & Tennis Club in Jackson, WY, Mark is the father of PGA Tour standout, Keegan Bradley.
 Frank Nobilo—A proud native of New Zealand, Nobilo had a very successful playing career that included 15 worldwide wins. Nobilo was an International Team member for the 1994, '96 and '98 playings of The Presidents Cup. Today, Nobilo is a prominent Golf Channel personality, anchor and analyst on the all-golf network.
 Allen Wronowski, PGA—The 37th President of the PGA of America, Allen now serves as Honorary President of the largest working sports organization in the world. Allen recently retired from Hillendale Country Club in Phoenix, MD, where he served for 35 years. Allen now serves as the Director of Golf Development & Resources for the Folds of Honor Foundation, which provides scholarships to family members of service men and women who have died or were disabled while defending our country.
 Nicole Weller—Multiple award-winning PGA and LPGA professional. Most recently, Nicole was named the 2013 PGA and LPGA National Youth Player Development award winner. Nicole is the Director of Instruction at the Landings Club in Savannah, GA. Nicole is the author of Stick to Sports "Let's Play Golf," as well as the company's new Golf Flash Card Game.
 Chuck Evans—Golf Magazine Top 100 Golf Instructor, Golf Digest Top Teacher in America, and the Face of Medicus Golf. Chuck is the author of the acclaimed golf book "How to Build Your Golf Swing."
Parents are encouraged to participate in this contest by uploading a video (no longer than 60 sec) to YouTube of their "Little Linksters" swing. Once the video is posted to YouTube, parents must share that video link to the Contest Entry Form on the contest page on www.LittleLinksters.com. The contest entry period begins this Friday, Nov. 7, and will run through Jan. 9, 2015. Contest registration, complete details and instructions will be available at http://littlelinksters.com/best-pee-wee-golf-swing-in-the-world/ on Friday.
Prize packages will be awarded in four age categories: Under 3; 3–4 year olds; 5–6 year olds; and 7–8 year olds. Each prize package is valued at more than $1,000 and includes items from some of the industry's best children's golf apparel, equipment and training aid companies:
 The Littlest Golfer gift pack
 U.S. Kids Golf Set of UL Clubs and other accessories
 Cleveland/Srixon gift pack
 MVP Sports training aids package
 Golfer's Footprint 
 Almost Golf play anywhere pack
 Athlete Nation online lessons
 Little Linksters Membership pack
 Sticks to Sports "Lets Play Golf" Book & NEW "Match Play" Game
 Kwik Golf gift pack
 My Mini Golf gift pack
 Swinggait Swing Trainer 
 Star Putter Training Aid 
 Exemption & Tournament Entry for each age group winner to the 2015 FCG World Championship in San Diego 
 MORE TO COME!!!! 
Winners will be announced at the 2015 PGA Merchandise Show in Orlando at the Littlest Golfer Inc. booth. 
The Little Linksters golf program in Central Florida is designed specifically for children ages 3 to 8 years old. The program is taught in a fun and interactive way, using both traditional and non-traditional instructional methods to ensure children's first introduction to golf is FUN! The Little Linksters mascots Floppy, Birdie & Bogey are featured in the programs instructional coloring book and training aids.
The Little Linksters Association for Junior Golf Development, a 501c3 nonprofit in conjunction with AAU, is continuing to develop a national program that will enable teaching professionals from across the country to grow their business and the game of golf with a proven program that combines a child-friendly approach, a complete program curriculum, and uses items from some of the industry's best training aid and junior golf equipment companies.
The Association's newest project, called G.O.A.L.S. (Golf Outreach Advances Life Skills) is specifically aimed at introducing children ages 3-12+ with special needs to the game of golf. In doing so, children will learn valuable life skills that will help them throughout their life.
To help the nonprofit, Little Linksters Association for Junior Golf Development contact them at nonprofit@littlelinksters.com
To donate go to: http://littlelinksters.com/little-linksters-associatio-for-junior-golf-development/
For more information about the "Best Pee-Wee Golf Swing in the World" Video Contest or the Little Linksters Association for Junior Golf Development, please visit www.littlelinksters.com or contact Brendon Elliott at Brendon@LittleLinksters.com or by phone at (321) 278-1612.