Childhood visits to his grandfather's golf center stoked Joel Weitz's ambition to one day own the Wisconsin landmark. With multiple expansion projects he has taken it to new heights
BY: CHRIS LEWIS
When George Vitense founded his golf practice facility in Madison, Wis., in 1955, standalone ranges were dispersed around America's bigger cities and a few were beginning to dominate their markets. To ward off competitors, Vitense designed a companion par-3 golf course, at the time a rarity. A while later he installed lights and extended course hours to accommodate factory workers getting off their day shifts. Staying open until midnight in summertime, the center offered Wisconsin's very first—and to this day, its only—lighted golf course. Vitense, a PGA professional, even built a double-deck range, unheard of back then, as well as two 18-hole miniature golf courses.
By the mid-1960s, Vitense Golfland was offering customers everything from go-carts to in ground trampolines. This was family amusement centered on golf and its founder built the business to last. He died 25 years ago but his facility is still family-owned, these days by George's grandson, Joel Weitz. Following in grandpa's footsteps, Weitz would also become a PGA professional—even serving as Wisconsin PGA president. In time he would take over all business operations at the Vitense facility, aided by his wife, Sarah, and their enthusiastic employees.
Weitz's path into full-time golf operations had a detour that taught him the intricacies of number-crunching and business planning. Having spent many summers of his childhood working at the golf center he opted to study accounting at college then worked as a CPA for seven years prior to becoming Vitense Golfland's president.
"I always loved golf and loved our family business, but I wanted to develop a set of business skills that would allow me to effectively manage the facility," Weitz says. "My CPA auditing career helped me hone skills I now apply on a daily basis to the business."
To build upon the Golfland's legacy, Joel and his wife have undertaken multiple improvement projects since purchasing the property in 2001. In September 2013, they hired a contractor to design eight golf suites, comprising more than 5,000 square feet. With the development of these suites, which feature 18 covered tee areas, customers are able to keep their swings sharp all winter long, in hitting areas warmed by high-intensity heaters. In summer a cooling system counteracts the sticky, uncomfortable air to encourage extended practice sessions.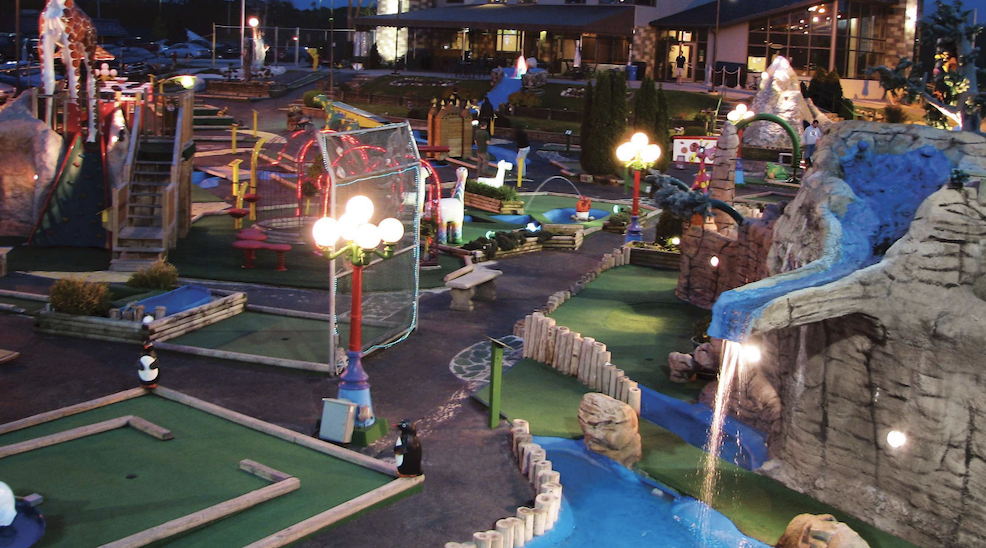 As you enjoy these comforts, a wait staff swings by to deliver food and beverages, including wine and locally brewed beers. Guests have an extensive menu to choose from, plus flat screen HD televisions and free wireless Internet service, as well as whichever musical genres they choose to listen to as they relax with their friends and family. To help track their golf progress, there are laser devices reporting the carry distance of every shot.
"The suites will be available for many different types of events," says Weitz, "including after-hours corporate get-togethers, casual gatherings, and lesson programs, which will combine golf practice with entertainment and camaraderie." It's a play on his part for the higher-income golfer. "With these suites, we will provide a range experience with amenities that may be pretty unique to our industry but have been offered in other sporting and entertainment venues for years."
Back in 2006, Joel and Sarah funded the development of a 20,000-square-foot building to replace the original clubhouse. Following suit with George Vitense's innovations, the new clubhouse, much like the recently constructed suites, features a combination of amenities that most golf practice facilities simply do not offer, including an arcade, a five-station rock climbing wall, a golf shop, a grill and catering service, remote controlled boats, and eight batting cages, which can be used for baseball or softball practice.
Joel and Sarah also had the notion to create an indoor, 18-hole miniature golf course dedicated entirely to the history of Madison, Wis. Each hole represents a feature of Wisconsin's capital city, from a replica of the Governor's Mansion to a miniaturized model of the capitol building. There is a sponsor for every hole, including such local businesses as the daily newspaper and a television station.
In 2006, 18 covered tee areas were enhanced with high-intensity heaters, so that guests could practice comfortably during the wintertime. With the development of the covered tee areas, the indoor miniature golf course, and a host of other amenities, Vitense's customer base increased dramatically in the winter, as clients sought shelter from the elements.
The obvious culmination of these projects was a high-tech learning center, the Vitense Golf Academy, a teaching and clubfitting studio that means business. Located across from the clubhouse's lobby, the studio is equipped with heaters, along with a garage door, allowing students to hit balls into the outdoor range as they receive instruction. Seven teaching professionals, with more than 100 years of combined experience, currently offer lessons to students of all ages and experience levels.
In addition to providing lessons, the studio is one of only approximately 20 golf facilities in the country to feature a TaylorMade Player Development Center. Utilizing Motion Analysis Technology by TaylorMade (the MATT system), the center's 3D motion technology, high speed cameras, and reflective sensors accurately depict every component of golfers' swings so that they are properly fitted for clubs.
"TaylorMade has invested a tremendous amount of resources to develop this clubfitting system," Weitz says. "Since late 2012, hundreds of customers have already utilized the Player Development Center. It's a real testament to the value of the MATT system." Vitense also hosts four-, six-, and eight-week long leagues in the summer and fall. Junior golfers, age seven to 15, as well as adults and senior citizens, participate in leagues of their own. The leagues tee off on the par-3 course on a weekly basis, with 20 minutes of instruction offered before each nine-hole round.
Juniors, especially kids aged three to seven, are welcome to receive instruction at each of Vitense's three miniature golf courses. The mini-golf provides instructors freedom to create an informative yet fun learning environment that will maintain children's interests. "Each hole offers elevation and slope changes so that children can develop their putting skills early on in life," Weitz explains. Vitense Golfland offers two types of membership packages, a one-year membership to the golf range, which includes two buckets of balls per day, and a year-long membership to the par-three course, which customers can play on an unlimited basis. "These memberships provide cash up front and build customer loyalty, driven by things like member-discount pricing," Weitz comments.
For more than 10 years, this destination golf center has been a GRAA Top 50 Golf Range in America. Customers tend to be repeaters—many spent their first dollars there when George Vitense operated it. These locals will come to the center now bringing children, grandchildren, and even great-grandchildren. "My wife and I, along with our outstanding staff, are excited about the future of our facility," Weitz says. "We consider ourselves fortunate to be able to maintain—and at times enhance—Vitense Golfland's status as a Madison landmark."