The Inverness Club, site of U.S. Opens and PGA Championships, is where golf professionals David Graf and Jim McGurk sketched out their plan for a new Toledo, Ohio golf landmark
BY: CHRIS LEWIS
They shared a passion for golf, a fondness for the city of Toledo and strong loyalty to their alma mater, the University of Toledo. And yet for two decades David Graf and Jim McGurk were mere colleagues and acquaintances in the golf profession. In 2011, Graf hired McGurk as his director of instruction at The Inverness Club, one of America's most prestigious golf landmarks. Graf was PGA Head Golf Professional at the famed club, whose major-championship glory dates all the way back to 1920. For sheer cachet, there was no way for either professional to improve on where they were—but apparently there are times when pioneering trumps prestige.
The industry was changing—this was clear to McGurk and Graf—in ways that seemed to encourage entrepreneurship and non-traditional golf experiences. The net effect was a combined vision for a full-scale teaching and performance center in Toledo. Eventually it seemed clear that partnering up in such an endeavor was probably the best shot at success for either or both of them.
Still sketching out the design and business model of their proposed center, Graf and McGurk began scouting around for property. No particular site seemed promising, then one day a friend of Graf's referred them to the owner of the Maumee Sports Mall Driving Range, located within an athletic complex that is home to indoor soccer, volleyball, and basketball facilities, among other recreational amenities.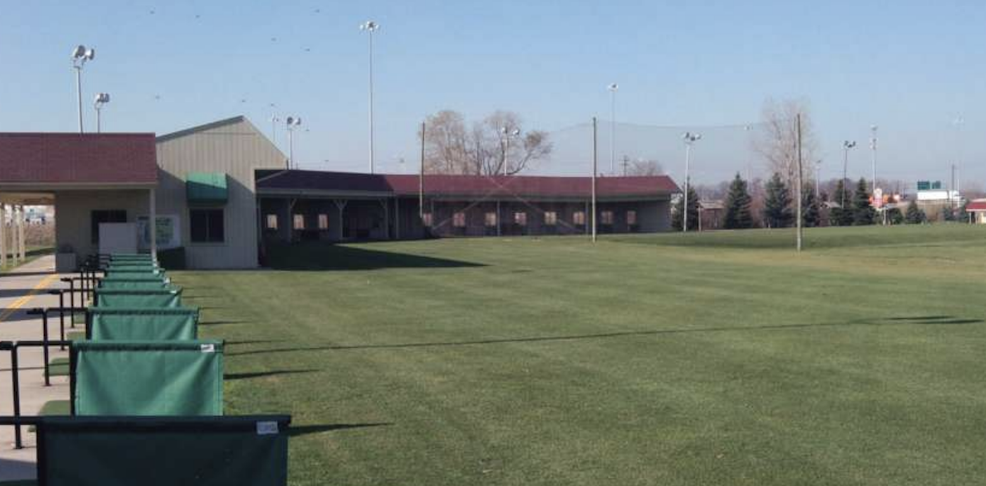 In August of 2012, after five months of negotiation, the Graf-McGurk partnership entered a lease agreement for the range. They renamed it The PIT, both in tribute to a swimming hole Graf remembered fondly from boyhood, but also because those three letters stood for Performance Institute of Toledo—a suitably loft subtitle. They hired a team to renovate the facility, speeding through that process in time to stage a December grand opening. Despite extensive updates that cost upwards of $500,000, the facility remained open as contractors labored on to the finish line.
The entire facility, including 25 heated bays, a 5,000-square-foot pro shop and a maintenance building, was repainted. Broken windows, bad siding and rotting gutters were replaced, while equipment like tractors, mowers, and range pickers were overhauled. The pro shop was re-carpeted, the bathroom was updated and professionally decorated, and various technological applications were installed, from computers to a new phone system. Graf and McGurk's team even developed a locker room, showers, a fitness area, and a therapy and waiting room for their recently hired sports psychologist.
"We basically gutted the entire facility and renovated everything, from A to Z," says Graf. "In doing so, we are now able to help golfers reach their full potential, by offering brand name clubs and equipment, clubfitting, a year-round practice facility, reputable instruction, a fitness center and sports psychology."
Currently the only stand-alone club repair shop in greater Toledo, The Golf PIT carries over 1,000 shafts, as well as grips from brands such as Winn, Golf Pride and Lamkin. The facility's clubmaker, John Hudak, handles the expected re-grip and reshaft work, but he also grinds wedges and spines shafts. He is the only area professional rated Class A by the Professional Clubmakers Society.
Arrive at The Golf PIT in search of custom fitting and you'll have the option of two launch monitor applications, courtesy of Foresight Sports and TrackMan. "What we offer in state-of-the-art technology is unmatched in our market," claims Graf. "I like to use the analogy that purchasing the Foresight Sports and TrackMan II launch monitor technology is similar to a doctor having an X-Ray or MRI machine. The doctor may be good at diagnosing problems, but, with these tools, we can be 100 percent certain."
Furthermore, The Golf PIT is an Advanced Fit Center for Titleist, which allows Graf and McGurk's staff of five PGA-trained instructors to offer a wide selection of shafts along with special wedge configurations that tweak such features as bounce and loft. The Golf PIT also provides fitting systems from vendors like Nike, PING, and TaylorMade, to name a few. "Since our fitters are PGA-trained golf instructors," comments Graf, "we feel we have the added advantage of using the fitting process as an opportunity to also educate and help our customers.
"As we prepare for the future, we would like to add to our fitting offerings and hire a full-time dedicated clubfitter. We also plan to add another TrackMan II launch monitor as demand increases," says Graf.
In addition to retailing the latest clubs, apparel, shoes and accessories, to complement the club repair and fitting center, The Golf PIT has a 20-acre driving range, complete with 52 hitting stations and 23 heated stalls. Since remodeling the facility, Graf and McGurk have also installed new heaters and synthetic grass mats. Golfers have taken notice, according to Graf. "The response has been amazing," he says. What's drawing them in? For starters, the facility currently has the region's only heated golf practice facility that is open on a daily basis. The Golf PIT is a destination if you want to sharpen your putting, chipping, and bunker skills at a short game facility, a large putting green, and a six-hole executive golf course, which is groomed with care. Golfers can come in iffy weather for individual, couple or group instruction, in the form of lessons, clinics, or schools, at two indoor teaching bays.
In particular, 90-minute clinics are available for ladies and beginners, discussing the fundamentals of golf, and are completely overseen by a PGA instructor, with a four-to-one teacher/student ratio, at minimum. From May to October, The Golf PIT also hosts programs for children age six through 12 (known as a PUPS Tour), as well as clinics held by The First Tee, an international youth development organization. Additionally, in the fall, The Golf PIT hosts a Junior High Golf Tour program for children in fifth through eighth grades.
During the summer, The Golf PIT also invites students to attend a four or eight-hour-long "VIP Golf School," in which they receive one-on-one instruction with a PGA instructor. As they are overseen by an instructor, students play nine holes in the morning, receive lessons, focusing on whichever facets of the game they need the most assistance with, eat lunch, and then play another nine holes in the afternoon.
To further help customers improve their games, The Golf PIT has also installed an e6 software golf simulator developed by Ace Indoor Golf. The simulator includes a library of 85 popular courses from around the world, along with a swing analysis program that measures customers' club face and launch angles. "We are planning to add another simulator for the next winter season," Graf says. "With an additional simulator, we'll be able to market eight-person golf leagues during the winter, which we'll be promoting this summer and fall."
Back in 2012, Graf and McGurk also hired Lane Bidlack, a certified strength and condition specialist and Titleist Institute Golf Fitness Instructor, as The Golf PIT's director of fitness. Bidlack and his staff of instructors offer "golf specific" fitness training to customers, focusing primarily on fitness capabilities like balance, coordination, and flexibility, to help them cultivate their swings.
"Jim and I believe that 'form' follows 'function' and that, by having a professional trained in how the body works, The Golf PIT has an advantage over other golf instructors. Most importantly, Lane offers a holistic approach to fitness, which helps our clients gradually improve their health and, in turn, their golf games," says Graf.
To help golfers realize their full potential, Graf and McGurk also emphasize mental health, and have hired sports psychologist Ruth Ann Tetz, Ph.D., a licensed clinical psychologist in the State of Ohio, to oversee The Golf PIT's mental coaching offerings. Working with groups and individuals, Dr. Tetz helps golfers of all ages and skill levels increase their self-confidence, improve their problem-solving skills, and maintain a more positive frame of mind.
By offering first-rate club repair, club fitting, practice facilities, instruction, fitness programs, and mental coaching, Graf believes The Golf PIT accomplishes its principal goal of bringing a country-club experience to average golfers.
"The Golf PIT provides everything a country club member would expect from their golf shop and professional staff: service, selection, product knowledge, enthusiasm, and expertise," says Graf. "The fact that the majority of my staff members either worked for me at Inverness, or were trained in the private club industry, gives customers confidence that my staff and I are credible." Keep an eye on this tandem if you want to see the academy of the future continue evolving and raising its standards. Prestige of a high-tech nature seems likely to follow.