Lamkin Corporation – the original manufacturer of premium golf grips – introduces Z5, the most advanced multi-compound grip on the market with five distinct zones that feature texture and color technology designed to deliver the perfect grip for maximum control, comfort and consistency with every swing.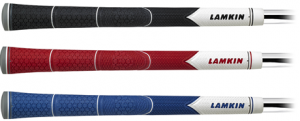 Each zone of the Z5 is uniquely designed for a specific performance-enhancing function. The horizontal pattern and soft cord weave under the upper hand augments grip stability and traction, while a shallow micro texture at the bottom improves feel and comfort for the lower hand. Carefully designed color patterns and a simulated rope texture in the middle zone promote proper hand pressure and placement, creating a fluid backswing to better position the club head for increased speed, distance and control.
"This is the most advanced grip Lamkin has ever produced, as our team of engineers scientifically broke down the key characteristics required to properly support the top and bottom hands during the swing," says Bob Lamkin, President and CEO of Lamkin. "We developed unique patterns, compounds, and textures for the Z5 that enhance feel and incorporate alignment aides to increase confidence and consistency on every shot."
The high-performance Z5 grips are made from a proprietary rubber compound that ensures maximum durability, feedback and torsion control while making the grip an excellent choice for all-weather playability. The functions of the five zones include:
• Zones 1 and 2 consist of a soft cord weave designed to provide the top hand with exceptional traction, enhanced comfort and slip-free confidence in all weather conditions.
• Zone 3 includes two FingerLock panels to ensure the thumb is in an optimal position, while a simulated rope texture offers a tactile response to enhance club control without the need for excessive grip pressure.
• Zones 4 and 5 provide an exceptional feel for the lower hand thanks to the shallow micro-texture and a V-shaped dividing groove that promotes consistent hand positioning.
The Z5 is available (starting at $7.99) in red, black and blue color combinations in standard size models at select golf retailers and at Lamkingrips.com. The midsize models will be available in late August.
Offering the widest assortment of performance-enhancing golf grips, Lamkin has been an industry leader for more than 90 years. In addition to the legendary Arnold Palmer, the company's famed products are preferred by PGA Tour superstars Justin Rose, Keegan Bradley, Brandt Snedeker, Miguel Angel Jimenez and many others.
Lamkin grips are unrivaled in quality thanks to world-class engineering, premium materials and handcrafted, repeatable production techniques. Other Lamkin offerings include the new SINK, Wrap-Tech and UTx models, as well as the iconic Crossline, the popular R.E.L ACE 3-Gen, and Tour Van options crafted according to Tour player specifications.
More information: LamkinGrips.com or 800-642-7755. Get social: @LamkinGrips.
About Lamkin Grips
Lamkin Grips' golf heritage dates back to 1925 when founder Elver B. Lamkin began manufacturing golf's first leather grips. Today, the family-owned business delivers the industry's widest assortment of performance-enhancing golf grips that continue to earn loyal customers worldwide. Through their ongoing dedication to unequaled product quality and service support, Lamkin Grips is passionately committed to connecting golfers to a more confident, consistent and enjoyable game.
Contact:
Shannon Lee
Buffalo.Agency
703.940.3521
slee@buffalo.agency