Kevin Cashman, the 2003 Minnesota PGA Section Merchandiser of the Year for Private Facilities, is the PGA head professional at Bearpath Golf & Country Club in Eden Prairie, Minn.
Kevin Cashman on the importance of creating a club culture through big events:
The golf shop at Bearpath Golf & Country Club is all about creating the culture of golf at our club. Big events bring big excitement to the club, and one of those, Evening on the Tee (See images below), is the showcase of creating that culture of golf at Bearpath. Taking place the first Friday night in June, the main goals are to host an event that kicks off the golf season, gathers the membership for an evening of fun, food and entertainment, and allows the golf shop to present its vendor partners for demo, marketing and sales. Over the past 10 years, it has become one of the biggest events at the club and is incredibly well-supported by the members. This past year, Bearpath made a commitment to take Evening on the Tee to a new level, raising the bar by bringing it Under the Lights. This transformation involved four key elements: moving to an adults-only atmosphere with later hours, live music, dancing and cocktails; creating a "big" feeling with two large octagon tents in the middle of the practice tee with food, bars, seating, high-top tables, a dance floor and risers for the band; enhancing the vendor partners with a marketplace atmosphere; and illuminating the practice area with lights for a new excitement of hitting balls on a big stage. Developing each of these key elements was important for creating a culture of golf that members and staff are proud and excited to be a part of.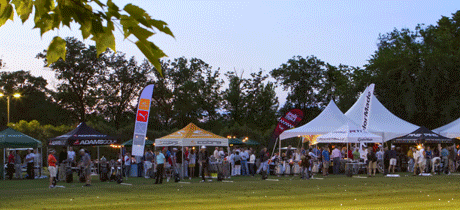 Kevin Cashman on the business impact of creating a club culture through big events:
The success of this event is still being talked about. More than 400 people attended, and merchandise sales were above $18,000. Our vendor partners were blown away. The participants had a lot of fun with dancing, adult beverages and wonderful camaraderie, along with a great energy to kick off the season. Members and guests were treated to an evening under the lights that was over the top. Creating a culture of golf that is exciting and fun, and bringing people together while driving the member experience, is what the golf shop at Bearpath is all about.