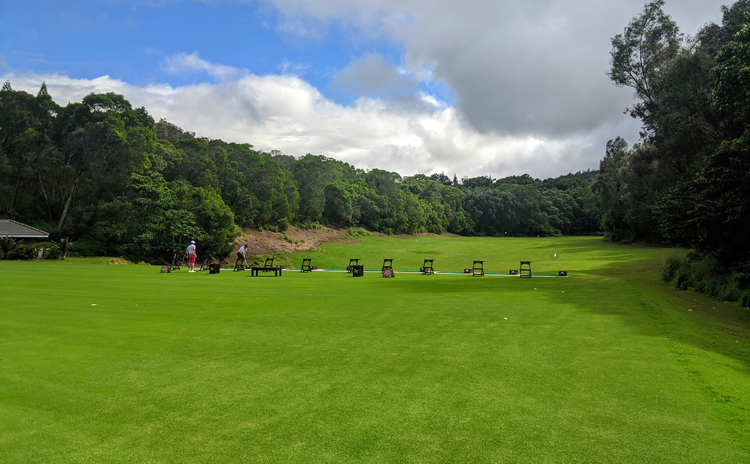 By Scott Kramer
There is a giant golf range and instruction facility centrally located at the renowned Kapalua Resort, in Maui – and it's  usually pretty busy. Yet, most visitors don't know there's another, much more secluded range at the renowned Plantation Course about a mile up the hill. It's a three-minute golf car ride from the clubhouse that meanders through two tunnels and along a gorgeous rock wall flanked by lush greenery.

With the recent renovation of this famed PGA Tour venue, came a simultaneous revamp of the intimate Plantation practice range. The tee boxes were flattened and re-grassed, and a concrete slab was poured to accommodate 10 practice tee mats for use in the weeks leading up to the annual PGA Tour Sentry Tournament of Champions event. As a result, the range now has a lush private feel to it. It's very serene, and surrounded by tall trees.
"To be consistent with the course, we re-grassed the entire range with Celebration Bermuda turf," says Alex Nakajima, PGA Director of Golf. "That's a high expectation level by the PGA Tour — it needs to be matching grass. Also, before, the teeing area wasn't large enough. It worked for a 30-man field like we have at the T.O.C., but for daily use it was limited. So, we thought about how to pour money into it. Our alternative was to use the central Kapalua Golf Academy down the hill as a warm-up station. The PGA Tour was okay with that, but convenience-wise we wanted to upgrade the Plantation range so players could grab a coffee and breakfast, then walk over and hit balls."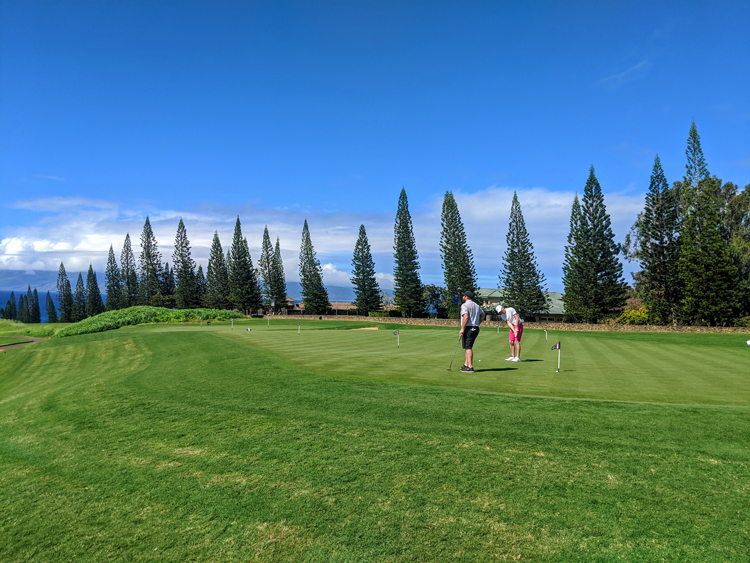 As it turns out, that was only the beginning of the practice area upgrades. Directly in front of the clubhouse was a huge, expansive practice putting green. To make it more functional and upscale, officials eliminated the big face bunker that was there, then contoured the green and reduced its size by one-third. With that extra land, they created a new blemish-free chipping green, practice bunker, and chipping green fairway.

"It now has a much more welcoming feel," says Nakajima. "We're already seeing an increase in player activity there. It's especially convenient right before a round, as it's right next to the first tee. Having a nice short-game warm-up area pays dividends. Now the green has movement similar to the course – before it was just large, flat and slow. So, it didn't translate well to the course."
As word of the upgraded practice facility breaks downhill toward the ocean — much like the putts themselves  — golfers at the resort will surely come up to try it out.