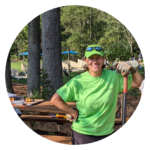 Julieta Stack, LPGA is the Director of Instruction at the Baltimore Golf Academy at the Pine Ridge Golf Course in Lutherville-Timonium, Maryland.
Expand Time on Property via Conservation Efforts
Julieta Stack on the importance of expanding time on property via conservation efforts:
So many of us live and work in areas that are environmentally sensitive or have endangered species/wildlife residing at our courses. For several years we have been wondering what to do with several areas at our facilities that were out of play from a golf perspective yet perfectly bare and just waiting to be used for an environmental or conservation purpose. The Baltimore Municipal Golf Corporation manages five golf courses and a driving range on city-owned watershed property that feeds into the Chesapeake Bay. The local Gunpowder Conservancy (GVC) was awarded a $50,000 grant to use at one of the courses, Pine Ridge. We've used our weekend programs as a way to get our regular customers to pitch in and play their part. Ultimately, our ability to conserve this vital area and increase the quality of our facilities will keep customers coming back for generations to come.

Julieta Stack on the business impact of expanding time on property via conservation efforts:
The GVC site plan included putting shrubs, trees, and plants in buffer areas as described above. The golf experience remained paramount. How we integrated the community was a lot of fun. We have junior clinics that run hourly from 9am-12pm on Saturday mornings. When GVC was conducting a planting event, our juniors and their parents would finish up with their golf clinic and head over to help with the planting. Our juniors will now literally grow up alongside many of the trees they have planted – 211 so far with 250 to come over the next two years. The sense of ownership, pride and understanding they feel has been cool to see. They have learned, in very short order, why it's so important to do our part in helping the Chesapeake Bay area and these courses function at their maximum positive potential for generations to come. The bottom line here is that we run these courses on behalf of the city, so we want that relationship to be the best it can possibly be. Having a second purpose, so to speak – we recently won a Certificate of Honor from the aforementioned Gunpowder Conservancy for our efforts – which helps fortify that relationship in a unique way. And the benefits for the golf course extend to more time on property for juniors and their parents, more reasons to be proud of their golf course and the increased likelihood of them returning. A bonus: we've had more outings from the GVC after seeing firsthand all that Pine Ridge has to offer. By finding a lane for us to invest our time in, the payoff has been vast with rewards for years to come.
If you would like to email the author of this Best Practice directly, please email coachjgolf@gmail.com.