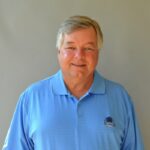 John Gray, the 2019 Alabama-NW Florida PGA Section Bill Strausbaugh Award winner, is the PGA Director of Golf at Ol' Colony Golf Complex in Tuscaloosa, Alabama.
John Gray on the importance of conducting free ten-minute lessons and clubfittings:
We are a very busy public golf facility, with an array of player development programming for adults and juniors, as well as "membership" options that reduce the per round price to play. We have several PGA Golf Professionals, one of whom, Bob Montgomery, a PGA Life Member, spends three days per week on the range giving free golf lessons. He provides free 10-minute lessons to pique the interest of potential golf students, but also demonstrates our commitment to the public golfer. If he provides a quick fix that betters the golfer and increases his or her enjoyment in the game, then we have done our job. He also conducts free clubfitting services to ensure golfers are playing properly-fit equipment. These free services are provided on our practice facility every Monday, Wednesday and Friday and have made a huge impact on our bottom line, as much as on the golfers' scorecards. This endeavor was part of a business plan I put in place five years ago, and we've touched many public golfers over that time, promoting our services and growing the game at the grassroots level. In fact, when I have time within my other duties as Director of Golf, I also spend a little time on the range engaging golfers, providing these free services and promoting all that we do at Ol' Colony. Bob and I are certified clubfitters with several manufactures and enjoy sharing that expertise to get golfers playing properly-fit clubs and helping them play better golf.

John Gray on the business impact of conducting free ten-minute lessons and clubfittings:
Our Board has been supportive of our free engagement, whether on the range or within 31 elementary schools in Tuscaloosa County. They understand that kids and new golfers are the future of the game and our business, and with an aging customer base, engaging the youth of our community and their young families will help sustain business well into the future. The free lesson and clubfitting services have boosted lesson revenue, program participation and new club sales, as golfers are introduced to these amenities in a low-pressure environment and quickly see the benefits of each. In addition to increasing new club sales, we are boosting revenues in shafts, grips and other club repair services. We have over 100,000 visits annually. About 32,000 of them are rounds played, leaving almost 70,000 visitors watching golf, eating and drinking and practicing on our range. Sharing our knowledge for free three days per week has been a catalyst to so many great strides that we've made in recent years. Business was stale when we started this program and it has helped stimulate participation and enthusiasm throughout our facility. With all those people coming and going, we'd have small groups of individuals watching someone else hit balls – I thought, why can't we get them hitting as well?

If you would like to email the author of this Best Practice directly, please email golferjag2@comcast.net.