John Bierkan is the PGA director of instruction at Aronimink Golf Club in Newtown Square, Pennsylvania, and Quail Valley Golf Club in Vero Beach, Florida.

John Bierkan on the importance of offering a variety of programs for all skill levels:
A lot of facilities have great women's programs, but focusing on a variety of women's golf opportunities is something I feel we do particularly well at both Aronimink and Quail Valley. At Aronimink, we have a weekly clinic with 4-10 women per session where we talk about different drills and spend a lot of time on the course, as well as the range, improving skills of any women that want to participate. In addition to this, we have a Golf 101 program that is run for two hours per week on Wednesday for people who are completely new to the game. With this program, the women sign up for a month at a time and classes run throughout the season. For the more experienced golfers, we also have GAP (Golf Association of Philadelphia) matches, which are played the second and third weeks of April and offer a competitive option. At Quail Valley, we host a weekly complimentary clinic and also offer a Women's Boot Camp that runs once per week for an 90 minutes over a 10-week period. Throughout all of these programs, we greatly encourage a group setting and want to get our beginners out on the course to play a few holes as soon as they can. Focusing on women's golf has been very successful for us as instructors, and for the facilities overall.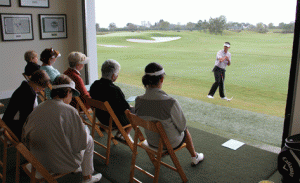 John Bierkan on the business impact of offering a variety of programs for all skill levels:
For our Women's Boot Camp at Quail Valley, we charge $350 for the 10-week program or they could pay $45 per session. We have 15-18 ladies per session (two separate groups meet the same day back-to-back) with a max of a 5-to-1 student/teacher ratio. This brings the total participation up to approximately 36 ladies. Golf 101 at Aronimink costs $125 for four two-hour sessions. We have 16 women per class, and the student/teacher ratio is a max of 4-to-1.
If you would like to email the author of this Best Practice directly, please email jhbierkan@hotmail.com