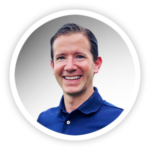 Joe Connerton, the 2018 Metropolitan PGA Section Bill Strausbaugh Award Winner and 2016 Section Professional Development Award Winner, is the PGA Head Professional at The Round Hill Club in Greenwich, Connecticut.
Joe Connerton on the importance of allowing members to use technology on their schedule:
I bought a TrackMan launch monitor when I was at Hartford Golf Club to enhance the lesson and clubfitting experience. In an effort to offer an innovative and unique service, I created a Club that enabled members to use the launch monitor during their practice sessions, without having to adhere to the golf professional's schedule. Many of my interested students were skilled golfers with a great understanding of their numbers and having access to this technology enriched their limited practice time. They liked to tinker and practice and hone their skills in a technical, meaningful way. I offered private daily use of the unit on the practice range from May to October for $500, and even built a temporary indoor hitting studio for members to use during the winter months – the price in the winter was less. I provided a detailed tutorial, so each participant knew how to operate the device. It was used before big tournaments or for intense practice sessions during the summer and as a great way to spend time with family and have some fun during the winter months.

Joe Connerton on the business impact of allowing members to use technology on their schedule:
I appreciate high ROI/low impact revenue-producing opportunities and recouping a portion of the cost of the launch monitor through the Club is a perfect example. Even more important than that, however, was the added service I offered and the value these individuals saw in the cost. They practiced with a purpose more regularly and worked through some of the issues in their game. Finding the right number of people is key. Because I used the device less frequently during the winter, I was able to accept more members and students into the Club. On average, I'd have ten students with daily access during the summer and allowed for 30 each winter. At my current facility, The Round Hill Club, we have a great new indoor hitting studio. However, with the club having purchased the device, we allow members to use it at no charge – a great added value to their membership. Any club that has the space can invest in some great new technology and offer it as a new amenity or a revenue-producer. With lessons, clubfitting and increased practice by members, both indoors and out, it will not go to waste.


If you would like to email the author of this Best Practice directly, please email joe@rhclub.org.