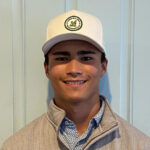 Joe Chen is a Supervisor and Junior Golf Assistant at McGolf Driving Range in Dedham, Massachusetts.
Joe Chen on the importance of offering a structured junior golf program that promotes golfer advancement:
With two years under my belt at McGolf Driving Range and my sights set on the PGA's Professional Golf Management Associate Program, I am learning the business of golf at our GRAA-award winning facility under the mentorship of PGA Professional Eric McInerney. In addition to working in our shop, greeting customers and promoting our many services and amenities, I am fortunate to take a growing role in our annual junior summer camp program. This three-level program includes groups for 5–8-year-olds (Little Duffers), 9–11-year-olds (Juniors) and 12 and up (Players). If a younger golfer demonstrates the skill or maturity to play up a level, we will certainly accommodate him or her. Our summer program is run for 12 straight weeks, with all sessions being 9:00-1:00. We add two hours (1:00-3:00) to the Players sessions to put them on the Full Swing simulators housed in our Swing Lab. This playing experience reinforces the lessons learned during the instruction portion of the camp and gives the younger groups added goals for which to strive in their continued progress in the game. During the main portion of the camps, we implement many games and contests that test their skills, while also adding a fun and competitive aspect to our time together. With Tic Tac Putt, closest to the line and the many gaming options that Toptracer Range technology offers, kids, and their parents, understand that our summer camps are not just about learning, but about fun with old friends and making some new ones as well. We start juniors with the basics – our Little Duffers spend much of their time on our mini-golf course. As they mature and develop their skills, we add more to their plate, enhancing the curriculum to buoy the educational experience.

Joe Chen on the business impact of offering a structured junior golf program that promotes golfer advancement:
But for a few of our Players sessions, we maxed out participation in every camp this past summer. We welcome 12 participants in the Little Duffers and Juniors camps and six in the Players camps to maximize the one-on-one attention the older and more-skilled golfers derive from their time at McGolf. In addition to the group sessions, many of our young golfers who are vying for middle and high school teams will also take private lessons with us. As they make these teams and start considering collegiate play, the private instruction ramps up even more. With our Full Swing simulators and Toptracer Range technology, not to mention experienced teaching professionals, our many junior golfers and wide range of adult students can take their game to the next level. This engagement also promotes range usage, as purposeful, consistent practice is encouraged to aid in the steady game improvement of all our students.

If you would like to email the author of this Best Practice directly, please email jchen0661@gmail.com.