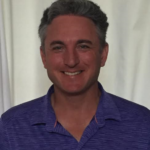 Jess Frank is a PGA Teaching Professional at Deer Creek Golf Club in Deerfield Beach, FL, and the owner of Jess Frank Golf Academy.
Jess Frank on the importance of using video with beginners as a tool and reminder:
One of the main concepts that I have focused on is using video with beginner golfers. One of my goals for a beginner player during a session is for them to have full confidence in the information that I am passing along to them. If the information is trusted, I fully believe that the golfer will not only see positive results, but they will want to continue on the journey to better golf. Too many times a player comes in for a session, takes in all of the information, and then, days later forgets what was learned. To help with this common issue, I put together a montage of a few of the swing videos that are taken during the session. I then add my commentary over the shots that are being shown. This montage is then emailed to the golfer. The next time the individual heads out to practice on their own, a plan is put in place. Instead of viewing swing videos based on looks, they are able to hear me walking them through both of their good and bad golf swings in the previous sessions. Through the use of video both during and after a session, I am able to provide my golfers not only with a series of reminders, but also a wave of confidence.

Jess Frank on the business impact of using video with beginners as a tool and reminder:
Let's be honest here, golf is hard. And, golf for beginners is especially hard. When I think beginner golf, I think continuity. Not only am I trying to teach the individual new concepts, I am trying to instill the golfer with the confidence and drive to want to come back for more. I find that the use of video during and post-session with commentary is huge for progression with new golfers. If a beginner golfer is headed out to practice and is able to hear what is going both right and wrong, I believe that the golfer has everything that is needed in order to have a productive practice. Let's say that a golfer's friend is having similar struggles in their golf game. The post-session video link that is shared with the individual can be shared with anyone. This is just one of the many examples that I have seen that has led to more coaching traffic. Basically, this all comes back to the usage of video. I find that this is what works best for me and has helped me in growing my teaching platform. Modern day technology has transformed the golf teaching world as we know it. So, let's take it all in and use it to our advantage.

If you would like to email the author of this Best Practice directly, please email pgapro@jessfrankgolf.com.