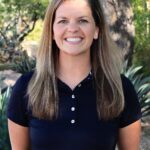 Jeff Ostlund is the PGA Director of Golf and Donnielle Ostlund (pictured), is the Golf Shop Manager at Tonto Verde Golf Club in Rio Verde, Arizona.
Jeff and Donnielle Ostlund on the importance of creating engagement on your putting course:
Our Tonto Verde practice facility is one of the great amenities we offer our members and community residents. With a double-sided range and short game area, golfers have everything they need to hone their skills and enjoy time with family and friends. We also offer a unique 18-hole putting course that is adored by golfers of all ages and skill levels. You'll see some of our most-skilled golfers settling their bets after 18-holes of championship play wasn't enough, playing around another couple with their two grandchildren. It truly does serve everyone who calls Tonto Verde home. One group of golfers that all PGA Professionals seek to attract are women. With 500 memberships and upwards of 800 active golfers, we enjoy robust participation among our women members and community residents in an 18-hole ladies' league that is often buoyed by women graduating from our bustling 9-hole league. Another very cool and fun program we've hosted for a decade or more is the Lady Putters league. Taking place on our putting course, this 18-hole putting league plays every Wednesday under a different format and a weekly shotgun start. The group that runs this league has an official Board of Directors that holds periodic meetings and keeps statistics and standings and award pins for holes-in one and other achievements. They are incredibly organized and efficient. In fact, one woman from each group will don an apron each week to keep her hands free from the scorecard and pencil. Think about the nuisance that keeping score is when you play mini-golf with your kids. These players circumvent that hurdle with great ideas and fun participation. This is not mini-golf, however, and is more competitive. The league even offers a variety of royal blue merchandise options to promote camaraderie through team uniforms.

Jeff and Donnielle Ostlund on the business impact of creating engagement on your putting course:
The Lady Putters league had 171 participants amid the pandemic last year, and it's going strong a year later. It keeps women engaged, whether they are beginners, new members or members who used to play a lot and have curtailed their golf in recent years. Play takes about 90 minutes and they meet for lunch and awards afterward, increasing food and beverage revenues and our golf staff's engagement with them. Participants do not have to be a golf member to join this league, so it has been an effective catalyst in actually growing membership, as they enjoy this league and want to participate in other "members-only" events like other leagues, tournaments and general practice range engagement. The Lady Putters love their league, as everyone at Tonto Verde loves the putting course. Both amenities keep members active, social and present, all keys to member-retention and increased revenues facility-wide.

If you would like to email the author of this Best Practice directly, please email jostlund@tontogolf.com.