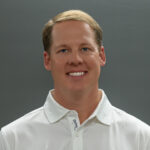 Jason Kuiper is the PGA Director of Instruction at the Grand Slam Golf Academy at Bobby Jones Golf Course in Atlanta, GA.
Jason Kuiper on the importance of using a short course to have fun on-course lessons:
In 2021 we went from offering one-hour lessons to only offering 45-minute lessons. It's allowed us to see more golfers in a single day and allowed more people overall to sign up for sessions as slots opened up faster. Additionally, the extra slots gave us more room for sooner follow-up sessions. This exciting change gave us an opportunity to re-tool how we structure our time with each golfer. It's rare that I'll take people onto our big course for a playing lesson. However, with the addition of Cupp Links – a five-hole par-3 course where every hole is about 50 yards – I've been able to integrate on-course teaching in a way I was previously never able to.
Jason Kuiper on the business impact of using a short course to have fun on-course lessons:
In that 45-minute window I typically work first on mechanics and swing-specifics, with the first 20-25 minutes being drills, video analysis and more. For the last 20 minutes or so we'll go out and play Cupp Links. We can play as many holes as we want and work on both our short game and scoring. Side note: one thing I've found helpful in junior lessons is to split the two practice sessions up in terms of what you're working on. So, for example I'll frequently make the first part full swing and the second part being scoring clubs. It helps keep them engaged over longer periods of time. I love competing, so I'll play alongside them, keeping the atmosphere fun and loose. During colder months I'll switch on the simulator in our academy and have the ability to play 5-7 holes in just 20 minutes, continuing to leave time for course strategy discussion and learning with each person. All told, the ability – to have a short course so close-by, have fun on-course lessons and a learning opportunity – keeps the regular course open to our regular customers, gives golfers a unique experience, and leaves everyone smiling from ear to ear. A bonus: you can beat your friend on our brand-new putting course on your way out.
If you would like to email the author of this Best Practice directly, please email jason_kuiper@yahoo.com.