Jane Broderick, a PGA and LPGA Master Professional and the 2012 LPGA Professional of the Year, is the PGA director of golf at PGA National Resort & Spa in Palm Beach Gardens, Fla.
Jane Broderick on the importance of hosting a skills challenge on your range for groups:
We recently hosted a corporate group that didn't want to play golf, but had a few hours of leisure time. So as not to lose out on revenue, we developed and hosted a skills challenge for the entire group. Four different stations were set up and the group was divided into four teams. The teams rotated through each station and points were awarded for each skill. The skills included Putting Tic-Tac-Toe, Pitching for Points, Chipping Bullseye and Kwik Golf. We played music to create a festive atmosphere and positioned our beverage cart on the range to drive sales. As a special touch, we made a stencil of the company logo and used turf paint to paint the logo at strategic locations around the range deck. Being creative is what it's about in golf right now: The more ways we can make golf fun to a broader base of people, the better off we are. This group consisted of golfers and non-golfers, but everyone had a great time.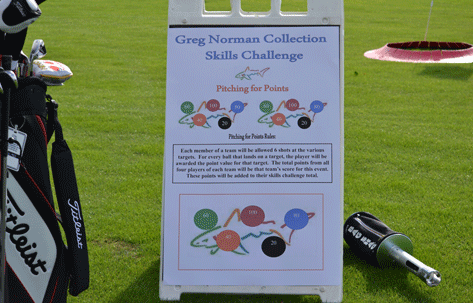 Jane Broderick on the business impact of hosting a skills challenge on your range for groups:
There were 40 people who attended this group event on our range. The fee charged to the group was substantially more than the revenue we would have generated during that time period selling buckets of balls, and the beverage cart sales were at an all-time high for the day. We charged $2,000 for use of the range for two hours, and beverage cart sales resulted in $900. We have roughly 30 hitting stations, so if we had a full range deck of people hitting $20 in range balls per hour for two hours (and that's an extremely high number because our members do not pay for range balls), we would have generated $1,200 in revenue. However, this event resulted in $2,900, more than double what we could have hoped for. This was a tremendous success and we look forward to hosting more skills challenges in the future.