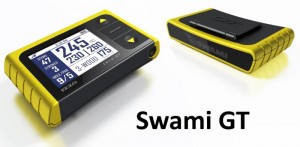 The Swami GT, an Editor's Pick at the 2015 PGA Merchandise Show, is both a game tracker and a GPS unit all in one device. It comes equipped with 14 club tags that affix to the grip on each club. When in use, club information is sent from the club directly to the Swami GT. The Swami GT requires no manual inputting. The unique patent pending E-Caddie feature makes club recommendations based on your distance history.
The Swami GT tracks your round data including score, distance by club, greens in regulation, putts per round, and average driving distance that golfers can view on the GT after the round is completed.
An added feature is that golfers can plug the Swami GT into a computer, connect to an online portal, and then upload his/her round information. The data will be stored and can be analyzed over time to show the golfer's progression. The cutting-edge online interface will also provide aerial views of each round, each hole, and each shot
."The Swami GT is the only GPS unit with game tracking technology to deliver the yardage you need to hit the next shot and the knowledge you need for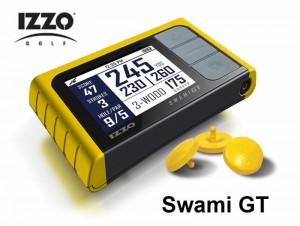 continuous game improvement," said Dave Witkoski, VP of Marketing and Product Development. "The Swami GT is two units in one.  It's not just a game tracker, it's a game changer."
The GPS device comes preloaded with more than 30,000 worldwide course maps and provides accurate distances to the front, center and back of the green as well as accurate distances to the front and back of hazards and doglegs. The GT's large, vibrant 2.5-inch color display makes it easy to read and operated.
The Swami GT comes with a one year extended limited warranty and doesn't require annual fees or subscriptions.  The units' rechargeable lithium-ion battery holds an eight-hour charge. The combination game tracker and GPS unit retails for only $199.99.
The Swami GT is available at www.swamigps.com, www.dickssportinggoods.com and many other leading golf retail outlets.

ABOUT IZZO GOLF
From the original IZZO Dual Straps to our ultra-light carry bags, cart bags, training aids, travel gear, accessories and SWAMI GPS devices – IZZO is dedicated solely to making your golf game better and more enjoyable than ever before.  IZZO Golf is an official licensee of Callaway Golf.  For store locations and other information visit our website at www.izzo.com.  For product info call 800-777-7899 and customer service 800-284-1220.
IZZO GOLF
Dave Witkoski
VP Marketing and Product Development
315-986-0000 Ext. 160
dwitkosk@izzo.com
MEDIA CONTACT:
Golf Marketing Services
Mike Leonard, 407-347-7244
mike@golfmarketinginc.com
Holly Geoghegan, 321-303-9684
holly@golfmarketinginc.com