IOMIC USA, manufacturer of grips, announced today it is introducing the Absolute JUMBO Putter Grip, its first ever oversize putter grip.
"Oversize putter grips are becoming more popular with amateurs and professionals alike," stated Katz Murai, Overseas Division of IOMIC. "We created the Absolute JUMBO Putter Grip to give golfers another option when selecting a putter grip. As always, we have designed this grip to help golfers maintain great feel and control throughout the putting stroke."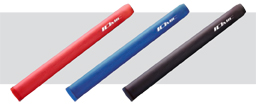 The IOMIC Absolute JUMBO Putter Grip features a plaid textured surface made from the company's signature IOMAX technology. This textured surface allows for better feel and improved traction. The oversize grip helps stabilize the stroke by minimizing wrist movement, giving golfers more control over the putting stroke. These grips are available in Coral Red, Blue and Black.
IOMIC grips feature the revolutionary "IOMAX" technology, a proprietary compound that provides a soft feel with control. This material provides adhesiveness, is water and friction resistant and is naturally white in color which allows for a full spectrum of color – IOMIC's signature trait.

About IOMIC:
IOMIC manufactures premium, ergonomically designed golf grips that focus on technology. The company uses a revolutionary material called "IOMAX", which enhances grip feel, reduces torque and allows for a variety of color choices.  The ergonomic design of IOMIC grips, combined with a super soft touch and feel, ensure maximum feedback and control for golfers. The launch of the Color Grip Series helped the company gain attention in the industry for the wide variety of colors offered. This led to the development of the Art Grip Series, the industry's first ever marbled grip. IOMIC grips are in the bags of many top professional and amateur golfers worldwide. For more information about the company please visit www.iomicusa.com.
Media Contact:
Vanessa Price
714-544-6515
readthegreens@aol.com
Tracy Nackel
760-420-1602
tnackel@cox.net