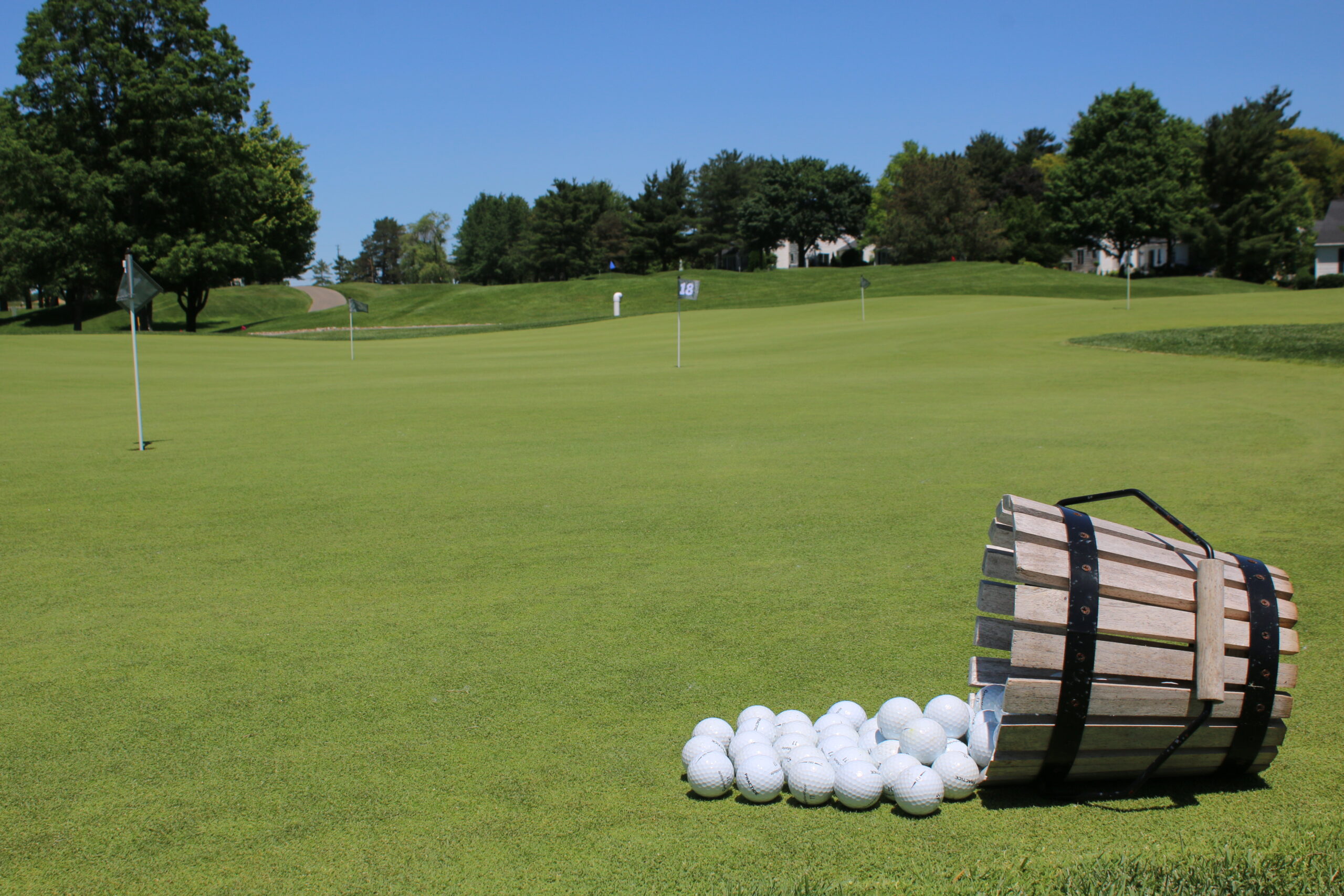 By Vinnie Manginelli, PGA
Golf's boom during the pandemic has been well-documented, of course. However, it is widely believed that the days of the 9- and 18-hole rounds of golf being the only options for golfers are a thing of the past. Even the way we go to the driving range has changed thanks to innovations like Toptracer technology. The industry is being transformed before our eyes and what an exciting time it is to be front and center to witness it first-hand.
One very cool trend that we're seeing at public courses, private clubs and resort facilities across the country is the implementation of expansive putting greens. We've recently covered the increasing popularity of short courses and putting courses in this publication. But this piece highlights the new putting greens of six distinct golf facilities from Pennsylvania to California.
The PGA Professionals with whom I collaborated for this article saw the need for an added amenity, considered the potential benefits and worked with their Boards and superintendents to flesh out the details. These greens are either in place already, with stellar member feedback, or they're getting ready to unveil this very important value-add in the coming new year.

At Chambersburg Country Club in Scotland, Pennsylvania, Jameson Wallace just wrapped up his 13th season at the facility, 11 of those years as the club's PGA General Manager. Chambersburg was the childhood course of former USGA CEO, Mike Davis and longtime USGA executive, Mike Butz.
Davis, who credits much of his success in golf to growing up at Chambersburg, recently retired from his USGA duties to create his own golf architecture design firm. One of his first projects was a collaboration with Tom Fazio to build an 11,000 square foot putting green on top of two unutilized Har-Tru tennis courts at Chambersburg Country Club.
"We wanted to improve the practice facilities, going from an undersized 1,000 square foot putting green to this," Wallace stated. "It was designed and built in August of 2020 after about a year of official discussion and planning, and many more years of throwing around ideas for improved facilities and increased member engagement."

Wallace says construction took only six weeks, but they had to allow several months for growing and maturation, of course. The putting green was opened to members on Memorial Day 2021 with a dozen cups cut throughout the putting green. Wallace says it's not quite large enough to create a formal putting course, but it's certainly larger than your average practice putting green.
"It's the first thing you see when you pull up," Wallace says. "It's located between the 18th green, the 1st tee box, the practice range and the golf shop – it's very centrally located."
Because it was installed in a former tennis court, lights were already in place – members and their guests can literally flip the switch to illuminate this beautiful new putting surface.
With a dozen Adirondack chairs in place around the green, it has become a social hub for members and families to converge after their golf round or convene and just hang out.
Wallace also highlighted the player development and special event programming possibilities for him and his staff – putting classes and fittings and extended opportunities for formal and informal social engagement. With tennis and pickleball courts adjacent to the green, as well as the parking lot, it is not for short game practice or instruction, but short game area improvements are being considered.

"Member feedback has been great," Wallace added. "Not only do our currently members love it, but we've even picked up some new members because of it. It's a very visible aspect of someone's first impression of our club."
The project was funded with support from membership with plaques that commemorated the 100th anniversary of the club. The plaques adorn the brick pillars of the lighting posts, allowing members to demonstrate their pride in the past while embracing the very bright future of their club.
At North Shore Country Club in Glenview, Illinois, Shaun McElroy is the PGA Head Professional. Construction was recently competed on a new member amenity that is slated to open in early to mid-summer of 2022 – a 38,000 square foot putting green.
"We had this area, a junkyard of sorts, where we were storing old maintenance vehicles, and would even throw tree logs and branches that were cut down in there," McElroy stated.
While in the middle of a major pool project, North Shore's club president decided they should also do something new for golf members as part of the overall assessment.
The waste area was cleared and the expansive putting green was built. They also added a chipping green and bunker adjacent to another short game area that was already in use.

With its proximity in the middle of the property, McElroy says it hindered some of the views of the far end of the golf course. The view is much more aesthetically pleasing now.
McElroy says there will be ample room for 18 holes on the green, and based on its design, the option to reverse the playing direction exists, as well. In fact, with its size, he anticipates a putting course more than a simple practice putting green.
McElroy says he looks forward to naming the new putting course and developing a logo which will adorn apparel and headwear in his golf shop. In the early running are the monikers, "The Junkyard" and "Dinelli Downs", a tribute to the club's longtime superintendent, Dan Dinelli.

The putting course will have lights and will be serviced by the club's existing food and beverage service. "We'd eventually like to put a bar out there, exclusively serving putting course patrons and the special events we'll host," McElroy commented.
McElroy says the green was built as a vehicle to keep members engaged longer, and he looks to enhance their player development programming with putting clinics and fittings.

In Louisville, Kentucky, Eric Gilliland is the PGA Director of Golf at Audubon Country Club. When he came on board back in 1999, they had two small underwhelming putting greens that were divided by a walking path. Those two putting greens were combined into one green during a renovation about 12 years ago.
"It still lacked any character, with little, if any, break to challenge and excite members," Gilliland explained.
That 5,000 square foot green was recently expanded and enhanced to more than three times that size. With changes made to their bag drop area and an extension into the parking lot, the new green will serve as a hybrid putting experience, if you will. About one-third of it will be used for practice and warm up for players' rounds, while the other 12,000 square feet is "truly a putting course", as Gilliland explained.

He paints an exciting picture, "I kept telling our designer, Lester George, that I want something off the hook fun – think Disney World for putting. You could come out and hit some really crazy putts. Come out with kids. Settle your bets. Just enjoy the camaraderie of the club. It will offer something for everyone. It's open and green, and has a very inviting feel."
He further explained a change in traffic flow. The practice green portion is adjacent to the golf cart staging area, where golfers will be a step or two from the putting green. They'll drop a ball on the green and get ready for their round. When they drive to the first tee, they will be 'the group on the tee' and there won't be a plethora of golf carts milling around the first tee. That end of the new green will encompass the putting course.
Gilliland say that the members are ecstatic about the new amenity, one that is just 15 steps from the 19th hole. He says they already have a lot of bar service, alleviating any need for yet another to be installed at the green itself.

When faced with a potential name for the nine-hole putting course, he said it will be called "The Nest" in keeping with the club's theme. This image will also be worked into a new logo and promoted on merchandise in Gilliland's golf shop. "I think that will be part of the identity of the club because it is such a unique feature in our area," he added.
The new green will open in 2022 and Gilliland anticipates increased member engagement, special events and player development opportunities to teach. "We've been looking at how we can optimize what we have to serve everyone, keeping junior golf and beginning golfers in mind," he explained. "There is plenty of room for teaching on this green."
Gilliland says there are plans moving forward to develop their short game area. This will allow for five practice greens, enabling Gilliland and his staff to create a short course as yet another new member amenity. Bids are being taken for this project as we speak – exciting times at Audubon!

And as well at Victoria National Golf Club. Ron Philo Jr. is the PGA General Manager and Director of Golf at the Newburgh, Indiana golf facility. He's also recent inductee in the New England PGA Hall of Fame. As a member of the Dormie Network, Philo's facility is one of six clubs that serve more than 1,400 members. With accommodations being built onsite, Victoria National is a private club with a resort facility vibe.
Philo says they just built a 17,500 square foot putting green that opened on October 1. The new cottages are being built where the old putting green once stood. So, in addition to moving the green, it was greatly enlarged to serve the members, their guests and the players of the Korn Ferry Tour at their Tour Championship every Labor Day weekend.

"The concept is really to animate that space," Philo stated. "We have a great big, very difficult golf course and wanted to give our patrons something golf-related to do after their 18 holes of golf. Some of our members aren't keen on playing 36 holes, so this gives them a wonderful opportunity to engage their playing partners, meet new people and enjoy our food and beverage services."
Used for slightly different reasons is the huge putting green that opened last summer at The Farms Golf Club. Scott Heyn is the PGA General Manager at the facility located in Rancho Santa Fe, California. The Los Angeles-native unveiled an 18,000 square foot putting green that is used for two primary reasons – to practice one's putting and as a fun place to play putting games. With the green being more contoured and "wilder" than a traditional green complex, both purposes are truly satisfied.
"We are a pure golf club. I tell people we do breakfast, lunch and golf! Everybody here just loves golf. They live and breathe it." Heyn stated.
With no pool, tennis, fitness or even special dinners, The Farms is all about golf. So, what better amenity to add than a vast putting green for its 300 golf members to enjoy, whether improving their skills in an hour of solitary practice or enjoying the camaraderie of others in a variety of games and contests?
The large putting green is near the range, which allows members to practice away from the first tee, which has its own adjacent green that is used for warming up. In fact, Heyn said they have a lot of great players who play and practice there – big names everyone knows. They can now set up their practice paraphernalia on the new green and are left to do their thing, unincumbered.

Demonstrating the new amenity's versatility, Heyn says families have fallen in love with the new putting green, as well. People are hanging out longer, and no bet goes unsettled.
The green is also ideal for contests during special tournaments. Heyn painted a picture of a fun and exciting putting green with lights and crowds all around during their recent member-guest. To boost the experience, lights were actually brought in to facilitate this great time, demonstrating the potential that these putting greens bring to a facility.
"I went to Pinehurst and Bandon, and saw how much fun you can have on a putting green," Heyn said. "But for us, we wanted to provide room for our great players – pros, college golfers, etc. – to practice with their camera and training aids."

In fact, Heyn says the green has about 15 different pockets that allow for this private workspace, an interesting contrast to the primary reason that so many of these greens are being built – social engagement. Well, as you've read, The Farms has that too!
Finally, not to be forgotten in our tour of "putting greens across America" is a veteran of the expansive putting green game, Chad Kitzmiller. He is the PGA Director of Golf at Westfield Country Club in Westfield Center, Ohio and the Secretary of the Northern Ohio PGA Section.
In fact, in Kitzmiller's six years at Westfield Country Club, the club has built a new practice facility (including short game area), renovated the entire 36-hole golf course and opened a 25,000 square foot putting green in 2018.
Kitzmiller explained that the club is owned by an insurance company and is an entertainment and training vehicle for company business and its local membership. Though there are many in the insurance field who play golf, there are still many others who don't.

"We're looking for entertainment options that aren't just for the serious golfers. We wanted to have a way of getting the non-golfers onsite in a social atmosphere, without the pressure or obligation of four hours of a game they don't play," Kitzmiller offered.
Before the pandemic, Kitzmiller was running 20-25 events per year at the pavilion near the putting green. There is often food and beverage included, and a DJ or band playing music or at the very least, tunes piped in. There's even an area of grass adjacent to the putting green that allows for other games and activities during these events.
With bars in the pavilion and drinks available closer to the green, the club has created a social gathering area with a golf theme. "It's an extension of the social atmosphere we strive to foster," Kitzmiller added.
In fact, with lights on the green, LED lights in the cups and balls, fun after-dark putting events are not unusual at Westfield. "We have tee markers, drink holders on the green and flags numbered 1-18," Kitzmiller explained. "People make their way around the green – sometimes they keep score, sometimes they don't." For those who want them, scorecards are found in a box next to the green.
The club provides balls, as well as TaylorMade and Callaway putters to those individuals who don't have their own, and they even maintain a collection of Westfield CC flipflops for men or women whose shoes aren't necessarily appropriate for walking on a golf green. The footwear is for patrons to keep as a souvenir.
A portion of the Pavilion Putting Green also serves as a warmup green for players before their round. In addition, there's no chipping on this green. The facility has two extra holes that members use for short game practice and can even play the holes from tee to green.
To boost revenues during outside outings, the facility rents the pavilion and putting green as an add-on for contests during these special tournaments.
When considering the many uses of and reasons for these greens, it's interesting to see the creativity of our PGA Professionals. Whether there to increase revenue, foster relationships, entertain clients, attract new members, retain current one, enhance player development programming or give Phil, Xander and Emiliano room to practice, it seems you can't go wrong when you do it right, like our courses here have proven. It seems fun on the putting green is changing the face of golf entertainment in ways similar to that of Toptracer on the driving range.