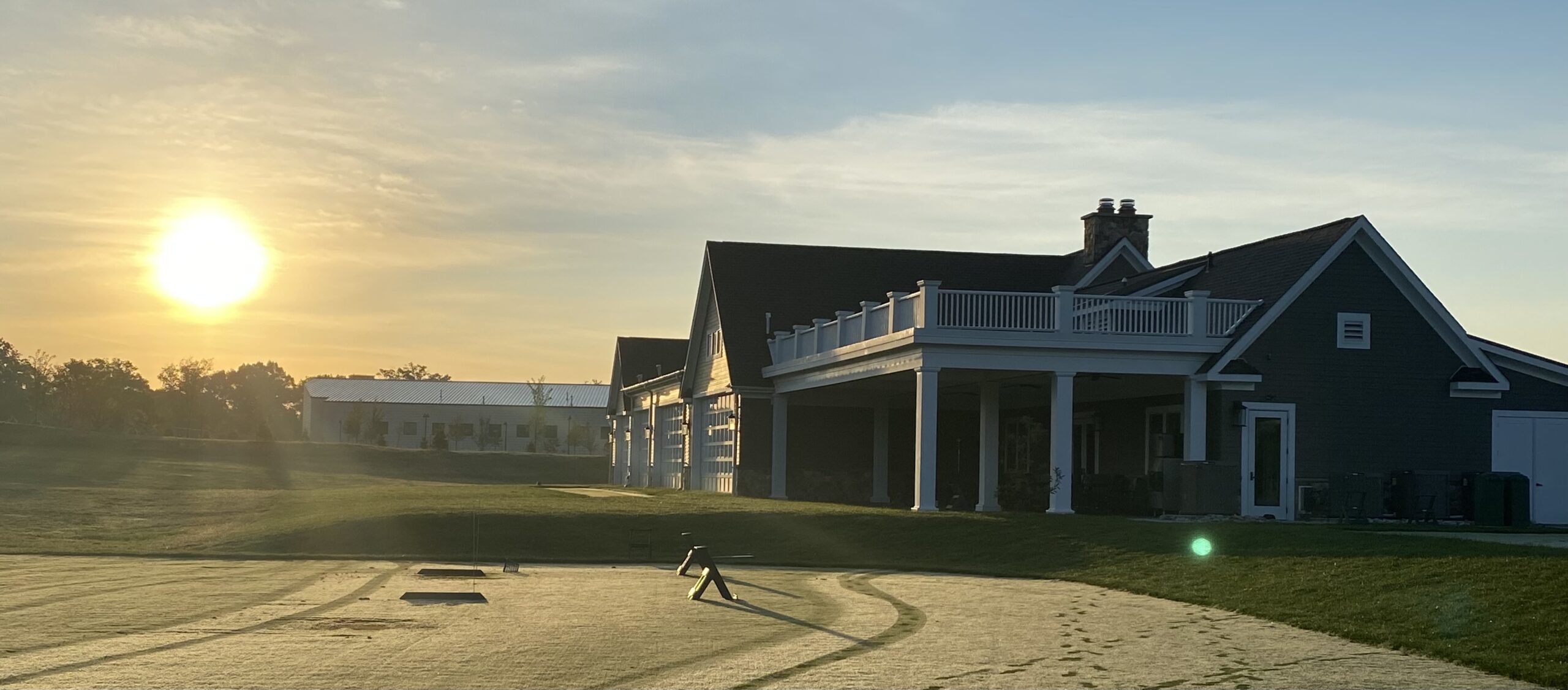 By Vinnie Manginelli, PGA
With millions of new golfers coming to the game over the past few years, practice facilities – driving ranges, short game areas, putting greens, etc. – are becoming the focal point of many clubs. With tee times scarce and traditional indoor socialization in the pub or restaurant not an option during most of the pandemic, golfers are spending more time than ever hitting balls on the range and working on their short game and putting skills. The range has become the hub of member engagement.
In fact, innovative technology and creative thinking by PGA Professionals and club management are luring members to the club even when they don't have a tee time. They're spending more time onsite, which is a driving force in generating added revenue in the golf shop and food & beverage operation.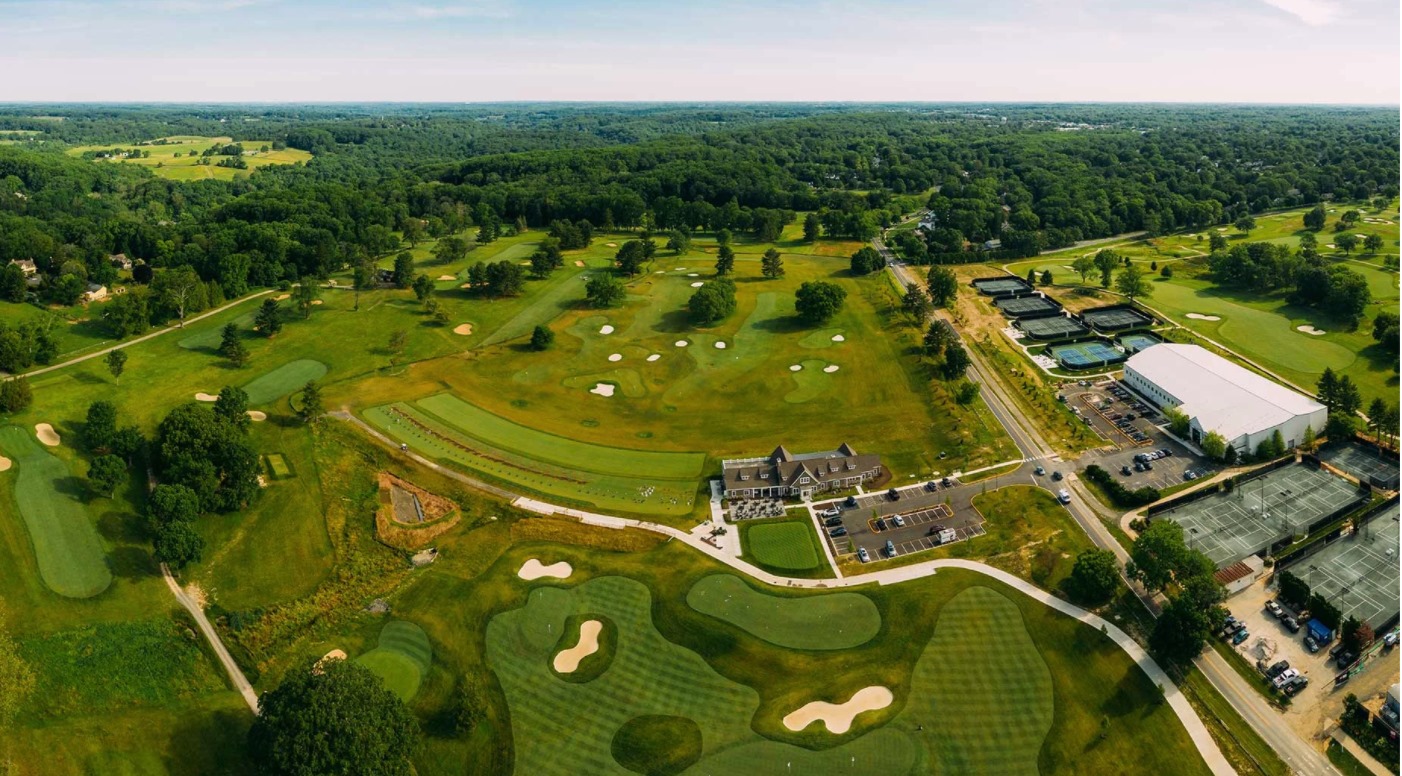 Located in Wilmington, Delaware, DuPont Country Club, a club of 2,500 members, was recently named a 2021 GRAA Top 50 Private Facility, and also earned a 2021 GRAA Top Range Renovation award.
The club changed ownership in 2018, when Rockland Sports LLC purchased the facility from the DuPont Company and quickly implemented a substantial renovation.
"The goal of the new owners was to revamp and improve the facilities and the services," says Director of Golf John Burke III. "In fact, they had an idea of what they wanted to do before they purchased the club. In addition to the practice facility, we also built a 20,000 sq. ft. fitness facility and outdoor pool complex, as well." The club also redid its tennis complex, resulting in 26 tennis courts (17 clay and nine hard court). There are 20 courts outdoors, six indoors and six pickleball courts, as well.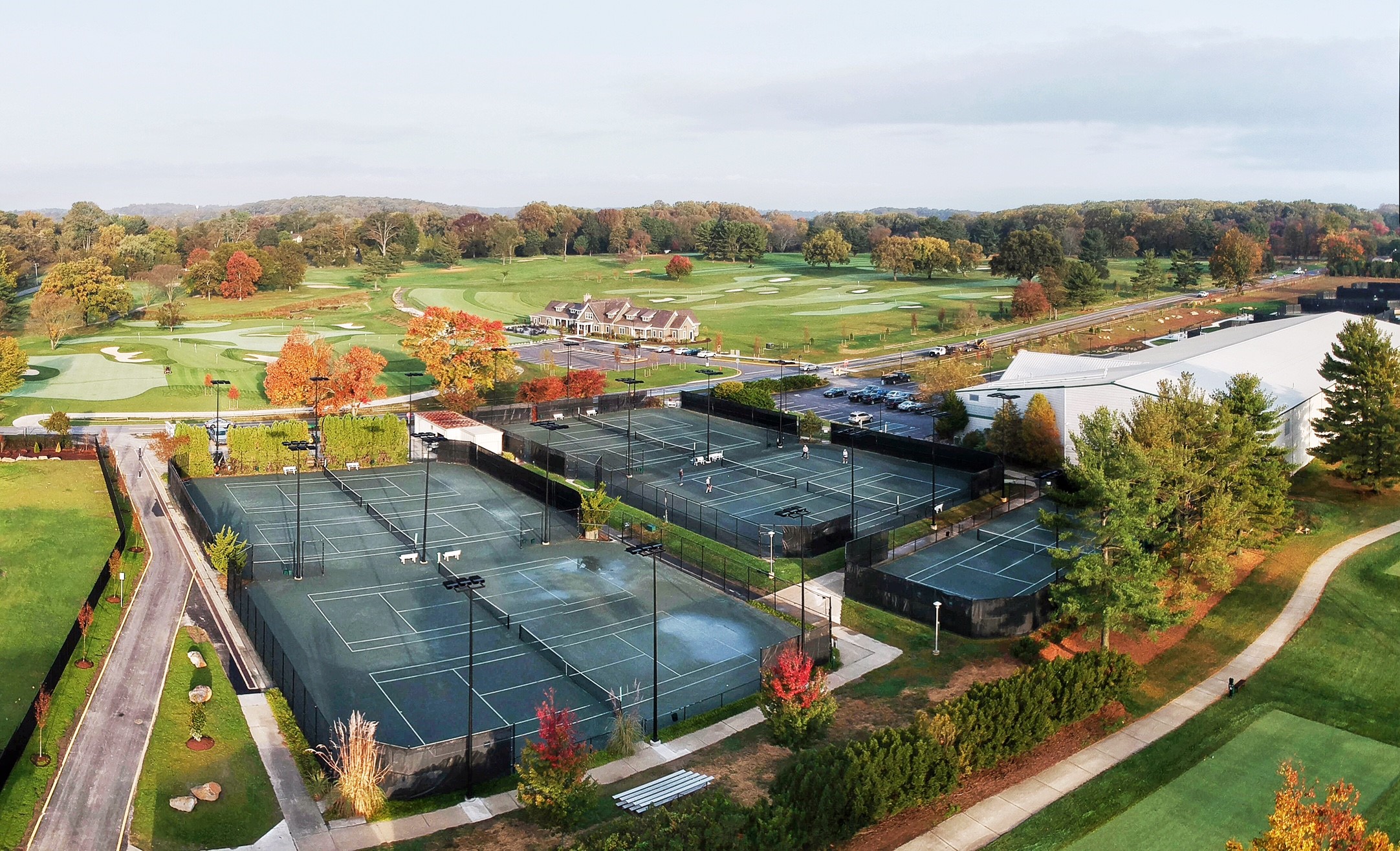 With these ideas already in the planning stage, work started soon after the club changed hands, resulting in a grand reopening in the spring of 2020. Despite its great scope, Burke says the project moved fast.
The main feature of the recent renovation was the practice facilities. Burke says the old range was on the far end of the property, forcing members to drive their own vehicles there, and then back to the club for their round of golf or to return their clubs when finished.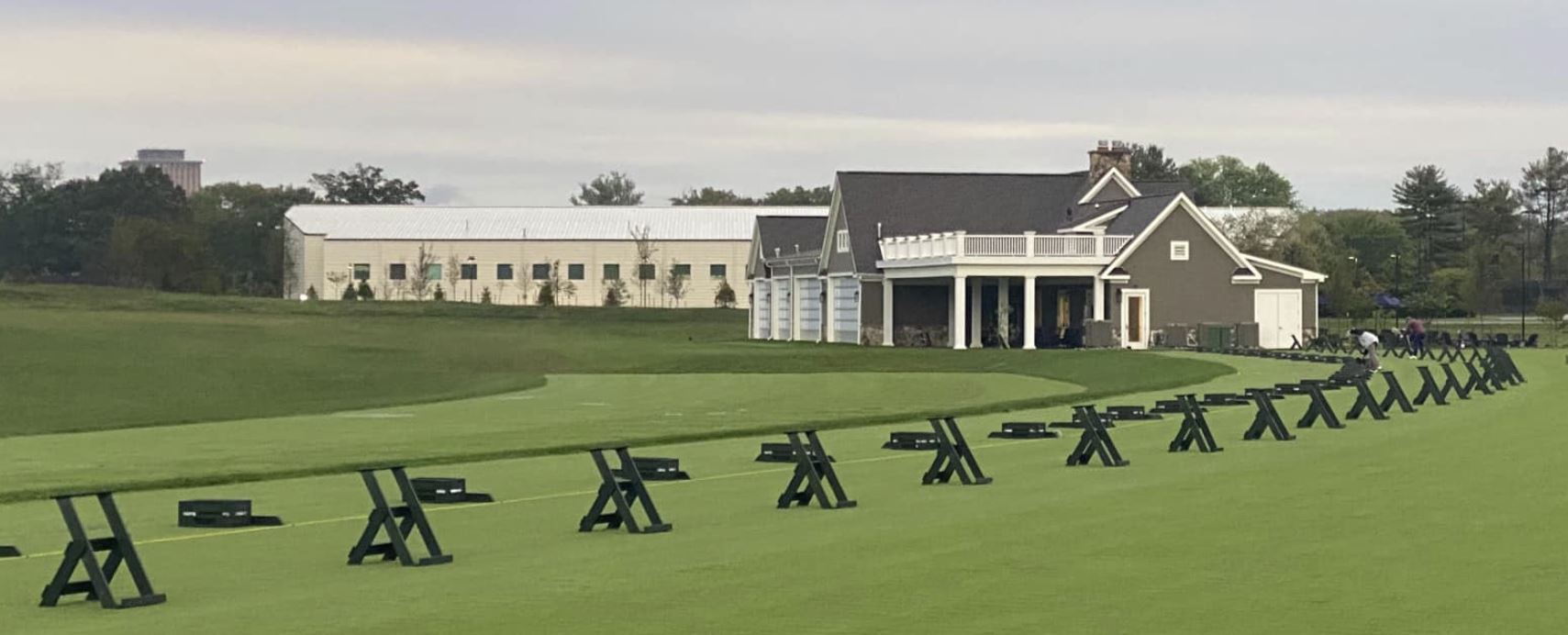 The project brought the range closer to the facility to make it more accessible and provide a better experience for the membership. It is now right across the street from the main clubhouse, so members can walk or take a golf cart to warm up or get their practice in for the day.
In addition to 36 holes of championship golf, the facility had an 18-hole Executive course that was reduced to nine holes to accommodate the new driving range. The Montchanin Course is comprised of seven Par 3s and two Par 4s, and is ideal for beginners, juniors and seniors.
"That course is open to any of our members, but is also used for playing lessons and Operation 36 programming," Burke stated. In fact, look on the Operation 36 website and you will see John Burke III and DuPont Country Club on the list of Top 50 Operation 36 Coaches.
Adding to DuPont Country Club's stellar practice facilities is a short game area of three greens surrounded by seven challenging bunkers. Members can work on their wedge play going back 80 yards, which, as any instructor will tell you, is vital practice that can reduce members' scores quickly and dramatically.
In addition, there's a 9,000 sq. ft. putting green that is sometimes set up as a putting course, another one of those non-traditional alternatives to a regular round of golf that clubs across the country are implementing to engage members and host special social events and tournaments. Burke also touted a second putting green that members can use for practice, warm up or even instruction.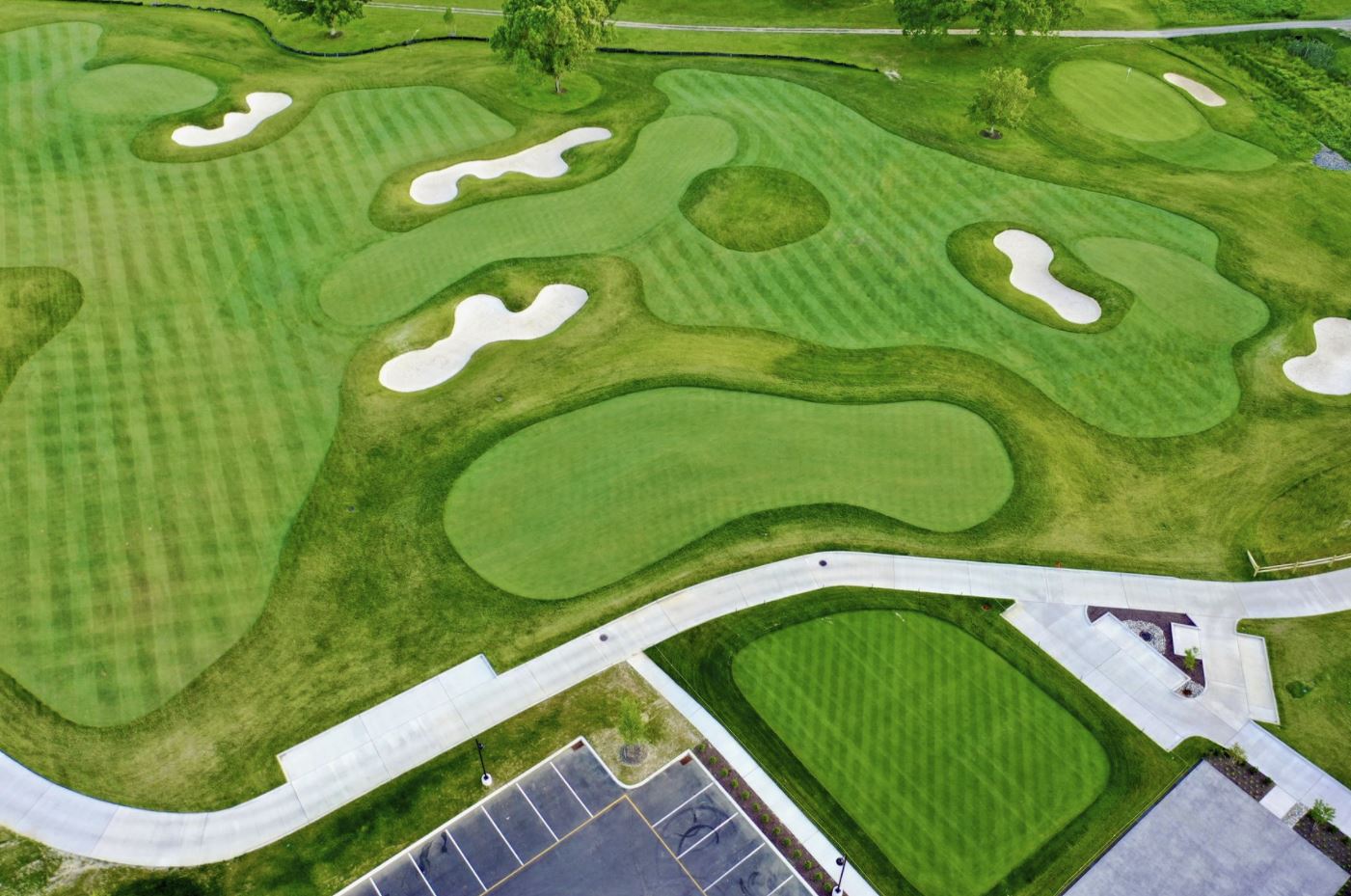 The exciting new driving range consists of two tiers, one that accommodates 48 golfers and the other that holds 20. Both have grass tees, but the larger of the two hitting areas also has mats that are put in play during inclement weather and maintenance-related projects.
The club also has a 9,000 sq. ft. indoor facility with four covered mats that hit onto the range, four indoor hitting bays for member use, and two more bays that are used exclusively for teaching. The teaching bays have TrackMan, BodiTrak, K-Vest and V1 Video, while the member-use bays are all fitted with TrackMan technology.
The indoor facility offers full food and beverage services, with seating capacity of 48 people indoors and another 50 patrons on an outdoor patio that is furnished with seating, tables and firepits. Needless to say, the nightlife and socialization is vibrant, a huge factor when considering member retention.

Considering the level of renovation and expansion done so soon after the change in ownership, I asked Burke about the commitment of the new owners to their members. "When the new owners decided to take over, they wanted to quickly bring the club up to speed with new age technology, new facilities, new offerings and new services to ensure that the membership had access to an athletic facility that was state-of-the-art. After all, that's what we're all about. We are an athletic club that focuses on being affordable to everybody, from young adults just starting out in the business world to CEO's. Most of all, we pride ourselves on being very family-oriented," Burke boasted. He says that membership has doubled since the transition, less than four years ago.
Burke's staff offers many years of experience, with Michael Caldwell serving as the PGA Head Professional, Robert Munkittrick Jr. as PGA Tournament Director, two PGA Teaching Professionals in Richard Matthias and Alice Miller and finally, three assistant professionals – Joshua Bashore, a PGA Member, Matthew Finger, a PGA Associate and Michael Bechtold, also a PGA Associate. Brian Bryson is the Director of Instruction who helps coordinate the junior and junior elite programs, Operation 36 program, women's group instruction, private lessons, 1-2-3-day golf schools and the high school program that helps get the local high school players ready for their golf season. Bashore is also the retail manager for the club's golf shop, working closely with Caldwell to provide a diverse selection of hard and soft goods, as well as outerwear, headwear and accessories.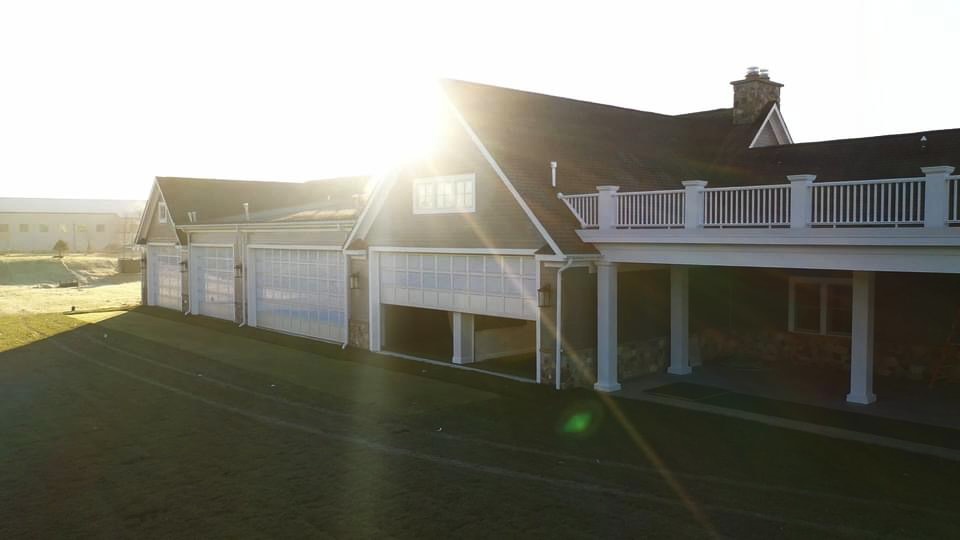 Burke says the shop is a bit small compared to the size of the club and its membership, but they are "very successful at generating revenue."
The past few years have seen people come to the game of golf in droves, and it's up to the professionals at private clubs and public facilities across the country to do what it takes to retain them. There's no question why DuPont Country Club is winning awards and increasing membership, but when you consider everything it offers, it looks like the growth experienced already is just the beginning.
For more information on DuPont Country Club, log on to https://www.dupontcountryclub.com/.