Patty Kline is the owner and president of the Sittler Golf Center, a 2012 and 2013 GRAA Top 50 Stand Alone Golf Range, in Kutztown, Pennsylvania.
Patty Kline on the importance of introducing a Partner of the Month package:
After attending the PGA Merchandiser of the Year Conference at Hammock Beach Resort in Palm Coast, Florida, we started discussing the ideas we came away with. One such idea ended up growing into a Partner of the Month package that we introduced to the vendors at the PGA Merchandise Show in Orlando. We took the idea of promoting merchandise on display with digital frame slideshows a step further by creating "digital billboards" for the golf shop with two 60″ HD televisions. The TVs are perfect for promoting our many services and products, in addition to ads for the Partner of the Month. In return for running the ads, the vendor provides us with various products and discounts to offset the cost of promoting them through the digital billboards, email promotions, the "Vendor of the Month" web page on our website, special demo days, and extra bonus points in our rewards program. We started this program in February of this year, and it has been very successful so far. Our customers are asking more questions about services we provide, and it also helps when we are very busy as it keeps the customers entertained and a little more patient.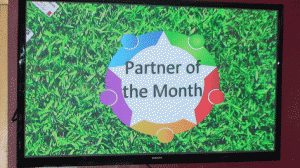 Patty Kline on the business impact of introducing a Partner of the Month package:
In just the past few months we have seen an increase in sales for the promoted vendor and received the benefits of products that the vendor has offered to offset the cost. For the March Partner of the Month, overall sales increased 25 percent compared with March of 2013. We saw an increase of $2,300 in profit for the month due to free and discounted product provided by the vendor in return for highlighting the vendor as Partner of the Month.
If you would like to email the author of this Best Practice directly, please email patty@sand-dollars.com