Bill Hughes, a PGA Master Professional, 2013 PGA North Florida Section PGA Golf Professional of the Year and the Section's 2013 Bill Strausbaugh Award winner, is the PGA general manager and regional director of TPC operations at the TPC Sawgrass in Ponte Vedra Beach, Florida.
Bill Hughes on the importance of installing synthetic turf to keep your range open year-round:
In 2006 the PGA Tour embarked on a major facelift of TPC Sawgrass, in preparation for The Players move to May and a more prominent place on the schedule. The new clubhouse was built, and improvements were made to the course and the outside-the-ropes amenities. At the same time, we also decided to install synthetic turf on our practice facility and at our Tour Academy at TPC Sawgrass. Over time, TPC Sawgrass has grown to serve many people, ranging from the PGA Tour professionals that make this their home, the many resort guests who come year-round, and the ever-growing Tour Academy at TPC Sawgrass. Like any facility with grass tees only, we used to have to shut down the range during sod replenishment periods and after poor weather. For a facility that strives to give the best service for our customers who come from around the world, it was not the message we were striving to give. We contacted a company called Turf Evolutions who installed a strip of the synthetic turf on the back of our practice facility. It's worked great. In fact, it's worked so well that we just had the company come back and install their newest version of it – it's the most grass-like experience we've ever seen in synthetic turf. It's sand based and can also take tees of any size as well. Having the synthetic turf also helps when we have 140-person shotgun events and don't want all those players on our range at the same time tearing up big plots of the turf. And for the Tour Academy at TPC Sawgrass, the strip allows the academy to grow without any fear of having to block out calendar dates for turf growth or recovery.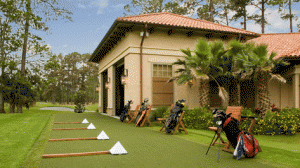 Bill Hughes on the business impact of installing synthetic turf to keep your range open year-round:
For us, the cost of installing synthetic turf was small compared to the overall TPC Sawgrass budget. In addition, our practice facility isn't as significant of a revenue driver as green fees and golf car fees are for us. However, it allows us to keep the range open all year long and it still provides a great practice surface for our many guests. For other facilities around the country, the turf has become extremely cost-affordable, and can be especially useful for ranges looking to enable year-round practicing and teaching. In addition, if you are a facility that specializes in group or transient play, it enables you to be open and welcoming 365 days a year, instead of having to cordon off a part of your facility because of an ill-timed growing cycle or weather conditions. This protects the overall experience, encourages people to come out to practice and use the Tour Academy at TPC Sawgrass, and is available on days where we would have previously had to close the range because of poor weather. In addition, for tight or small ranges that have limited turf space, this can be the difference between success and failure, enabling them to continue selling range balls and scheduling lessons after the busy season.
If you would like to email the author of this Best Practice directly, please email BillHughes@pgatourtpc.com