By Al Petersen
Taking it inside is a necessity in parts of the country where inclement weather can adversely affect golf lessons. That makes preparation, technological savvy and the proper tools important for today's instructors. One such tool is FlightScope because of its ability to be used on the range and with an indoor simulator. But even on beautiful days, some instructors prefer to keep their FlightScope indoors, particularly when working on a specific aspect of the swing.
"You don't necessarily want them to see the ball flight (outdoors) when you're working on something in particular, such as club path," says Rob Stocke, an instructor at Long Cove Club in Hilton Head, South Carolina. "You just want them to see on the screen what's causing what we're trying to fix. It's the path, impact position and numbers that matter most. When those get grooved, seeing a better ball flight on the range hits home. There are no bad repercussions to working on the swing indoors." FlightScope, which has produced several models in the past few years, is a 3D Doppler tracking device for golf and other sports that provides data about player and equipment performance. Parameters include club path, face angle, launch angle, attack angle, launch speed, ball speed, spin rate, carry distance and smash factor. When used outside, instructors and students can see numbers and ball flights on a tablet or laptop. When employed indoors on a simulator, those factors can be tracked in real time on a bigger screen.
"It's great for showing them why the ball did what what it did," says Stocke, who taught at several clubs in Atlanta before moving up the coast. "When they see the ball flight, now they know why." Stocke, who taught a lot of juniors and collegiate players during his 20 years in Atlanta, also likes the FlightScope's simulator for its ability to be used for clubfitting, games, playing different courses on the screen and tracking range sessions.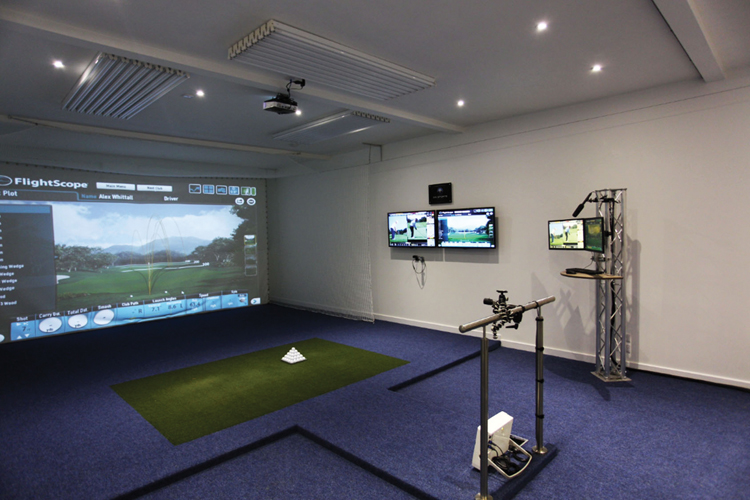 "The kids eat up the technology," he says. "In fact, a 15-year-old kid expects it. They also love the instant feedback and fact that they can immediately see how a new motion changes a ball flight's dynamic. But that's true with most players." Living in the Northeast, Jeff DelRosso knows all about inclement weather, no matter the time of year. But, like Stocke, he often prefers to stay under a roof when working with students because of the FlightScope simulator and other high-tech devices he uses.
"The feedback is easy for a student to relate to, and it gets them focused on practicing to a target and how the ball reacts to the variables, such as the club's angle and path into the ball," says Del- Rosso, who teaches at Prospect Golf in Prospect, Connecticut. "A FlightScope gets students more attuned to where the ball starts, where as outdoors the focus is on where it ends up. People can get hung up on the end result instead of working on the fundamentals that will get them better results."
DelRosso, who has been a PGA Professional for 25 years, says he especially likes FlightScope because it can be used as a measuring stick instead of a device that simply spits out numbers for students.
"It's kind of like taking their pulse to see if they're practicing consistently and working on the things we're trying to implement," he says. "It's also huge for me because I can diagnose progress faster and measure the changes more accurately."
Even when the hitting bay doors are open to the elements, DelRosso wants his students to comprehend why a ball reacts in certain ways off the clubface, which is where FlightScope and his other devices come in handy.
"It's definitely a good complement to all of the other high-tech tools I use," he says. "It helps students practice better, and that's what it's all about." For Stocke, using FlightScope is great for mixing in with his hands-on instruction.
"The technology is so good and accurate, even with only 8 feet of ball flight," he says of the minimum distance required for using a simulator. "Indoors or out, it's a good tool."
And when the return on investment and student retention are good, that's the real bottom line. "It's definitely worth having," Stocke says of FlightScope. "If you know what you're doing in the golf business, this is a huge complement to your overall lesson plans. I know a lot of guys who use FlightScope, and most of them say they have students who couldn't hit a shot without it. If you don't have this type of technology, they're probably going to go someplace else."