SAM PuttLab diagnoses 28 parameters of a player's putting stroke
By: Al Petersen
When it comes to putting, the engineers at Science & Motion Sports have developed a machine that analyzes the 28 parameters of a player's putting stroke. Yes, 28 … all in 1.39 seconds or the average time it takes a player to start and finish the stroke.
"I tell people it's like a launch monitor for putters, as far as what it can analyze and measure," says Travis Becker, a Wisconsin-based PGA Professional who teaches at the Beloit Club and Ironworks Golf Lab. "It's really pretty remarkable."
Becker is talking about the SAM PuttLab, a device touted by Science & Motion Sports as the industry's most accurate and comprehensive analysis and training system for putting. Besides analyzing 28 parameters, the machine offers feedback after each putt through graphics on up to 10 training screens, in addition to providing information for each putting stroke, data averages and benchmark charts.
"For profiles, you can also track your success, compare different training situations with the putter you're using or with other models and compare recordings throughout the session," says Roman Goll, a technical architect at Science & Motion Sports. "This is extremely accurate and suitable for amateurs up to professional players."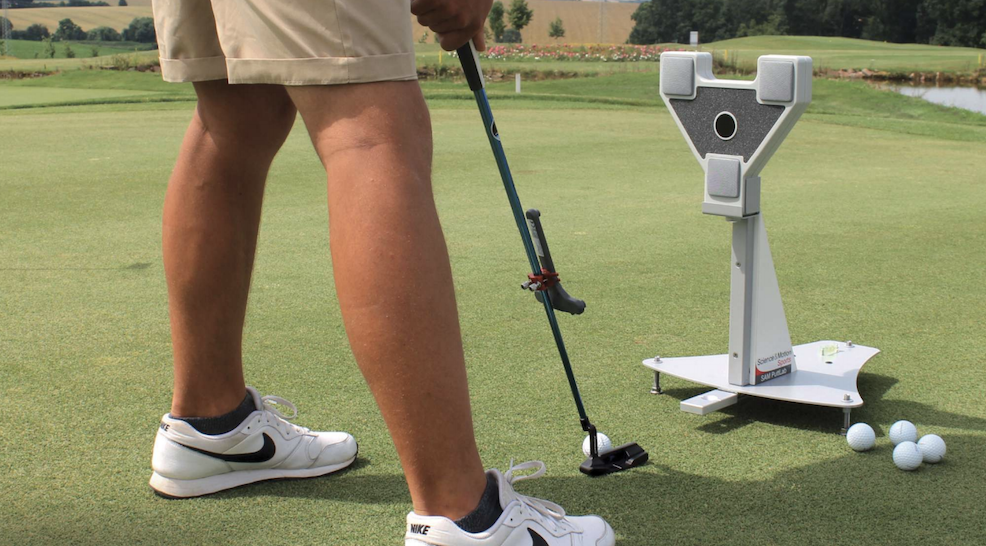 "It's an educational tool for both teacher and student," adds Becker. "It's an eye-opener, really, as students often say: 'Now I see the differences between how a mallet or blade putter would affect my stroke,'or, 'I can really feel how the length of the shaft or weighting in certain areas would affect the ball's roll.' This type of teaching is starting to take off, and people are seeing the benefits."
Some of the parameters diagnosed – and the ones likely easiest to understand – are face aim, face impact, putter path, impact zone, rotation of the face in the zone, backswing tempo and impact tempo. To not overwhelm students, Becker focuses on those issues or others that might stick out as glaring errors and goes over fixes for those areas. He keys in on face angle during the stroke and at impact because those are the areas where a putt can most easily go off line, no matter the read or speed the putt was hit.
When it comes to fitting or using the SAM PuttLab as a teaching tool, Becker said it's about 50/50 at his locations. "They really go hand in hand, though," he adds. "We need to see a stroke analysis in order to fit someone, and that stroke analysis is crucial to steps I use to correct stroke flaws."
Prior to becoming the director of instruction at the Beloit Club, Becker was at Cherokee Country Club in Madison, Wisconsin where he had a putting studio among his teaching tools. So it was an easy transition to begin using the SAM PuttLab in his new location when the club acquired one a couple years ago.
"I had about 12 years of experience gathering putter data and using software systems and analysis methods, so the basic familiarity was there," he says. "But the SAM PuttLab has taken the teaching and fitting segments and my abilities to relate and translate the data to another level."
Some of the features of the device that help Becker and other teaching professionals include an app for remote control, 3D putt replays, a portable system for use indoors and outdoors, automatic putt recording, print and screen reports and a training module for instant feedback.
Another application for the SAM PuttLab is using it for putting clinics, with a basic course starting with the setup, direction and distance control before moving on to advance courses with green reading, launch angle and hitting putts with break.
When it comes to fitting, the device offers a turnkey solution because of its comparison protocol that compares the user's current putter with different models, making it an efficient way for a teacher to help a student find the best putter for his or her stroke. And each aspect of the SAM EasyFit program uses a step-by-step report that is displayed in a final fitting specification.
"Everybody is different. Some people have a good stroke but might need a different style putter," Becker explains. "Other people say they don't have the time or desire to work on their stroke, so they want a putter that works best with what they have. Still others want to fix their putting flaws and may, or may not, need a new putter. It's up to the individual, but it's great to have the analysis right there in front of them so the choice is relatively easy."
Becker likens his work with the SAM PuttLab to a physician taking an X-ray, "and it's up to me to prescribe the different fundamentals and drills that will help their putting."
Working with students on a regular basis also allows him – and them – the opportunity to assess progress during each visit.
"It's a great measuring tool," Becker says, "since the PuttLab saves data from each user as well as the drills I might have given them, so they can see progress from use to use."
And with a reported 43 percent of a golfer's score coming from putting, Becker loves using the SAM PuttLab because of the feedback and gratification that might come from a student who shaves a few strokes off his or her scorecard.
"Working on your putting is the quickest way to lower your score," he says. "That's why this has been a great tool for us."