Topgolf is Making Millions and Reaching New Golfers
BY: TONY L. STARKS
ON TOP OF THEIR GAME
Imagine if golf, bowling and Dave & Busters had a baby: It would be Topgolf. The rapidly growing company has 24 active locations in the U.S. and plans to grow to more than 30 sites by 2017. More than 8 million people enjoyed Topgolf experiences last year.
If you haven't been to a Topgolf yet, they're wildly popular. Often the lines stretch out the door and people wait more than an hour for a hitting bay. The majority of their customers, 57 percent of them in fact, are Millennials. Compared to golf as a whole, only 29 percent of rounds played in the U.S. were contributed to the emerging demographic of 18-34 year olds in 2015.
Golf facilities can learn a great deal from examining the success of Topgolf, particularly related to the practice range and how to turn that space into a profit center. That's why this month we're looking at some pivotal data showcasing some top Topgolf metrics such as average spend per customer, who their customers are and their influence on the industry as a whole.
Every golf facility in America can, to an extent, replicate what Topgolf does. "The Topgolf model is pretty integrated, but obviously there are ways that golf facilities can do something similar. I think those are all good ideas – having a bar on the range, pumping music out there and creating enjoyable and comfortable seating areas," says Topgolf Entertainment Group Co-Chairman and CEO Erik Anderson. "We're bringing a lot of people to golf, and even people who've never been to a golf course in their life. Green grass locations have the opportunity to create that same type of environment."
In the second half of this month's cover story we highlight 10 cases where golf facilities are already "Driving Revenue by Creating a Topgolf-like Experience" on their practice range. Be on top of your game by learning from Topgolf and creating an engaging experience for your golfers on the practice range.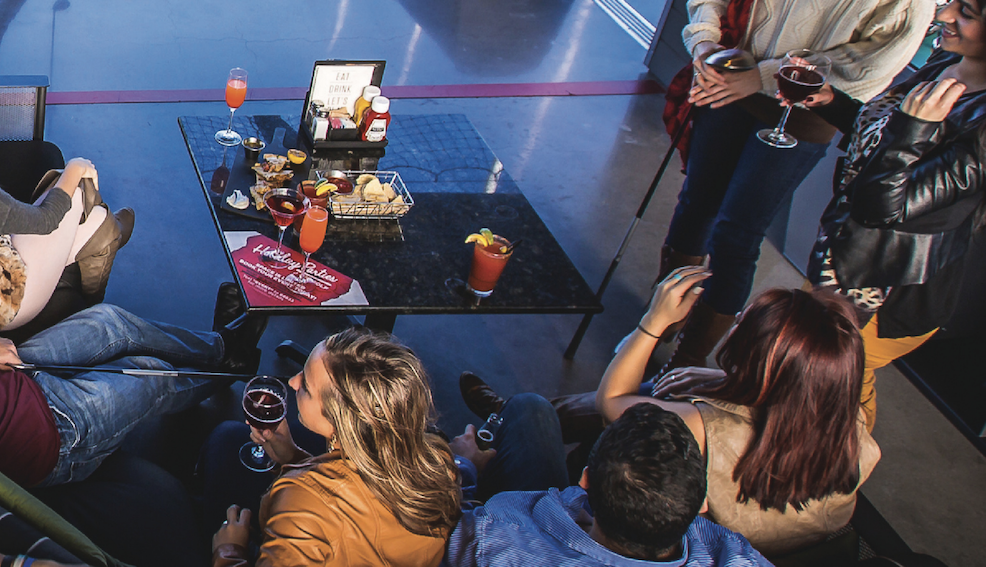 FACILITIES ARE DRIVING REVENUE by Creating a Topgolf-like Experience
Food Service on the Range
The Crossings Nines TurnShack at Granite Links Golf Club is located adjacent to the practice range. During recent renovations, the facility expanded the patio area so that it rest directly next to the practice facilities, providing golfers with a great place to relax and enjoy the view of the Boston skyline either before or after their practice sessions. In addition, a firepit and increased bar area were added to enhance the experience and make it easier for golfers to grab a craft beer from the local brewery, a cocktail or food while they hit a bucket of balls. "Our efforts have really grown our business," says PGA Head Professional Stephen Clancy. "F&B has enjoyed the biggest boost, while we've also seen greater range traffic." On top of that, the expanded area has been a venue for live music.
Rock Out on the Range
Playing music while golfing has recently become a hot-button topic, with many golfers opting to pump music throughout their rounds or practice sessions using portable Bluetooth speakers. There are advocates and those who oppose. Grayhawk Golf Club in Arizona, a certain advocate, was way ahead of this trend. More than 20 years ahead in fact. Since the club opened in November 1994, they've played music on the practice range for all to hear. "At Grayhawk, we believe we are ultimately in the entertainment business and great golf is just our ante," says Joe Shershenovich, Grayhawk's PGA director of golf. "We seek to provide entertaining experiences throughout the club and in all restaurants and retail venues, as well as on the practice range and golf course." The entertainment-first-golf-second model is not only at the foundation of Topgolf's success, but also one of the reasons why Grayhawk has become one of the most sought-after memberships north of Scottsdale, an area that also houses Troon North and DC Ranch Country Club. When Shershenovich is asked how his members and guests have responded to the music: "When you see folks on the practice tee playing air guitar, that tells you what you need to know. The guests love it and it has become part of our brand."
The VIP Experience
Comfortable seating areas can do multiple things for a practice range: Allow large groups to spend more time at your facility, enhance F&B, create an air of privacy and allow you to host special events for small groups. At Vitense Golfland in Madison, Wisconsin, PGA Professional and owner Joel Weitz built "Golf Suites" to provide a VIP experience for range goers. "The Golf Suites created additional bar and grill sales. On top of that, the reservation fee in itself generates extra golf range revenue," he explains. The advanced reservation system, which is also available online, earns the facility upfront revenue. When customers arrive the temperature-controlled suites are already set up with a flat-screen TV, comfy seating options and a server ready to facilitate the experience by starting with food and drink orders. "Customers love to be treated like VIPs," continues Weitz, a GRAA Advisory Board Member. "All demographics – including players and non-players, families, couples, college students and seniors – enjoy this environment." On a busy week, Weitz has up to 30 Golf Suite reservations.
Enhance Your Business by Knowing Your Customers
CRM is a huge deal for many of the world's major brands and companies. The acronym stands for "Customer Relationship Management," a term that refers to practices, strategies and technologies that companies use to manage and analyze customer interactions with the goal of improving their relationship with the customer. Topgolf is no different, and it first begins with data collection – that means more than collecting email addresses and phone numbers. Through Topgolf's tech platforms, they have the ability to measure and quantify a golfer's progress shot-by-shot. In the future, they hope to use this data to ultimately suggest to new golfers when they're ready to take their game onto the golf course or see a teacher for instruction.
Let There Be Lights
A perennial GRAA Top 50 practice facility, Haggin Oaks in Sacramento, California provides golfers with the chance to work on their game well past sunset. In fact, the nightlighted practice range is open 24 hours a day from May 1 through September 30. A lit range extends the day and provides more opportunity to earn revenue. However, it can be an expensive installation process on the front end. If it's not a venture your facility is ready to embark on, consider alternatives such as hosting special nighttime events using glowin-the-dark golf balls and accessories offered by companies like Night Sports USA.
Embracing Tech to Enhance the Range Experience
Range balls at Topgolf have an embedded computer chip that allows golfers to know exactly how far their ball travels and where it lands relative to the target. That level of technology is not easily replicated, but there are many other ways golf practice facilities can utilize tech to enhance a golfer's experience. For instance, 10 Power Tee units were installed on the range at Deer Run Golf Club in Victoria, Minnesota last year (see video). The automatic teeing systems were such a hit that they chose to convert the entire range to Power Tees. "Golfers loved the technology and raved about it during the trial period," says Tom Abts, the PGA general manager and head professional. "Technology can really be a differentiator and draw people to your facility." That sentiment is shared by Stonebrook Golf Academy & Driving Range in Middleburg Heights, Ohio, where they've installed Protracer Range – which allows golfers to see the exact ball flight and shot shape of each ball they hit using the same tech that's on the PGA Tour. "People love coming to our facility and it definitely has to do with the technology," say Joe Meglen, the onsite PGA teaching professional. "With Protracer and heated stalls, we have had players up there in the dead of winter with temperatures in the single digits." Another fairly new technology that's worth exploring debuted at the TaylorMade Golf Experience, a full-service Las Vegas practice facility. Golfstream (pictured), which was literally created by a rocket scientist, combines virtual reality and reality to allow users to play a variety of games or practice putting indoors. The system uses patented moving green technology and a laser putting system. The green literally shifts to create different putting lines, while lasers show users the exact line, delivering a fun and cutting-edge gaming experience.
Take Cover
At the public 1757 Golf Club in Dulles, Virginia, the 20 covered hitting bays (12 outdoor, and 8 indoor heated bays) are "clearly more heavily used than non-covered areas," according to PGA General Manager Gary Huebner. "We stay somewhat active even when there's snow on the ground, and there was a lot of snow in our area this winter," he says. "We've also noticed that even if the sun is shinning, golfers gravitate towards the covered bays." The covered areas were constructed when the course was first built, and are permanent structures. Huebner recommends going that route, as they design can match your facility aesthetics and they're sturdier and more durable than temporary/moveable covers. In many cases, hiring a contractor to build covers would only be slightly more expensive than purchasing them from a vendor.
Launch Monitors: A Tool for Teaching, Clubfitting and Fun
Launch monitors are a pivotal tool for teachers and clubfitters, but they can also be used to help golfers have fun and challenge themselves. At the Jim McLean Golf School at Trump National Doral in Miami, Florida, PGA Master Instructor Robert Campbell utilizes the device to put his students through a combine test, a concept made famous by the series of test NFL prospects go through prior to the draft. TrackMan even offers software called the Launch Monitor Combine Test to highlight a golfers strengths and weaknesses. The test consists of a player hitting shots to targets at 60, 70, 80, 90, 100, 120, 140 160, and 180 yards, plus drivers. They are then given an average distance from the pin at each target, average drive distance, average offline for drivers, a score of 0-100 for each shot category, a percentile ranking for every shot category, and an aggregate TrackMan Combine score. "I have seen a five-percent increase in lessons since I started conducting the combine tests compared to 2013. I don't charge extra for the combines – they are a part of the lesson," says Campbell. "It's not only fun, but a great way to work on their skills."
Where There's a Party, There's People
With neon lighting, a full bar and music blasting, the second you step into a Topgolf facility you feel like you have just walked into a Los Angeles nightclub. Creating a party atmosphere where the core of the experience is having a good time is a major reason for their success. In 2013, PGA Director of Golf Neil Maurer began turning his outdoor range events – such as demo days or sidewalk sales – into party atmospheres, and it's had a huge impact on his business at Bear Trap Dunes in Ocean View, Delaware. "We made our demo day a real block party by bringing in grills for food, kegs of beer and playing a classic rock streaming radio station over our P.A. system. Our members loved the complementary food, beer and music, and the parties brought in more people who spent more time and more money," he explains. "Before creating party atmospheres, customers spent an average of 30 minutes at our demo day. Now, they spend over an hour at our block party. In addition to increased time spent, our attendance ballooned to 100 people, of which each person spent an average of $240."
Create Competition on the Practice Range
Competition keeps people engaged, whether it's on the golf course, the practice range or Words With Friends. When you combine competition with fun, friends and food, it's a winning recipe – à la Topgolf. It's a recipe that can be recreated at virtually any golf facility, even without the use of technology and digital gamification. PGA Professional Trent Wearner, the owner and director of instruction at Trent Werner Golf Academy in Englewood, Colorado, offers an archive of fun and competitive games that his students can play with their golf buddies anytime they're on the range. His students can view these games at any time on his website golfscrimmages.com. "Even if you don't have a list of games posted on a webpage, you can teach them to your students or post physical signs on the range," says Wearner. "Adding pressure to practice helps ease the transition from the range to the course, while also keep their time on the range fun and engaging."