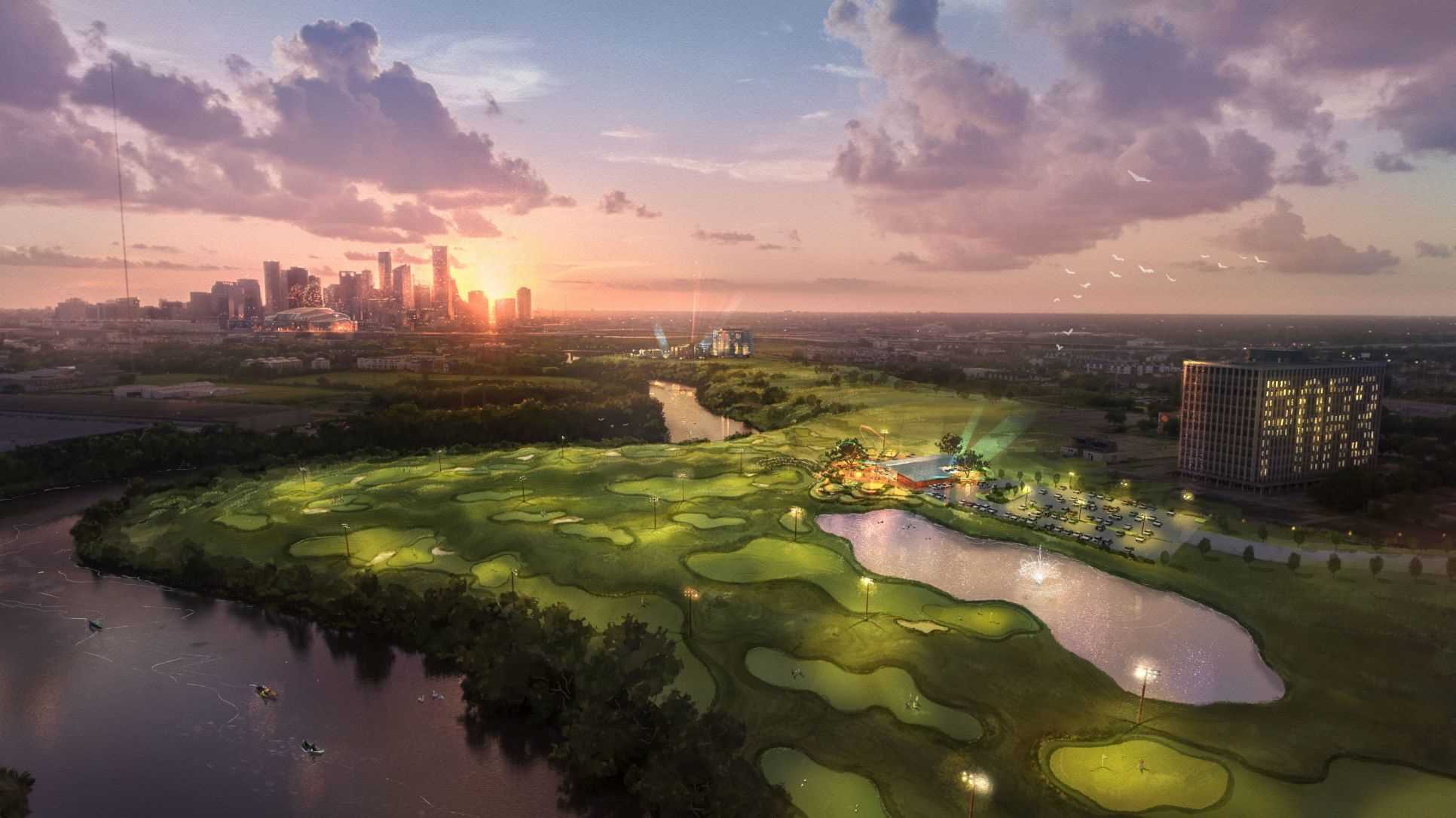 By Vinnie Manginelli, PGA
Slated to open in September, the East River 9 will be a unique nine-hole Par 3 golf course on the east side of Houston, Texas. This facility will have an array of special amenities and fun opportunities for Houston's die-hard golfers and those who've never touched a golf club before.
This won't be your traditional round of golf. After all, with stadium lights and a 300-yard driving range that tees off with views of the downtown Houston skyline, this urban golf experience will be just that…an experience every time patrons walk on the property.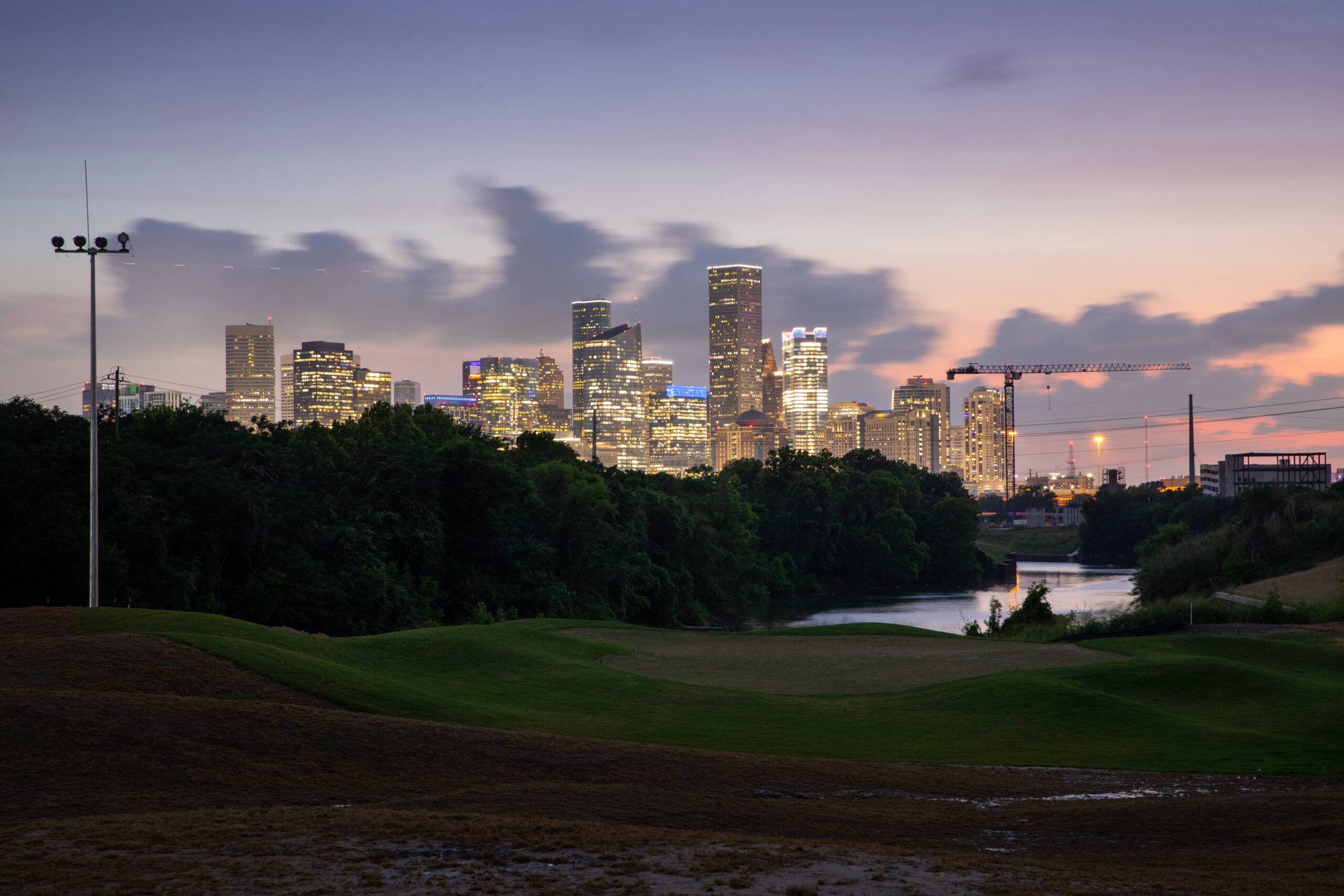 Clayton Freels is a Vice President at Midway, a fully-integrated real estate, investment and development firm in Houston. "We have properties across the state of Texas, predominantly in the Houston area, and recently acquired 150 acres on the east side of Houston with one of our partners. It's located just a mile east of Minute Maid Park and is very accessible via the I-10, I-45 and U.S. 59," Freels explained.
He indicated that his firm specializes in mixed use development – office, retail, restaurant, entertainment, hotel, multi-family housing. Freels says that, historically, the east side of Houston has been less developed, with the majority of development over the years taking place on the west side and northern part of the city. But now, there's a master plan to develop the property over several years, incorporating some common area green space to activate the properties and serve as a respite from the big city.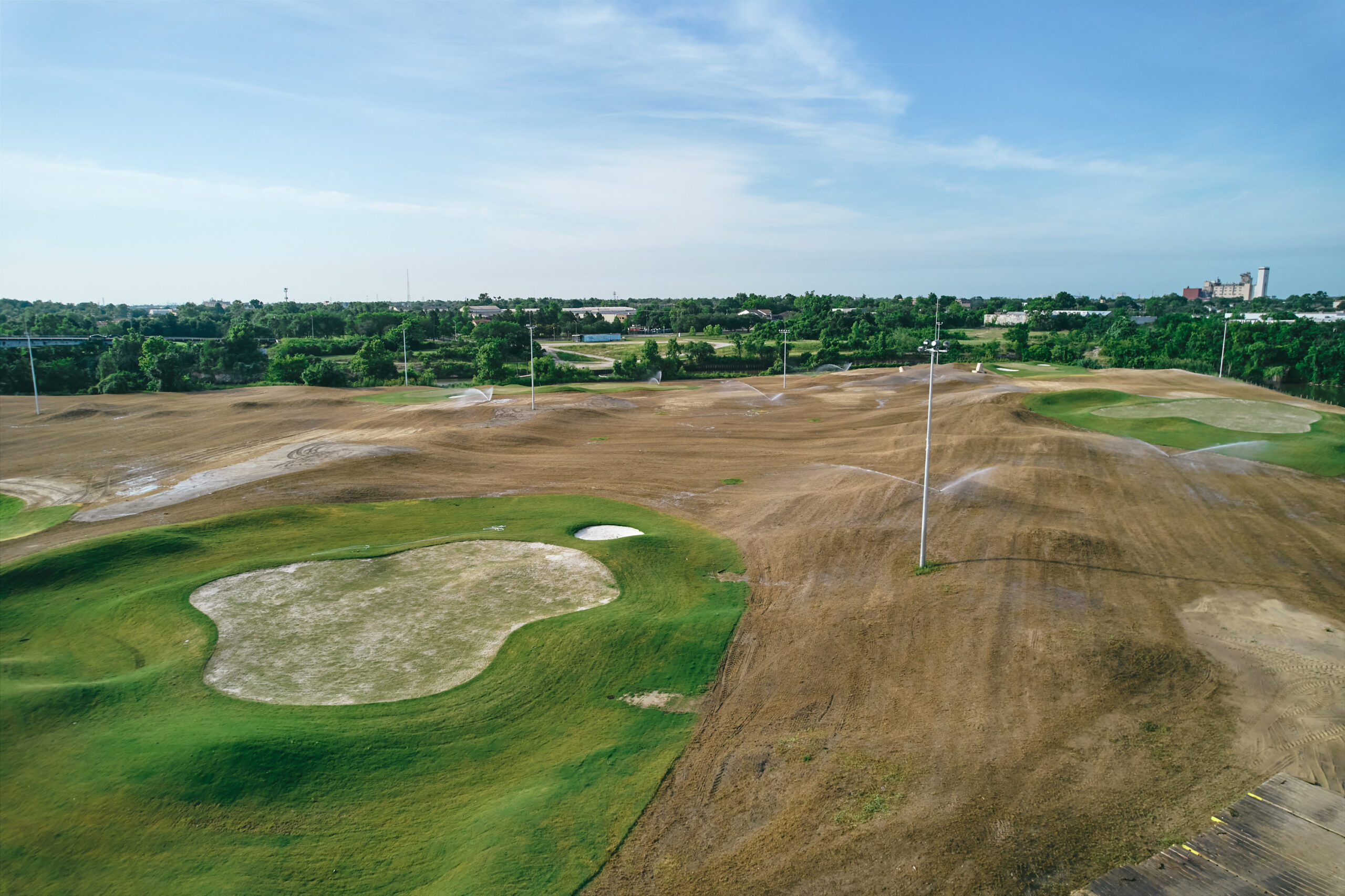 Of the 150 acres being developed, the par 3 golf course will encompass 1/6 (25 acres) of that area. The driving range will take up another five acres and the large parking lot will be another five acres, as well.
The golf course will be complemented by a 9,000 sq. ft. family-friendly restaurant and patio bar, also slated to open in September. Freels says the golf course has been constructed, and the grass is now growing in under the hot Houston sun.
"We have a few avid golfers in the office, but golf is new for the company. So, as we were thinking of ways to activate the site, we wanted to create something exciting that would bring people out to this side of Houston," Freels details. "We wanted something recreational, outdoors and family-friendly. We also thought that adding green space to the property would be a huge amenity to the offices, buildings or apartments that will subsequently be built."

Houston has an array of traditional public golf courses and high-end private clubs, and this golf entertainment facility will service those customers. But it will also bring in a whole new demographic…non-golfers, kids, families, couples on date night, charitable organizations and corporations and businesses not already ensconced in the game.
"We believe we're bridging the gap between the driving range experience and the full 18-hole on-course experience," Freels declared. "After all, going from the range to the course can be an intimidating experience – our facility will make that transition more comfortable. While we think we'll attract new golfers to the range, we also feel we'll have many seasoned golfers checking out what we have to offer."
As mentioned, the practice range will be 300 yards long and will have grass tees and mats, the latter predominantly used for special events and during inclement weather. The range will be shaped and graded so it has topography, and it will be highlighted with five target greens. Freels described it as having a links-style look and feel.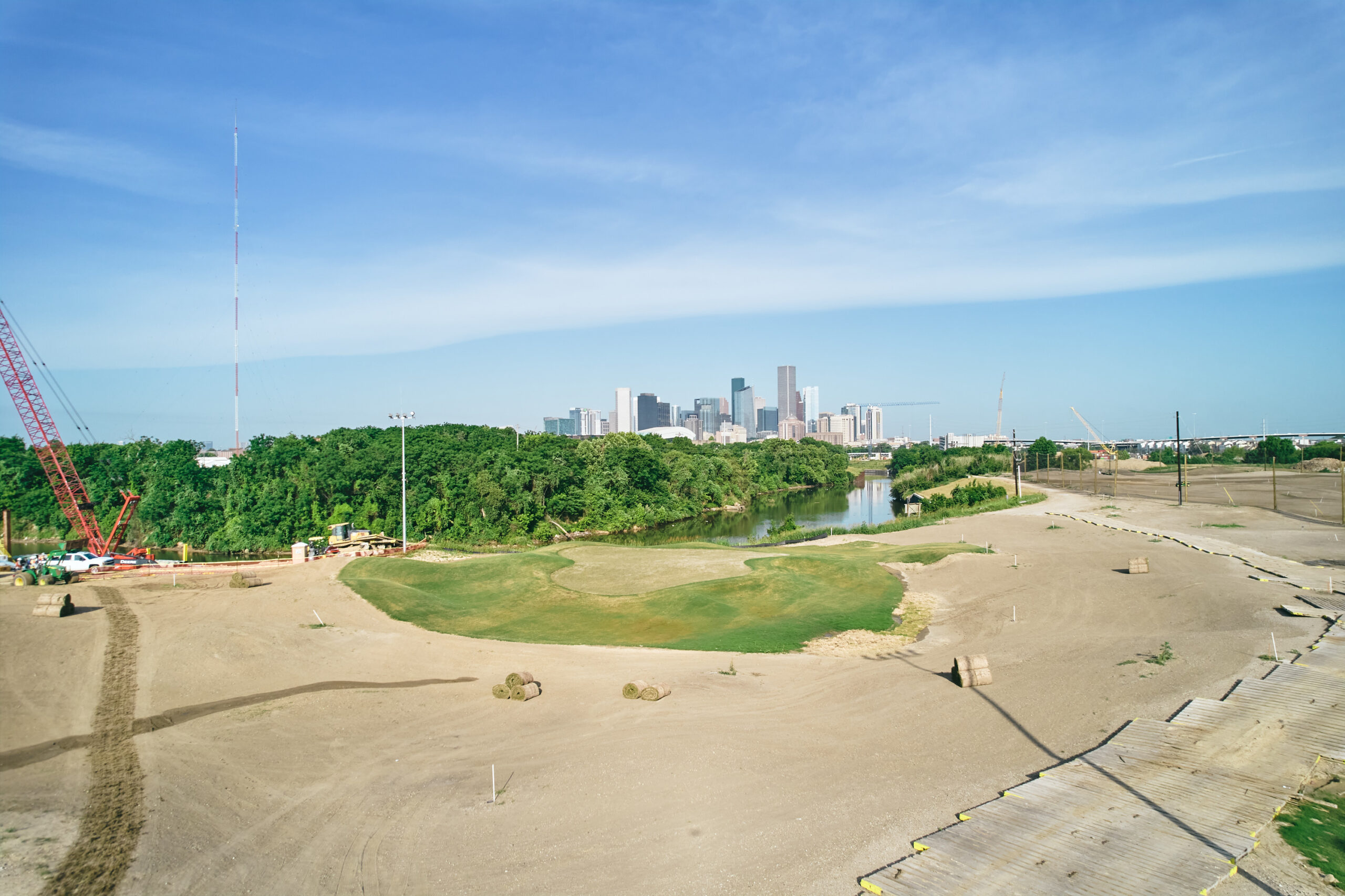 They even designed the range with electrical capabilities to host concerts with live bands in the future, and anticipate having room for 1,000-2,000 people in the audience. "The experience out there will be pretty phenomenal with the sun setting over the skyline and a cool breeze flowing off the waterfront," Freels stated, painting a stellar picture of a memorable night out in the city.
The golf course is right off the Buffalo Bayou, a waterway that runs through downtown Houston and feeds into the Gulf of Mexico. This adds to the links feel of the site, which also has some natural topography, despite the fact that Houston is relatively flat.
The course will have nine holes, all lighted, and will range from 80-150 yards. There will be seven holes that play along the water, whether it's the bayou or the lake. Freels explained that they are permitting with the city of Houston and state of Texas to pull untreated water from the bayou through the lake and into the facility's irrigation system to water the golf course. "We're excited about that from a sustainability perspective. We won't be tapping into potable, treated city water for irrigation purposes," he touted.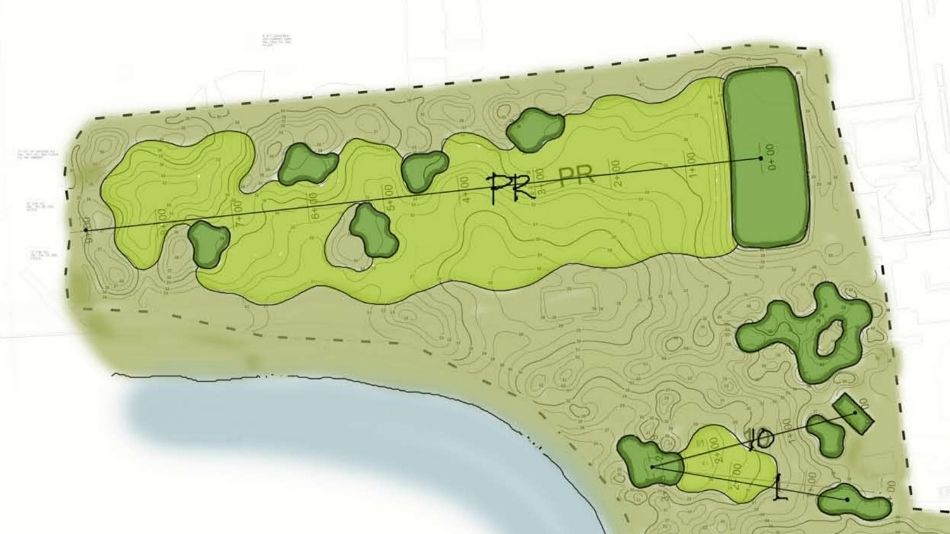 To make the course beginner-friendly, there will be no forced carries. In fact, the course was designed so golfers don't lose any balls, but it has enough undulations and challenges to keep an experienced player intrigued and excited. Each of the nine holes will have two staggered tee boxes, allowing for a diverse 18-hole layout.
The East Course will be a little more welcoming to the newer golfers; whereas the River Course will pose a bigger challenge.
Freels says a lot of effort went into having the course fully-lit, and the Texas heat will encourage many patrons to tee off after dark, when the temps have dipped a bit.


Riverhouse Houston is the name of the building that will house the bar and restaurant, and will feature a landscaped terrace that wraps the facility. Freels says they've taken an old maintenance structure and repurposed it into a dining and entertainment venue for lucky Houstonians seeking a nice night out with friends and family, catching some live music or watching the big game.
There will be a 12,000 sq. ft. "social" putting green that customers can use post-round, after a meal or just for an hour with the kids. Freels anticipates fun events and live music surrounding this feature of the facility, as well.
"The design of the putting green is whimsical, with a lot of movement to it, and it's large enough to create an 18-hole putting course for kids, beginners, special events or that pressure packed tie-breaker when nine or 18 par 3 holes weren't enough," Freels added. "It's intended to be very approachable, even if you have a drink in one hand and a putter in the other."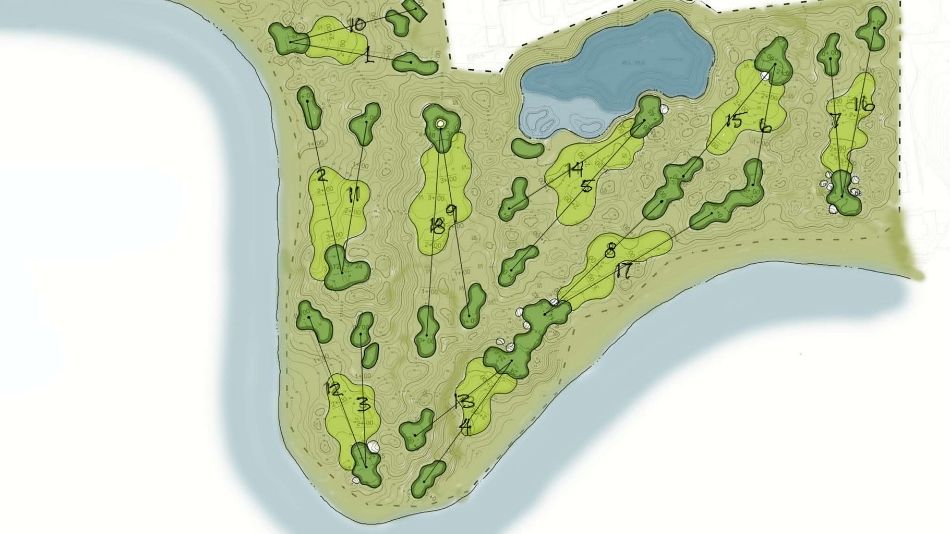 Golf will have a presence within Riverhouse, and will include a 1,000 sq. ft. full-service golf shop and staff of PGA Professionals managing the golf and retail operations, and running programs for golfers of all ages and skill levels.
They're working with the South Texas PGA and their PGA Reach chapter to implement a plethora of wonderful programs like PGA Jr. League and PGA HOPE (Helping Our Patriots Everywhere).
Freels concluded by giving credit to the course architect, Smelek Design of Hockley, Texas for their innovative efforts on this project. "They've been instrumental, and have not only believed in our vision from the start, but have enhanced it."
Check out the East River 9 Instagram page and their website.