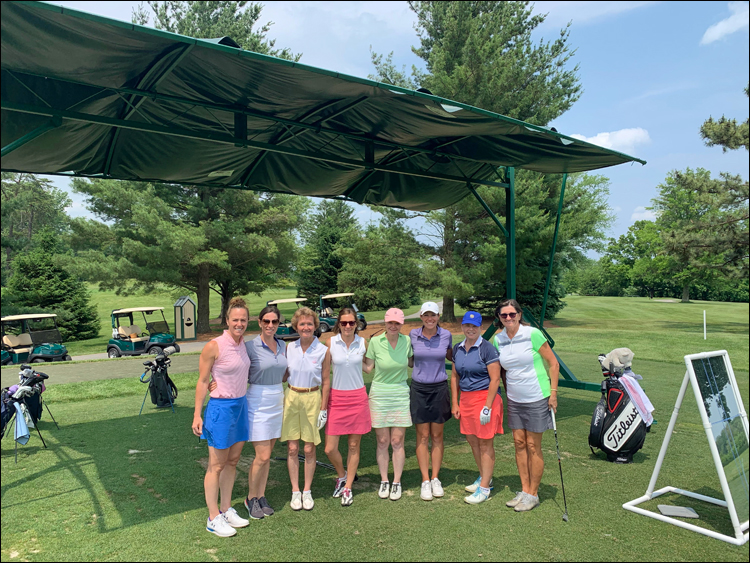 Joanna Coe, PGA
During my four years at Baltimore Country Club, I have been fortunate to meet numerous successful executive women. These individuals are trailblazers in their industries with an unmatched work ethic and desire. They are leaders in the workplace, among their communities, and at home with their families. Knowing them inspires me to bring my best every single day – both on and off the golf course.
>

A few years ago, a couple of the executive women at our club approached me and expressed their interest in learning the game of golf. They are often invited to corporate outings or business rounds because golf is the preferred sport and a highly-popular social activity in corporate America. It is commonplace for corporate executives to impress clients or customers at a high-end golf course or club, with fine dining, caddies, and exceptional accommodations.  Relationships are formed and deals are made.
Even though executive women are confident, competent, and extremely intelligent, why have they been hesitant to say "yes" to these invitations? They would rather decline the opportunity than display any signs of doubt or lack of ability. They think about the simple, yet overwhelming conundrums at the golf course – Where do I change my shoes? How do I maintain the pace of play while playing from a different tee? Should I show any emotion or competitiveness on the course? Should I just pick up if I am struggling or will that look bad? Such questions and doubts often deter women from accepting these invitations or even hosting themselves.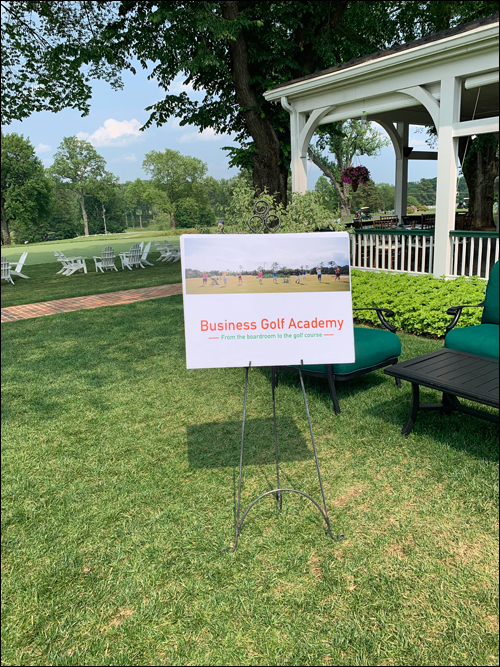 How does one fully understand how to play "business golf" if she has never been taught? This was the driving force behind hosting an Executive Women's Golf Day.
Fortunately, I was connected with Sue McMurdy, a successful executive and expert in the game and Rules of Golf. She actually hosts seminars on the topic of "how to do business on a golf course". After a couple of rounds of golf, several phone conversations, and numerous emails, we collaborated to offer an all-day golf school for executive women at Baltimore Country Club. The day included a brief meet and greet with coffee and fruit, three hours of golf instruction, and three hours of the seminar – the event culminated with cocktails and appetizers.
The ladies' career paths were wide-ranging, including financial advisors, business owners, hospital executives, and more. They all bonded about over the task of juggling successful careers, ensuring vital family time, and having room for other activities in their lives.
Sue kicked off the day with topics about fear, emotions, and comfort on the golf course. Then, we ventured to the putting green to discuss green-reading, etiquette, and the new Rules of Golf. I taught the ladies simple, yet extremely important information like how to read putts while avoiding their playing partners' putting lines, where to conveniently place their bag off the green, how to mark their ball, how to properly move their ball marker, and so on. We also worked on technique and ended with some speed control drills.
>

After lunch, Sue discussed the importance of dedicating time to honing their skills on the golf course. She emphasized that practice time should be prioritized and scheduled. Successful people tend to prioritize activities that enhance their lives or careers, and golf should be included.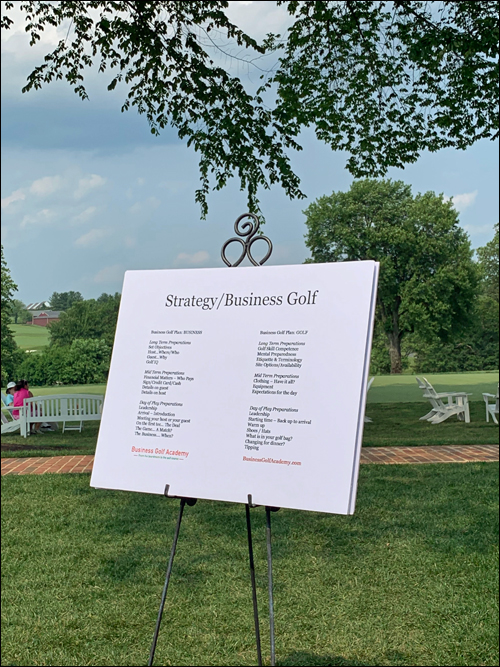 The next portion of the seminar was on the practice range. This time was dedicated to swing-mechanics, ball position, lingo on and off the golf course, practice tips, mental coaching, and more. Even though skill levels were quite varied, the ladies were supportive and even helped each other. It was incredible to watch the bonds being formed over this shared experience.
We concluded the day with cocktails, appetizers, and discussions about strategies and planning for business golf. Sitting in our Adirondack chairs, we enjoyed a beautiful setting that overlooked the putting green and the East Golf Course.
It is a home run to offer a day like this at any private club, public course, or driving range. This is not only a growth of the game initiative, but the event attracts loyal customers to a facility. Executive women certainly make important household financial decisions. The participants from our Executive Women's Golf Day at Baltimore Country Club have a peaked interest in the game, which has resulted in increased food and beverage revenues, pro shop sales, lessons, guest fees, and cart fees. Executive women are more inclined to spend time and money at a facility that offered an event that would actually benefit their careers. How cool is that?
Joanna Coe is the PGA Assistant Director of Instruction at Baltimore Country Club. She was recently awarded the inaugural 2019 Women's PGA Professional Player of the Year. Joanna is a TPI Certified Golf Instructor and US Kids Golf Certified Coach. Joanna has made several major championship appearances and is passionate about teaching golfers of all abilities.