Eddy Renio is the PGA director of golf at Oakwood Golf Club in Sun Lakes, Ariz.
Eddy Renio on the importance of hosting a golf expo:
Every year, typically around the time our "snowbirds" come back, we host a golf expo on our range to welcome our members home. We usually hold the event the first day the course opens up from our overseeding process to help pique interest when we need it. The expo is a demo day of sorts, but with a lot more to offer. We not only invite all of the vendors currently being stocked in our golf shop, such as equipment and apparel companies, but we also invite non-traditional companies to participate. In the past, we have included travel agencies, investment groups, league sponsors, fitness and rehab groups, and golf car companies. I also bring in an outside food vendor like Famous Dave's as well as a disc jockey to play music to make the atmosphere more festive. I carry around a wireless microphone and emcee the event, and make sure to stop by each company's tent to help promote them and their products. We also sell $1 raffle tickets and raffle off golf shop credit every 30 minutes. Additionally, we raffle off one annual membership during the day, which is a huge hit with our members.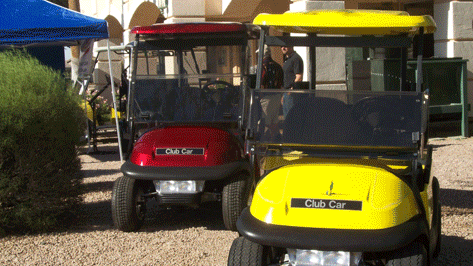 Eddy Renio on the business impact of hosting a golf expo:
We typically have 20-25 companies participate in our expo each year and I charge them $400 apiece to go toward our raffle. We usually have 700-800 people who attend the event, and we regularly have $35,000-$45,000 in sales for the day. Additionally, because we're raffling off golf shop credit, it helps encourage our members to spend what shop credit they may already have on the books. The companies love it too, as many of them get leads for new clients. In fact, the physical therapy company that participated last year secured 10 new clients that day! With all of the money raised through the company fees and raffle sales, we raise enough additional revenue to cover the cost of the annual membership that we give away and even have some left over for our golf department's budget.
If you would like to email the author of this Best Practice directly, please email ERenio@slhoa3.com