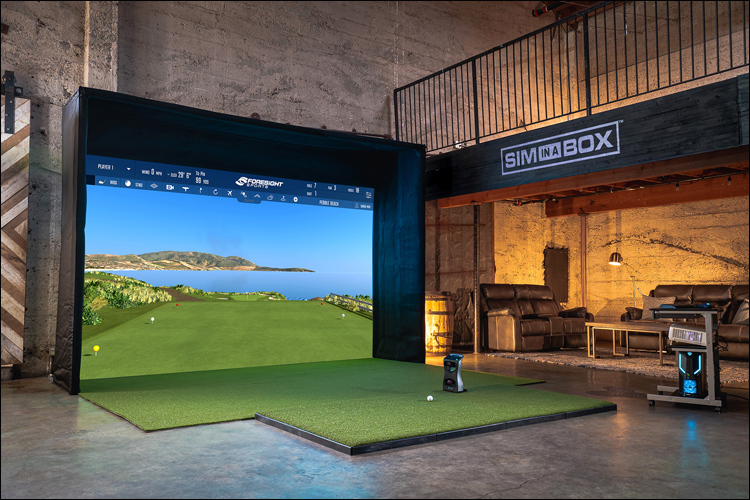 By Vinnie Manginelli, PGA
Technology has certainly transformed the game of golf in a variety of ways. From equipment to instruction, pinpointing GPS devices, and innovative shot-tracing capabilities on the weekend telecast, the old game has seen some pretty significant changes over the past twenty years, and enhancements in golf simulators are changing the way we play the game away from the golf course.
The earliest golf simulators were sold almost 50 years ago, but needless to say, today's version shows little resemblance to those early renditions. The theory behind them, however, remains consistent – play golf when you "can't play golf". Harsh northern winters, brutal summers in the south, rain, crowds, and oh yeah, pandemics?

With COVID-19 ravaging the globe, millions of golfers have been relegated to their homes for weeks, if not months. Golf courses in more than a quarter of the United States were closed until just a few days ago, and social distancing, even when we do venture outdoors, is becoming part of our "new normal". The golf simulator business is healthy right now, and this sales increase in residential golf simulators, specifically, should come as no surprise to anyone in the industry. After all, simulator use has been growing for a decade or more, as technology draws a finer and finer line between a round of golf on the course and one played in your garage or basement.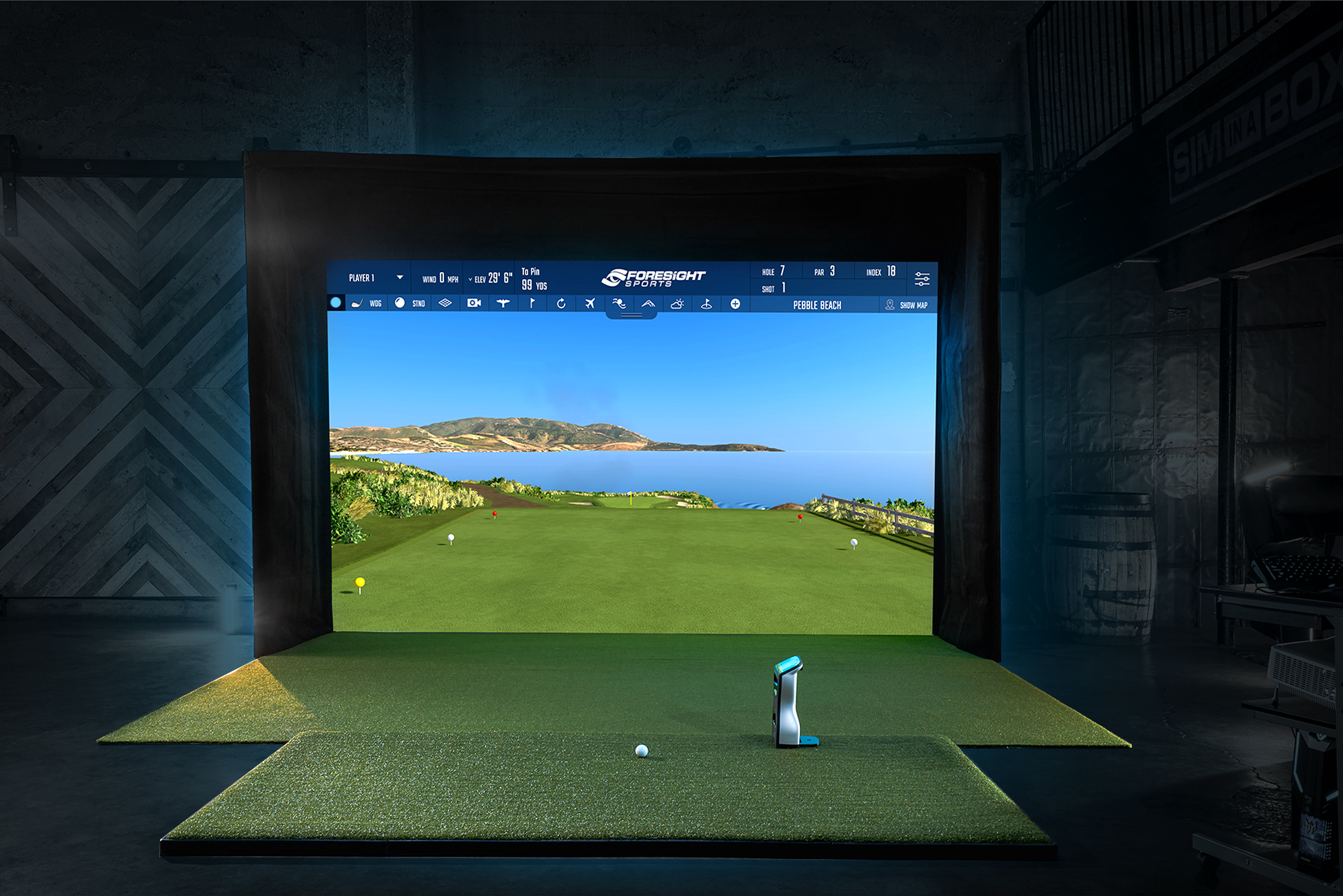 The names are known throughout the golfing world – TrackMan, Foresight Sports, aboutGOLF, SkyTrak, Full Swing Golf, HD Golf, OptiShot, FlightScope, TruGolf, Ernest Sports – there are more, rendering any gathering of information on the topic daunting to say the least. Rain or Shine Golf helps consumers navigate their way through the amenities, benefits, bells, whistles, and of course, the cost, as they work with die-hard golfers to create their dream golf simulator experience, so they can "Tee It Up Anytime, Rain or Shine".

Stephen Calhoun is the Inside Sales Manager at the Charlotte, North Carolina-based company. "The indoor golf industry is definitely thriving at the moment with the unfortunate situation that our country is facing," he says. "With so many people being quarantined at home, looking to practice their game, there has been a surge in traffic and inquiries on our website. Really, all of our products have been popular as of late, as we have experienced backorders on some of our core products. I would say the most popular products at the moment are definitely the SkyTrak Launch Monitor and the FlightScope Mevo+."
These launch monitors render reliable results at a cost-effective price tag. Many golf enthusiasts have much larger checks to write, however. Calhoun says that the majority of their golf simulator packages range between $3,000 and $10,000 – some simulator packages are as low as $800 with others hitting $25,000 and more.
Rick Cuellar, Director of Sales at Foresight Sports, says the market was good pre-COVID, citing a steady escalation of sales over the past several years due to increased customer knowledge and understanding of their products. "It's not just for entertainment anymore; it can be used for actual practice," Cuellar says.
With a wide range of prices that sometimes flirt with $50,000, I asked Cuellar who's buying these products. He cited a broad market of almost 25 million golfers in the United States, and reflected upon capturing a small percentage of that total, a conceivable goal based on golfer economic demographics. "The market is massive for this," he commented. "It's not just an entertainment and gaming device for the family," he added. Golfers are learning that they "can play rounds of golf accurately and play to the distances they play in real life."
Foresight Sports offers a wide array of price points based on customer desires, but one popular product introduced at the PGA Merchandise Show in January is the Sim in a Box. Touted as their "best software and course bundle ever", Sim in a Box will cost customers between $10,500 (launch monitor sold separately) and $26,000 for their premium version that includes a GCQuad launch monitor, full simulator setup, gaming-optimized desktop computer, and their golf simulation software with 15-world-class courses and a suite of family-friendly games.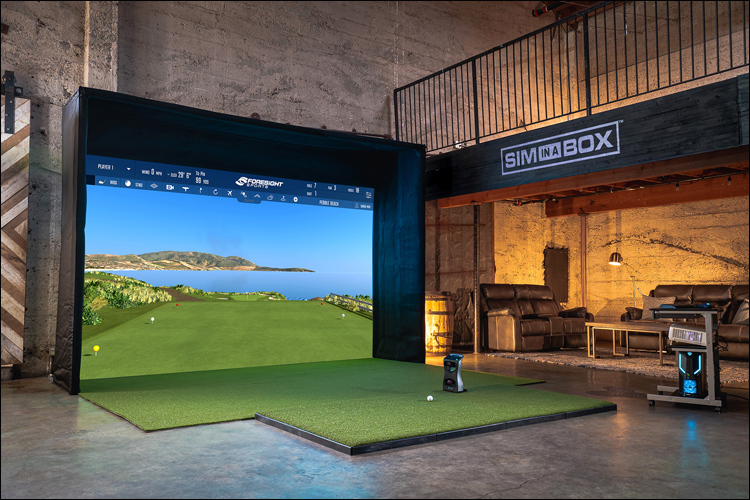 Another name you probably know is TrackMan. Stop by any practice range before a PGA Tour event, and you'll see that name a lot. Matt Frelich is a PGA Professional, and Vice President of Sales and Business Development. He also cited a spike on the consumer side, and echoed previous claims of a thriving industry in the years leading up to 2020, and further confirmed the positive effect on business that 25,000,000 quarantined golfers across the U.S. and millions more around the world can provide.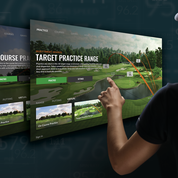 Asked about customer motives for buying now, Frelich offered direct feedback from individuals with whom he has spoken. "People say they never want to be in that situation again where they can't keep practicing – and why not practice year-round?" I asked about the cost that consumers are willing to pay – Frelich had this to say, "Not all of them are buying the full simulator. Many are buying just the TrackMan because they get the virtual software with it." Frelich added that these individuals are often using a hitting mat and a net that they may have already had, or purchased separately to minimize their overall investment.
When discussing the industry as a whole, Frelich highlighted the great number of PGA Professionals who have made the investment in their instruction business by adding TrackMan to their teaching repertoire. The TrackMan 4 is their biggest seller right now with a wide price range from $19,000 to the low $60,000 range with every bell and whistle, the average being around $52,000.
Ken Reynolds is the Global Sales Director at aboutGOLF. He says their full installation can range from $40,000 and up. "We cater to the entire family, that multi-media platform, providing easy access to use it for other means as well. We do a very good job with our development team of incorporating third-party products into it, such as Xbox, Apple TV, plug and play of really any other device."
Reynolds added that their products and technology are 100% "homegrown". Touting the Ohio-based business as a software and technology company, everything they offer is all proprietary. "We've always been 100% based on the indoor market," Reynolds adds, comparing their products and services to competitors whose offerings are utilized outdoors as well.
"The home market for us has always been very stable," Reynolds commented. One of the reasons for this success could be the user-friendly platform that aboutGOLF provides. You can watch TV using picture in picture while playing golf and streaming music, enticing every member of the family to get on board. "The simulators were always the key feature to the man cave; but now they're becoming the feature of the entire house," Reynolds touts proudly. "We've created a DIY product within the past month to help people keep swinging."

aG Trainer is a self-installed indoor training center that enables golfers to play golf any time and any place. The $17,500 price tag includes aboutGOLF's 3Trak technology, a high-performance laptop, a one-year aG Trainer subscription, hitting and stance mats, and an adjustable tee system. You also get a QR reader for quick log-in to aG Locker, the company's cloud-powered golf app that allows players to analyze their performance and statistics and share such data with instructors for remote learning. You can even communicate with friends and participate in online contests, challenges, and tournaments. These consumers will be re-engaged when some semblance of normalcy returns, as the screen and turf systems are installed, providing the full experience for which aboutGOLF is known.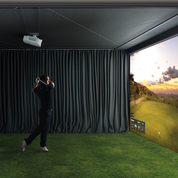 Going forward, with much uncertainty in the world, all of these industry-leaders foresee continued home simulator sales success. As can be deduced by the price tags referenced in this piece, it is a true investment for many golfers who perish the thought of any lengthy period of time without the game. Once the budgets get worked out, and the spatial logistics are organized, it is often full steam ahead. All of the knowledgable company representatives with whom I spoke tout their products as being "the best" – and in various ways, they may all be right. Companies like Rain or Shine Golf help consumers get past the sales pitch to determine what is truly best for them.
There are many facilities that offer the use of golf simulators – they often have food and beverage and promote a social atmosphere. In this time of COVID-19, when the safe social situation is one of distancing, more golfers are making the jump to home simulators, bringing their families closer together and improving their golf games for use on the lush green fairways that we're used to.