Palmer Design architect, Thad Layton, maximizes terrain with innovative Golf Practice Park
BY: LEN ZIEHM
There was never a doubt about the beauty of Balsam Mountain Preserve, a private club located in the hills of Western North Carolina (hole no. 2 pictured). The abundant views of Double-top Mountain made the site attractive to — among others — the Arnold Palmer Design company, which built one of the most visually stunning mountain courses in the United States.
The course opened in the small town of Sylva, North Carolina, in 2007, but there was a problem. There was no clubhouse. Ten cabins and a boarding house with a full-service restaurant were not deemed a suitable substitute, and the best location for a clubhouse was where the practice range was located.
Eliminating the range wasn't an option, as Balsam Mountain Preserve has some passionate golfers in its membership. They needed more than a golf course; they needed a place to practice as well.
So, developer Ken Bowdon, a long-time member of the club, and Thad Layton, a course architect from Palmer Design, did some brainstorming and came up with what they're calling a Golf Practice Park. They describe it as a hybrid between a range and par3 course, but it's really much more than that. It's a novel concept, to put it mildly. The Practice Park, expected to open sometime this summer, can still be a range, though a small one. It can also be a par-3 course, but its best feature will be its versatility. It includes a large practice putting green, two bunkers, five designated grass tee boxes and six synthetic turf greens.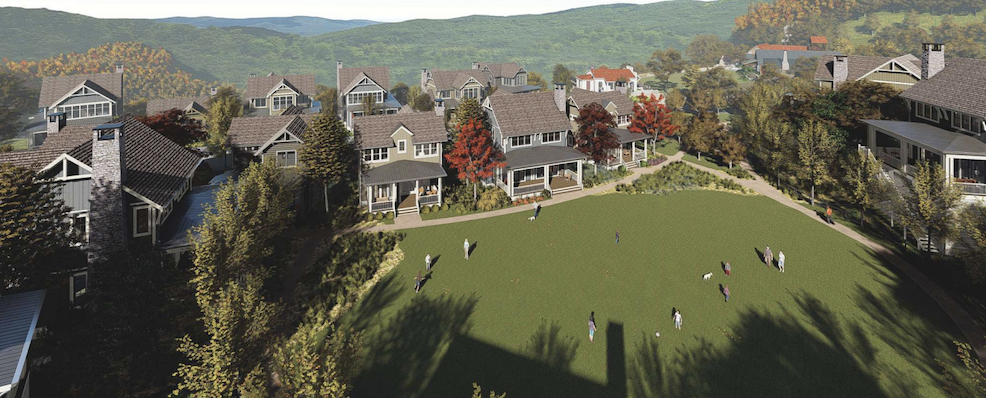 PGA Head Professional Travis Wilson will be able to create a short game area with practice shots that can range from 40 to 170 yards. He will be able to create a five-hole course that runs uphill, as well as one that runs downhill. He can also conduct closest-to-the-pin contests from a wide variety of distances and hold night events in the Park.
"In our research, we can't find anything like it,'' says Wilson. "There's so many ways you can practice. We're also thinking of cutting some holes for soccer (or foot) golf. You're limited only by your own imagination.''
Joe Dellinger had been connected with the club for 10 years, during which it underwent four ownership changes. When Bowdon took possession in January of 2016 he asked Dellinger to return as chief operating officer.
Describing Bowdon's present involvement as "a passion purchase,'' Dellinger is delighted by what's been happening since then. In addition to the Golf Practice Park, construction of a clubhouse and tavern is to begin in June.
"There had been nothing new at Balsam for some time, but now we're excited,'' says Dellinger. "This will be a fun new look at what golf can be. We're looking to the future.''
Most of the better players will be forced to use only their irons when the Practice Park is used as a traditional eight-tee practice range.
"The original range was 11 acres. Now they can't probably hit more than irons out there,'' says Layton. "But, if the members can accept not being able to pound drivers, we can give them something better – but on a smaller scale.''
The Practice Park is being built on five acres and almost one of those is devoted to synthetic turf. (The rest is real grass). Putting surfaces are made of synthetic turf, and Layton likes the advantages that provides.
"Synthetics have come a long way in the last 10 years,'' he says. "Now balls will hit and check – and even back up, in some cases. That's a huge gain for synthetics. And, we can top dress those greens with sand so we can control the speed. That's getting more like the real thing (standard putting greens). We don't need irrigation and we don't have to mow to maintain it. You don't have to worry about having pitch marks on the greens.The maintenance costs will be lower, and that also makes it more of a legitimate option.''
Layton believes the Practice Park will serve a variety of needs, not the least of which is to encourage beginners or youngsters to give golf a try.
"It'll be a multi-generational facility,'' says Layton. "Playing on a mountain course can be intimidating. It's best for kids to get introduced to golf in small bites. This course will be walk-able and won't have any cart paths. Hopefully more golfers will be born out of this facility.''
It'll be a complement to the main 18-holer, a course that Layton says "probably wouldn't be built today because of the engineering done to make it playable.''
So, how unique is this Practice Park? Layton says the closest thing to it is at Bandon Dunes, in Oregon. The Horse Course at Prairie Club, in Nebraska, also offers some similarities, but Balsam's Golf Practice Park is much different than those two.
"We're very, very excited about offering something that we hope will span new generations,'' says Dellinger. "Kids can play casually, or maybe even barefoot. This can be a place where grandfathers can play with their grandsons and grandmothers can play with their granddaughters, where people can just go hit for an hour instead of playing a four-hour round."