BY: TONY L. STARKS
It's no secret that selling golf equipment can be a challenge, especially in the modern climate where e-commerce, big-box and emerging clubfitting boutiques are all competing for attention from golf consumers. However, green grass facilities offer something neither of those outlets have: golf professionals and clubfitters with an education rooted in the industry, strong relationships with the client base, the ability to test and fit equipment outdoors and, perhaps most importantly, the flexibility to create unique sales strategies. In today's equipment world, clubfitting is almost mandatory for any golf facility that wants to be successful at selling hard goods. With that said, in this month's cover story we'll explore revenue-producing clubfitting strategies from proven experts and fitting tactics that produce top-notch performance.
What to Learn From a Tour Level Fitting
"Here, try this." Zach Taylor, Cobra Golf's Fitting & Staff Coordinator, handed me an F8 driver he'd just pieced together. We'd been on the back of the range at Encinitas Ranch Golf Course for about 30 minutes at Cobra's new fitting center. The space is framed by the company's tour truck, a tent that encloses its latest equipment, a TrackMan and a mouth-watering buffet of after market shafts. It's an oasis for any clubfitting nerd.
After taking a few swings with the latest driver setup and monitoring the TrackMan numbers, Taylor asked me if I noticed anything different. "I think it's shorter, and it has a boardier feel," I replied.
Both observations were accurate. He shortened the length of driver after watching me hit several 3-woods. My dispersion patterns were much tighter with the fairway wood, and he thought a shorter driver shaft might lead to similar performance with the big stick. Instead of the standard length, he took it down to 44.5" for the driver.
He landed on the shaft after asking questions about feel preference. We started in the Graphite Design TOUR AD IZ, which utilizes a medium center and extra stiff tip to help promote high launch and low-spin conditions. It's also a medium to high torque shaft, which allows golfers to feel the weight of the clubhead a little more and promotes the proper load at the top of the swing. For some golfers, typically those with a quicker transition at the top, that feel can be interpreted as whippy and too often lead to swing where the club gets stuck behind the player. Many times, those types of golfers prefer a "boardier" sensation. I'm one of the latter.
So Taylor elected for the HZRDUS Red, which is lower torque and has an ultra stable mid section – allowing me to still produce a lower spinning shot with mid level trajectory and have a comfortable feel.
While most facilities may not be able to offer the sheer number of shafts that Cobra Puma has at its disposal, there are several key elements from the fitting that can be translated across the board.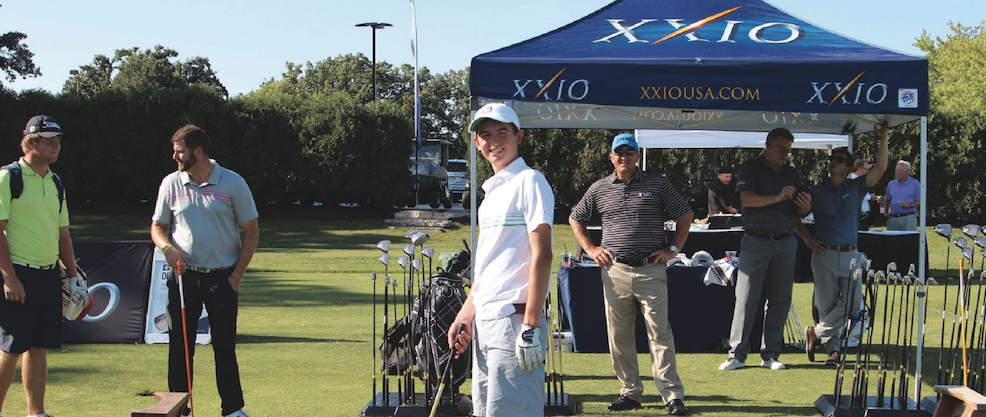 Firstly, Taylor would not tell me the performance characteristics of the shaft/clubhead combination before I hit it. This tactic, according to him, prevents the golfer from manipulating their swing to try to fit the expected performance. If you tell someone it's a high launching shaft, they may consciously or unconsciously try to hit the ball higher and not produce their normal swing.
Secondly, take note of how a player hits their 3- wood before fitting them for a driver. If the performance, particularly shot dispersion, is significantly tighter and more consistent with the 3-wood, you may want to consider shortening the length of their driver.
Finally, it's okay to fit for a golfers preference in some cases. When you have an experienced player, even if their swing is not ideal, meeting their expected feel is important. So ask plenty of questions about what a golfer likes about his or her current equipment, their preferred trajectories and desired feel.
Northern Ohio's Most Sought-after Clubfitter Reveals Strategies for Success
Windmill Golf Center is the place to go for clubfitting in Northern Ohio. In the last three years, sales at the stand alone range, retail center and training facility have grown from $700,000 to over $1.4 million – with hard goods accounting for 85 percent of the growth. In the last year, they've sold more than an iron set per day and nearly two drivers per day on average. A big part of that success is the fitting prowess and reputation of the facility's coowner and PGA General Manager Trent Maxell.
In Maxwell's own words, here is a listing of business practices and strategies that have made Windmill Golf Center a success:
Don't Be Fully Reliant on Technology
"I've worked diligently on the basics of fitting and that's made me more efficient at my trade. Fitters need to understand the golf swing before being able to prescribe equipment. The starting point for me was reading books from top instructors and studying a variety of philosophies on the golf swing. Beyond that, I made it a point to actually visit the instructors who authored books I've read, learning more than just what they've written.
"In many cases, the sessions I conduct are equal parts instruction and clubfitting. That knowledge is the foundation of every fitting. I certainly use launch monitors, but only as a secondary tool to verify the information I give to my customers."
Remain Brand Neutral
"We carry every major manufacturer and try not to be reliant on one brand. If someone is a brand loyalist, that's fine – but my staff and I try to be as Switzerland as possible. We don't care what they choose, our job is to find the right thing that gives them a chance to play their best golf. Listen to the customer, get their feedback, but ultimately get them into a golf club that works."
Become the Fitter for Your Fellow Golf Professionals
"I've fit many of the PGA Professionals at surrounding country clubs and public courses. They're aware of what we offer, our centralized knowledge and the thoroughness of our fitting process. Furthermore, my peers now send many of their members or golfers to me for fittings. We charge them a fitting fee, but send them back to their home professional to purchase the clubs. While revenue is vital, the true impact and influence of our business is not measured in dollars and cents. If I can help Joe Golf Pro down the road sell 10 sets of clubs to his members, it's a win-win."
Be Smart with Your Ad Dollars
"I have a dual-degree in marketing and sales management from the University of Akron, so I know just enough to be dangerous. I recognize the value of showcasing my knowledge and ability to the right and most influential people. Beyond that, we also do TV and radio ads. The agency we work with wanted to spread us out, so our TV spots would appear during football and basketball games. I get that, but I want the Golf Channel – that's where the core golfer is. We've made the conscious decision to build our business through the core golfer first, and then extend to masses at a later time."
Luxury Brands Are Gaining Momentum
When Parsons Xtreme Golf (PXG) entered the golf equipment space in 2014, there was a lot of debate about the brand's goal to provide premium golf clubs regardless of the price. It was difficult to wrap your head around the idea of someone paying thousands of dollars for a set of irons or $600 for a single driver.
But since that time there's been steady growth in market share, especially at private clubs. There've also been examples of growth among other high-end brands such as XXIO, Honma and custom Scotty Cameron putters.
According the Golf Datatech's 2017 study on Serious Golfer Shopping & Purchase Habits, a key factor in this trend is a shift among serious golf consumers – who now regularly seek "custom clubfitting specialist" for their equipment needs regardless of the additional cost.
At Butterfield Country Club outside of Chicago, where decorated clubfitter Mike Carbray serves as PGA Director of Instruction, XXIO and PXG have been the best selling brands over the last year – XXIO for players with slower swing speeds and PXG for the better players. According to Carbray, his first step into the premium equipment market was getting over his own initial sticker shock.
"I was just unsure if I could sell a $300 hybrid or $600 driver," he admits. "But the memberships at high-end private clubs, like ours, are used to premium stuff in their life. Whether it's the cars they drive, the houses they live in or the fashion and apparel they wear, everything is high dollar. While it was an adjustment for me, once our members got it in their hands and saw the performance, the question of price went out the window."
A Grip on Putter Fitting
Oversized putter grips have been all the rage for years. The array of options currently on the market can leave consumers wondering: "Which putter and grip combination is the best fit for me?" PGA Professionals and clubfitters are capitalizing on this opportunity by accenting grip selection during putter fittings.
There are several important factors to examine when selecting the right putter and grip combination for a golfer, the first of which is hand size.
"We have a chart we've used for many years from Wishon Golf. We take a static measurement from their wrist to their longest finger, and refer to the chart to the range of grip size that fits them best," says Matt Wilkes, PGA Teaching Profess and Lead Clubfitter at the Mike Bender Golf Academy in Orlando, Florida. "The chart is geared towards grip sizes for irons, drivers and fairway woods, but once we have that information we can make a more educated selection on which putter grip is best for them.
"For example, we know not to use a SuperStroke 3.0 (putter grip) for someone who needs a slim grip on their irons. We'd look to a 1.0 or 2.0 size to start with, and further narrow our selection based on feel and performance."
Swingweight and shaft length are other factors to consider. As most fitters are aware, the shorter the length of the putter the lighter the head will feel in the golfer's hands. And if you add a heavy oversized grip to the equation than the putter head will feel even lighter. "We prefer to fit our golfers into the heaviest putter head they're comfortable with," says Wilkes. "Because we like our students to feel the weight of the putter head, we tend to select grips that are lighter than the head of the putter.
"With some companies, like SuperStroke, offering adjustable weighting in the grip end we're able to accomplish that pretty easily – while also giving the golfer an oversized grip to keep their hands and wrists quiet during the stroke. To get the right swingweight, you have to ensure that the length, head weight and grip weight are all dialed in."