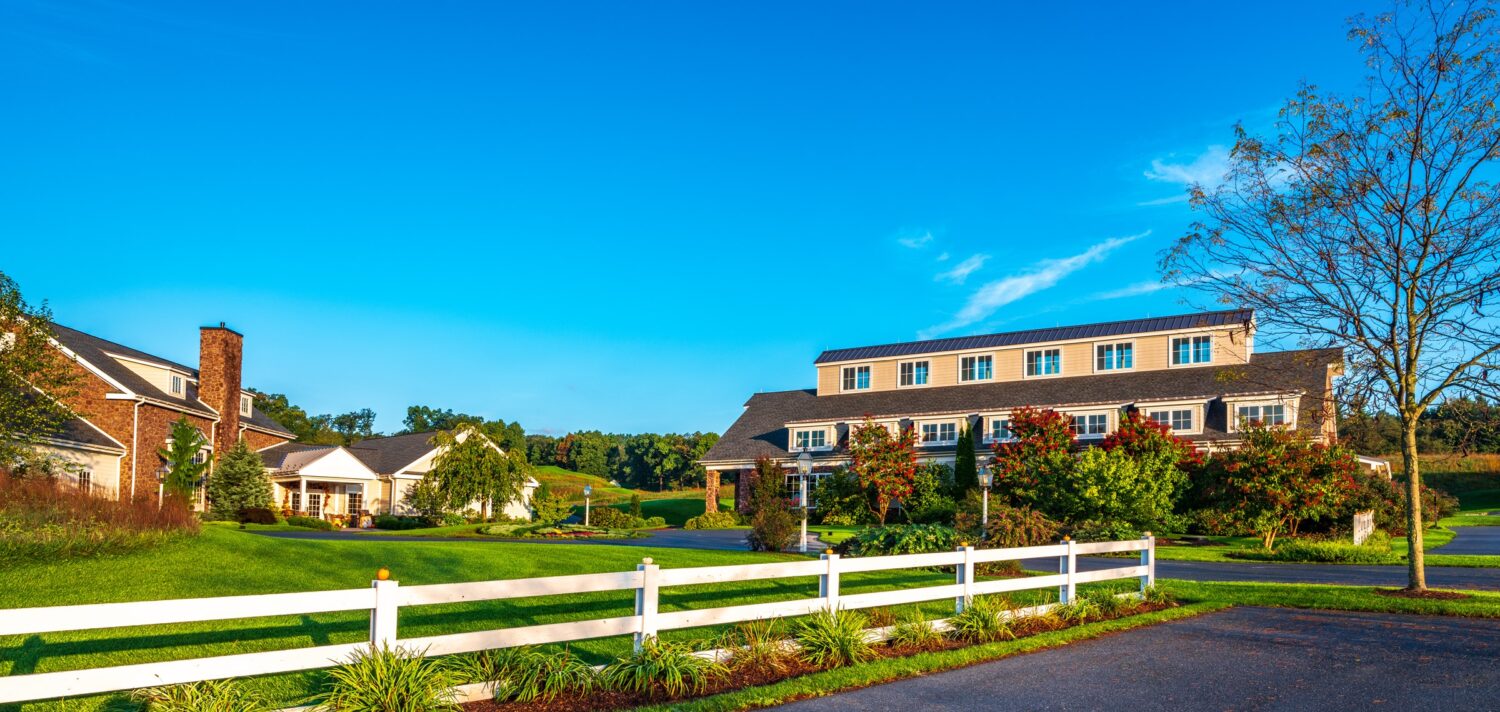 By Vinnie Manginelli, PGA
Located about 90 minutes from Philadelphia, in Mohnton, Pennsylvania, LedgeRock Golf Club is a private 18-hole facility with 340 members who enjoy exemplary golf and dining services. A 2020 Golf Range Association of America (GRAA) Top 50 Private Facility, LedgeRock Golf Club has also been recognized as a Distinguished Club by BoardRoom Magazine for three consecutive years.
LedgeRock employs three PGA Professionals, including PGA Head Professional, Zach Halvonik and PGA Director of Instruction, Andy Miller, a 2020 GRAA Top 100 Growth of the Game Teaching Professional. I recently spoke with Halvonik and Miller, and they were all too willing to share some stories from their club, as well as details of their golf shop, member events and Learning Center.

Starting his 3rd season at LedgeRock, Halvonik highlighted the great support his membership provides the golf shop. "It allows me to bring in fresh product throughout the year knowing that it's going to sell," he said. With brands like Peter Millar, Polo, Straight Down and Donald Ross, Halvonik ensures the highest quality in men's and women's apparel, and keeps the golf shop looking fresh and new by frequently updating displays and enhancing his visual merchandising efforts. The unique LedgeRock Golf Club logo also helps sell merchandise, as the club's members like to show it off while demonstrating pride in their club.
Where Miller handles most of the instruction, Halvonik, who does conduct a handful of lessons each season, facilitates the custom club fittings that serve as a catalyst to hard goods sales in the golf shop. He says his biggest sellers are TaylorMade, Callaway and PING, all quality brands to go with the impressive roster of apparel lines he highlighted. The golf shop is open year-round and between Halvonik and his PGA Assistant Professional, Bill Kindoll, someone is always on duty to help members with their retail needs, or in the winter, to make sure the indoor hitting bays, located in the club's Learning Center, are stocked with balls for member practice.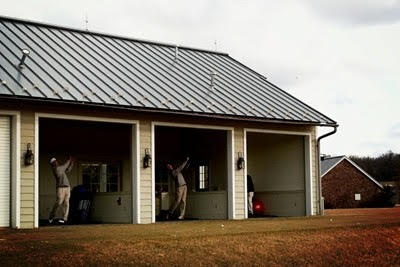 The LedgeRock Learning Center is located on the club's practice range and offers heated indoor practice bays that open directly onto the range. It is a hub of activity that includes private and group instruction, practice sessions and various social gatherings. With meeting space indoors and a spacious patio outdoors that overlooks the range, it's a popular member gathering spot. Miller says the building offers meeting rooms with technical and presentation systems and is Wi-Fi enabled for everyone's convenience. Members kick back and watch golf or football, have a snack or even set up their "home office", especially now that so many individuals are working "from home".
When it comes to golf, members practice year-round on the indoor putting and chipping green. Miller utilizes some of the best teaching technology on the market in his lessons and player development programming so members can improve their skills year-round and practice throughout the cold Pennsylvania winter. Miller highlighted the special programs he offers, especially the junior golf opportunities. "We've had people switch clubs to take advantage of our junior golf program or join LedgeRock in addition to their original club," Miller mentioned.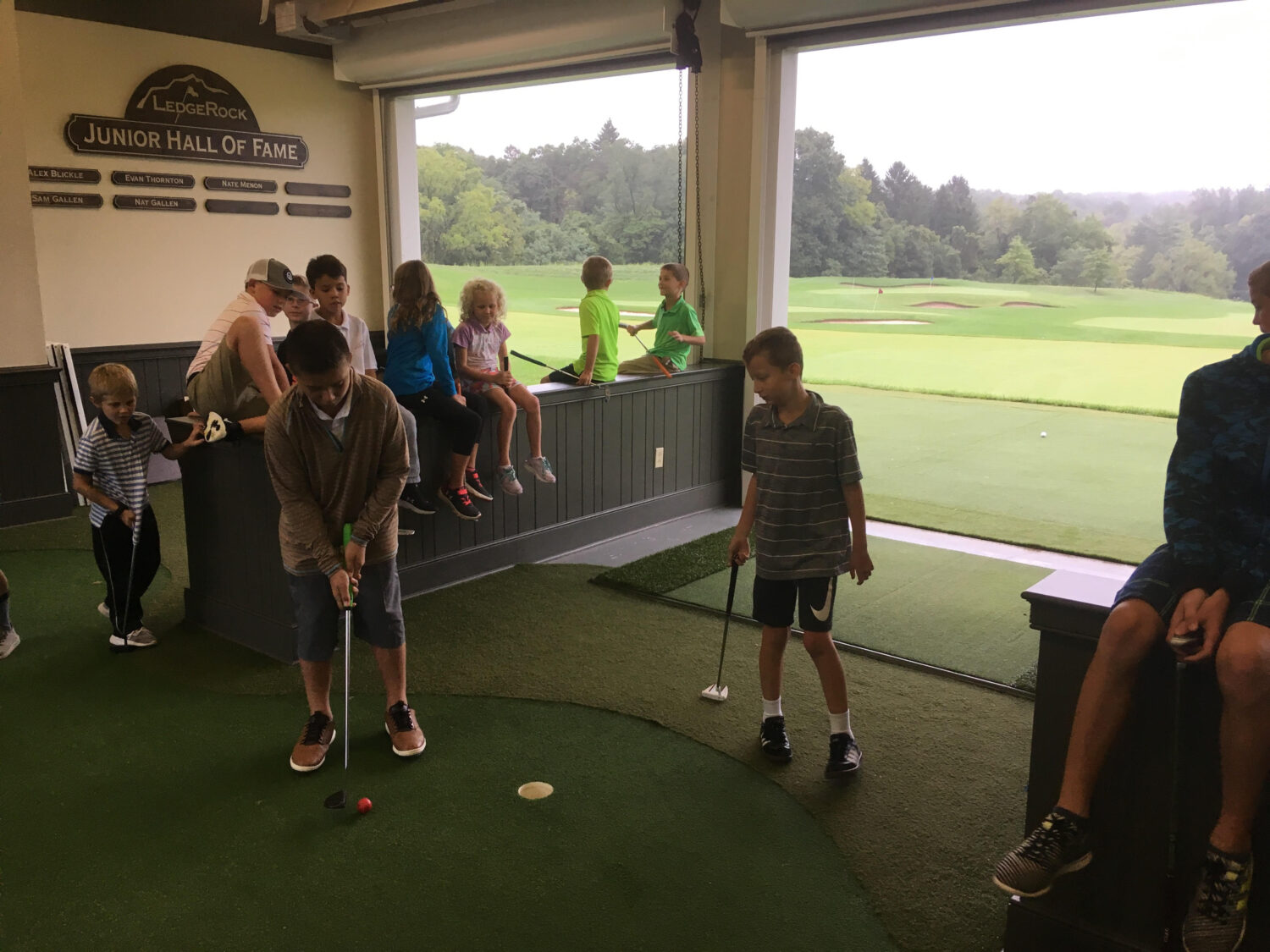 "We do the normal stuff like PGA Jr. League and Drive, Chip and Putt. But I also do something called Fall Junior Team Golf, which I've done presentations about during [Philadelphia PGA] Section meetings," Miller added. He described Fall Junior Team Golf as a combination of Drive, Chip and Putt and PGA Jr. League – skills contests with a college football theme. In 2020, he had 36 kids comprising four teams and competing in various skills competitions. Miller gets jerseys made up with the LedgeRock logo AND the logo of the college football program represented by each team. Miller plans ahead and prepares a season-ending party with cakes and party products of the teams represented in the competition. I asked him where one gets an LSU Tiger-themed cake in rural Pennsylvania and he credited the internet and some thoughtful planning for making the party an annual success.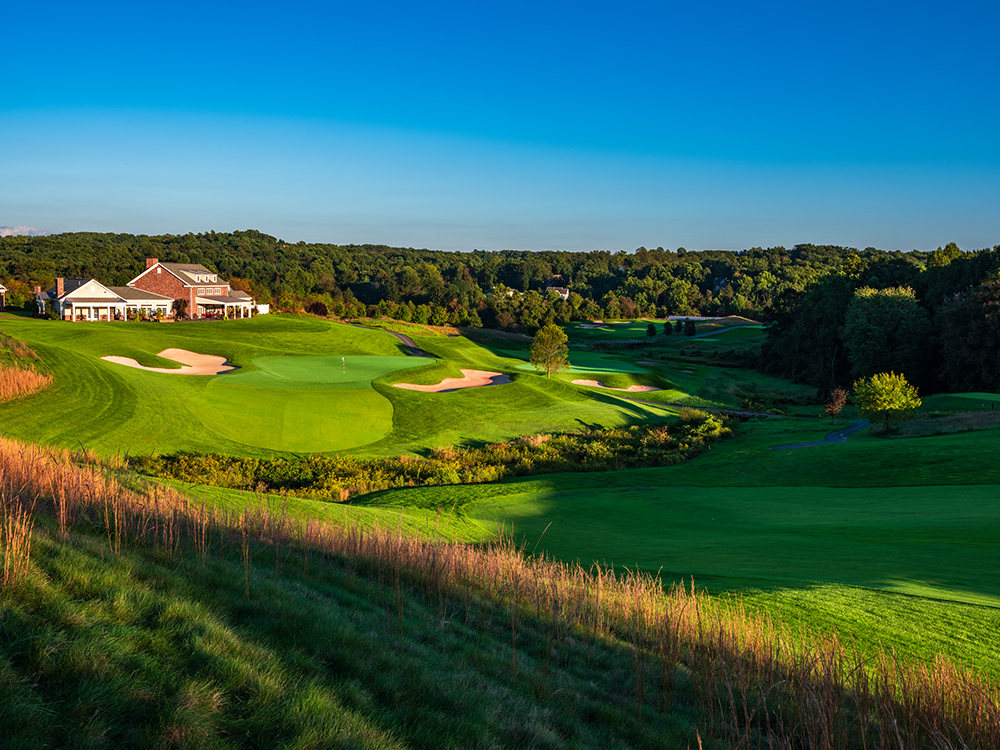 The events are fun for the kids because they are not highly-focused on golf skills. For instance, kids will have to run forty yards, make a two-foot putt and run back. It's about engaging the young kids, often between 6 and 13 years of age, in a fun and supportive environment. This involvement often leads to kids joining his more golf-specific programs that drive membership as mentioned briefly already. Miller sends video recaps with color commentary to add to the kids' (and their parent's) experience.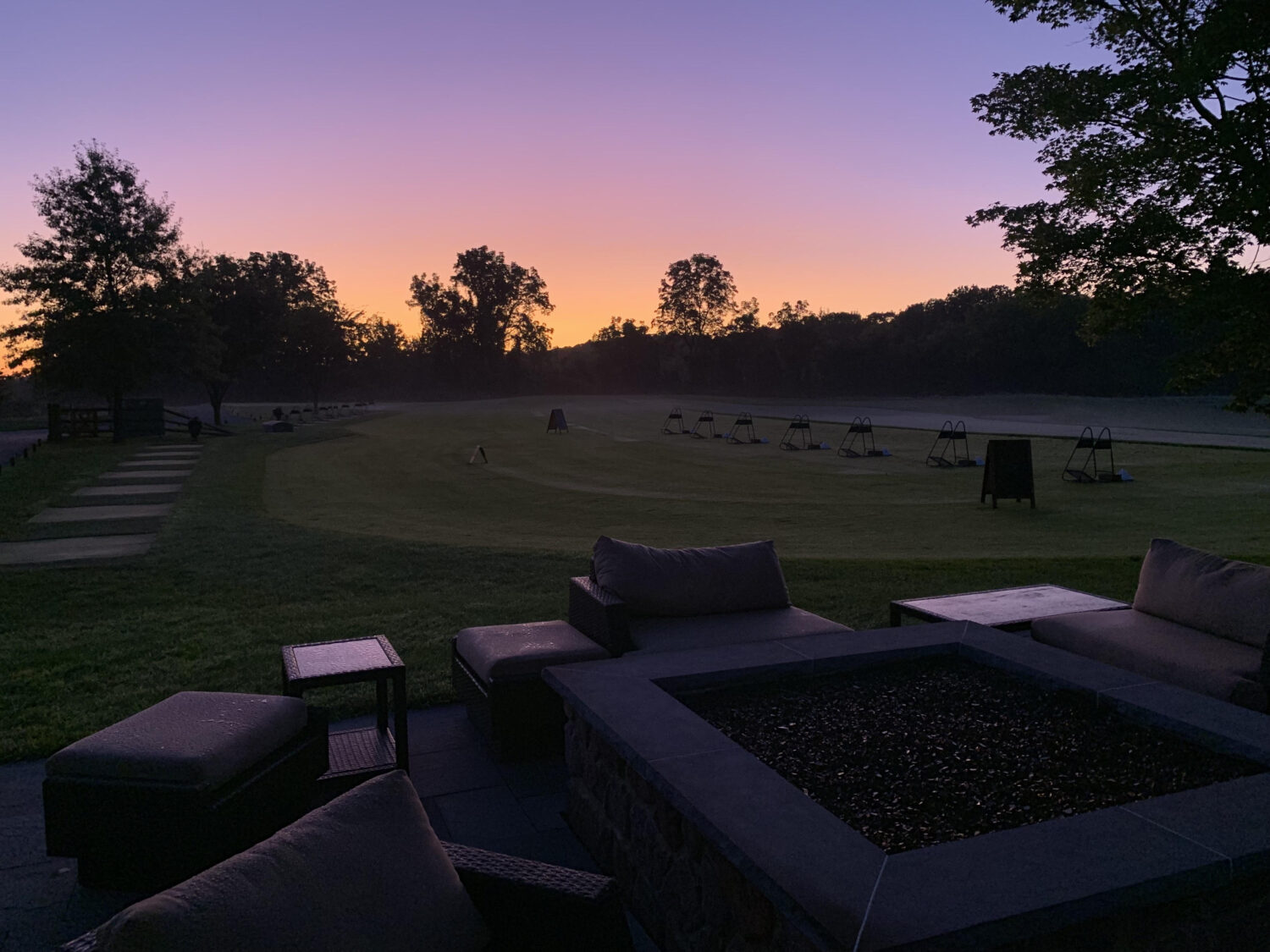 Miller offers a variety of adult programming for members of all skill levels as well, helping them play better golf and increasing the enjoyment they derive from the game. His short game schools and women's practice club are very popular and he plans on implementing a "create your own clinic" program in 2021, allowing members to customize their own instruction.
2020 was fraught with challenges, of course, but as has been the case with golf facilities across the country, LedgeRock added 95 new members to its ranks and still has room to grow. A young club that opened in 2007, LedgeRock sports three holes of more than 600 yards and measures over 7,200 yards from the tips. Take a look at the scorecard and you'll see five sets of tees that serve golfers of all skill levels. What you won't see on the primary scorecard is a nine-hole short course that measures 1,298 yards and has a scorecard of its own. The short course caters to juniors and beginners who want to take the skills they learn on the range out to the golf course.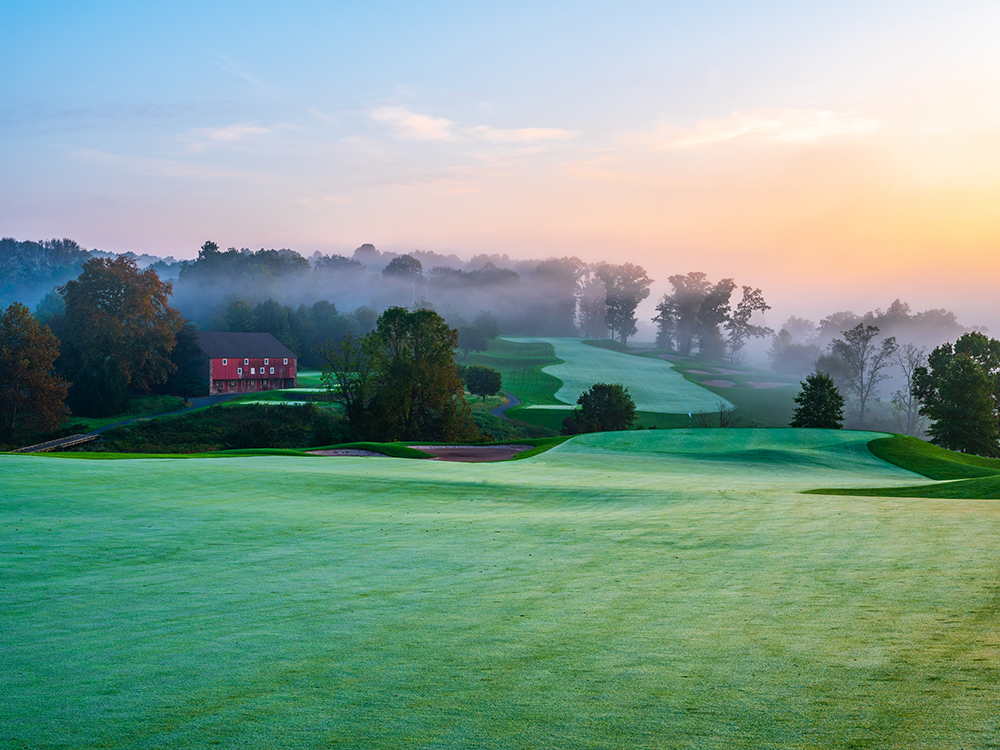 Getting members on the golf course helps boost participation in member events. With 60 men in their Wednesday league, and frequent Nine and Dine's and Couple events, Halvonik is successfully promoting their Food & Beverage services as part of these special events. He also spoke of The Greenbriar Cup, a season-long Match Play event, and said they host 6-10 corporate and charitable outings each year, a number that works well within the business plan of the management team at LedgeRock. By looking at the course and speaking with its PGA Professionals, I'm sure if they opened it up to more outings, groups would be knocking down their door. With the programs that Miller has in place and the high level of service and selection in Halvonik's golf shop, the stage is set for the growth experienced in 2020 to continue well into the future.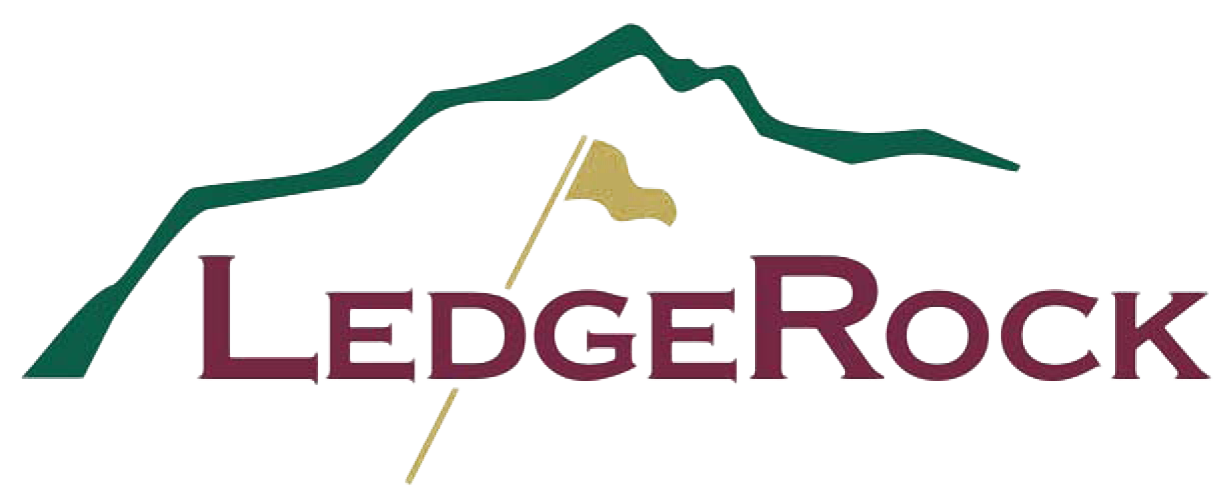 For more information on LedgeRock Golf Club, log on to https://www.ledgerockgolf.com/.