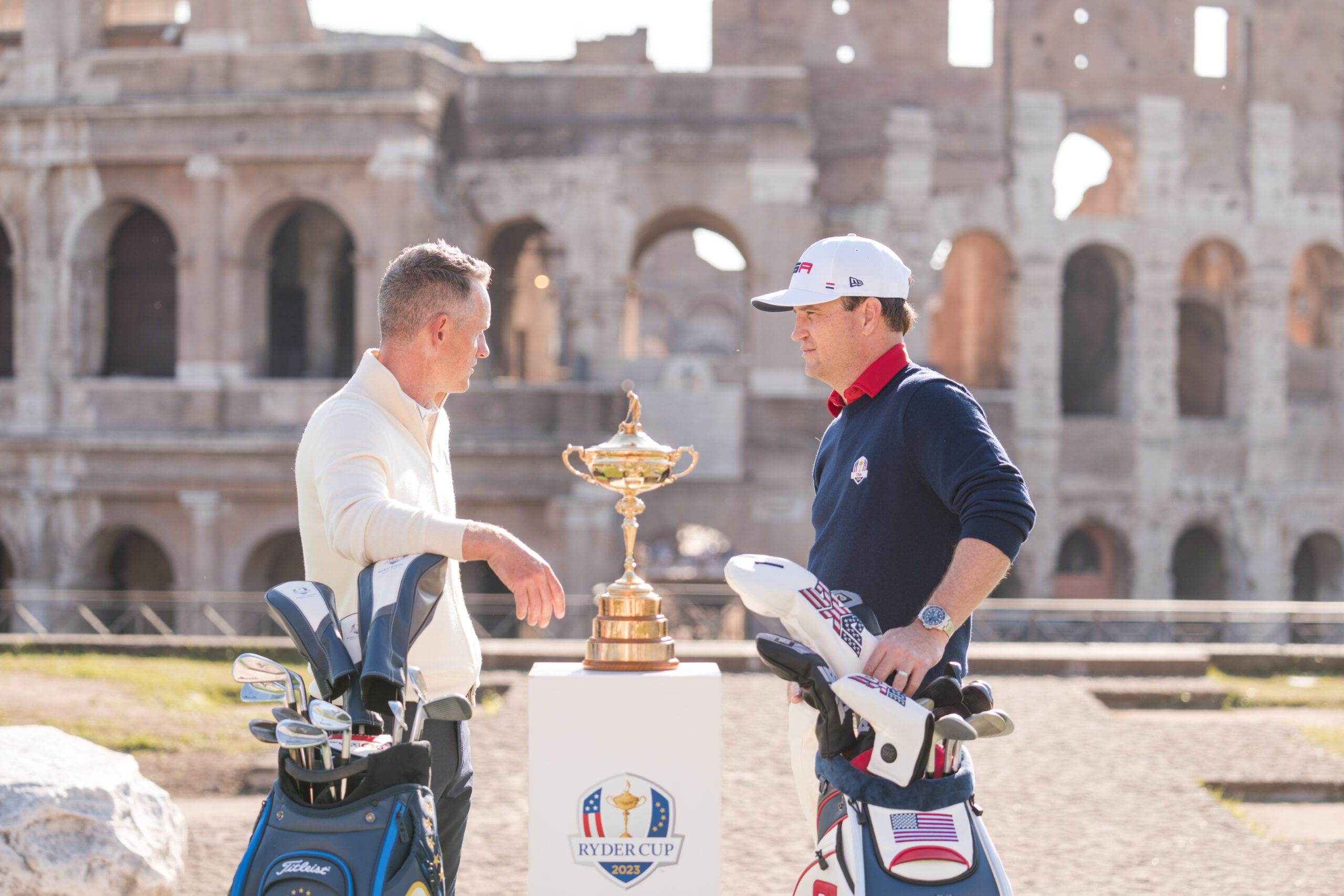 By Garrett Johnston
(With forward by Editorial Director Vinnie Manginelli, PGA)
As summer turns to fall, the Fed Ex Playoffs have completed and another football season is underway. With baseball winding down, golf fans are already enjoying some great international competition this month, with another stellar Solheim Cup in the books. Now, we look forward to the Ryder Cup matches taking place near Rome this weekend.
Golf Range Magazine contributing writer Garrett Johnston recently had the opportunity to speak with the two Ryder Cup captains, Zach Johnson of the U.S. and former world #1 Luke Donald of Europe. He talked Ryder Cup and tuning up on the range before a round. Here are his exclusive conversations with two tour professionals whom you'll see a lot of this week. – VM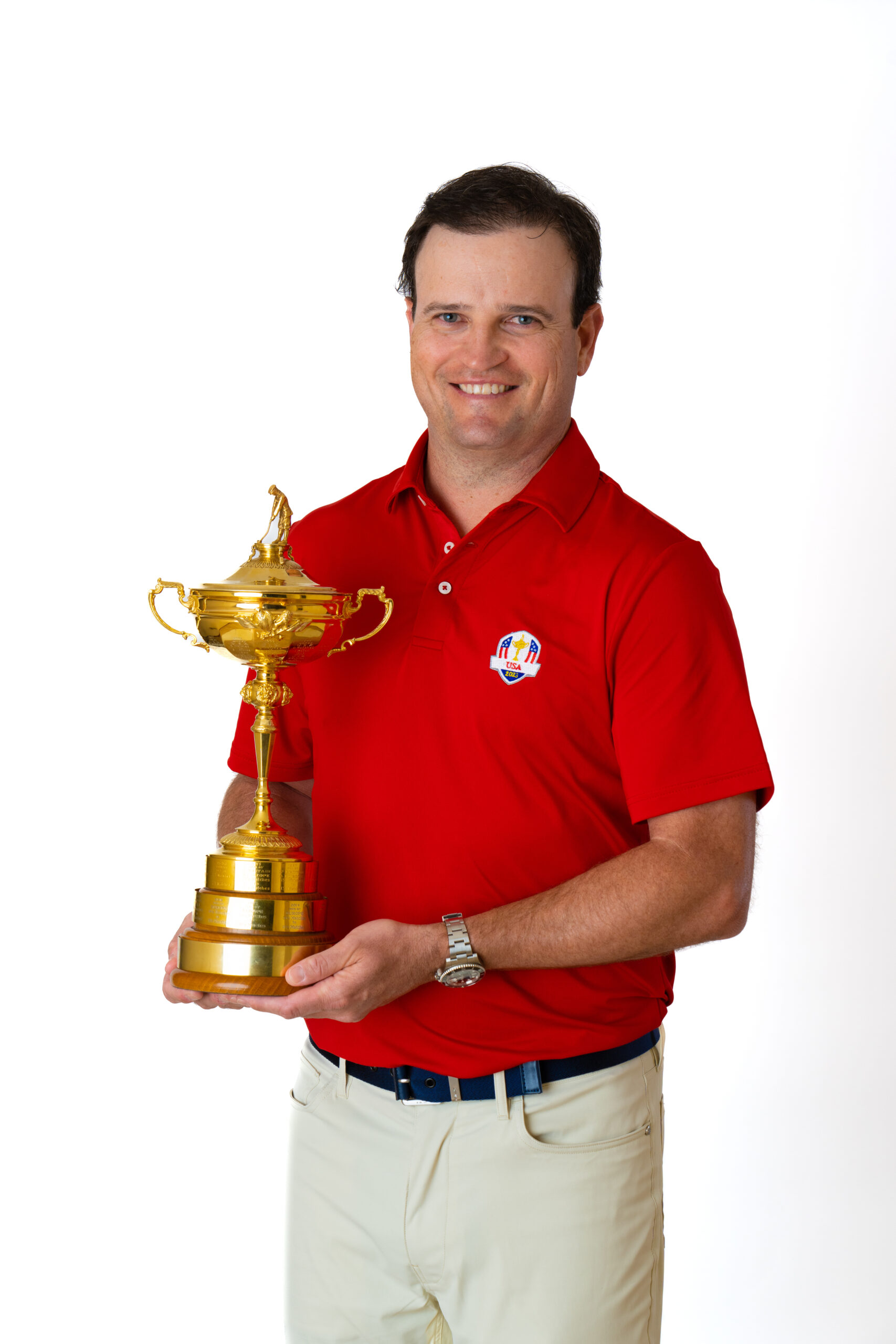 Tour veteran and two-time major champion Zach Johnson leads the U.S. Ryder Cup team this week in Rome and will try to earn the United States' first Ryder Cup victory overseas since 1993. Thankfully, he has some good friends from previous team events in his corner with Vice Captains Fred Couples, Steve Stricker, Jim Furyk, Davis Love III and Stewart Cink. Will the team they've assembled be strong enough to finally get the job done in Europe? We'll soon see. We caught up with Captain Johnson to discuss topics ranging from the Ryder Cup to the Masters to his pre-round range routine.
Johnston: What does it mean to you to captain the U.S. Ryder Cup Team?
Johnson: It's an honor of a lifetime. As a professional golfer and competitor, the Ryder Cup is the best thing I've ever been associated with. I am thrilled to be Team USA's leader.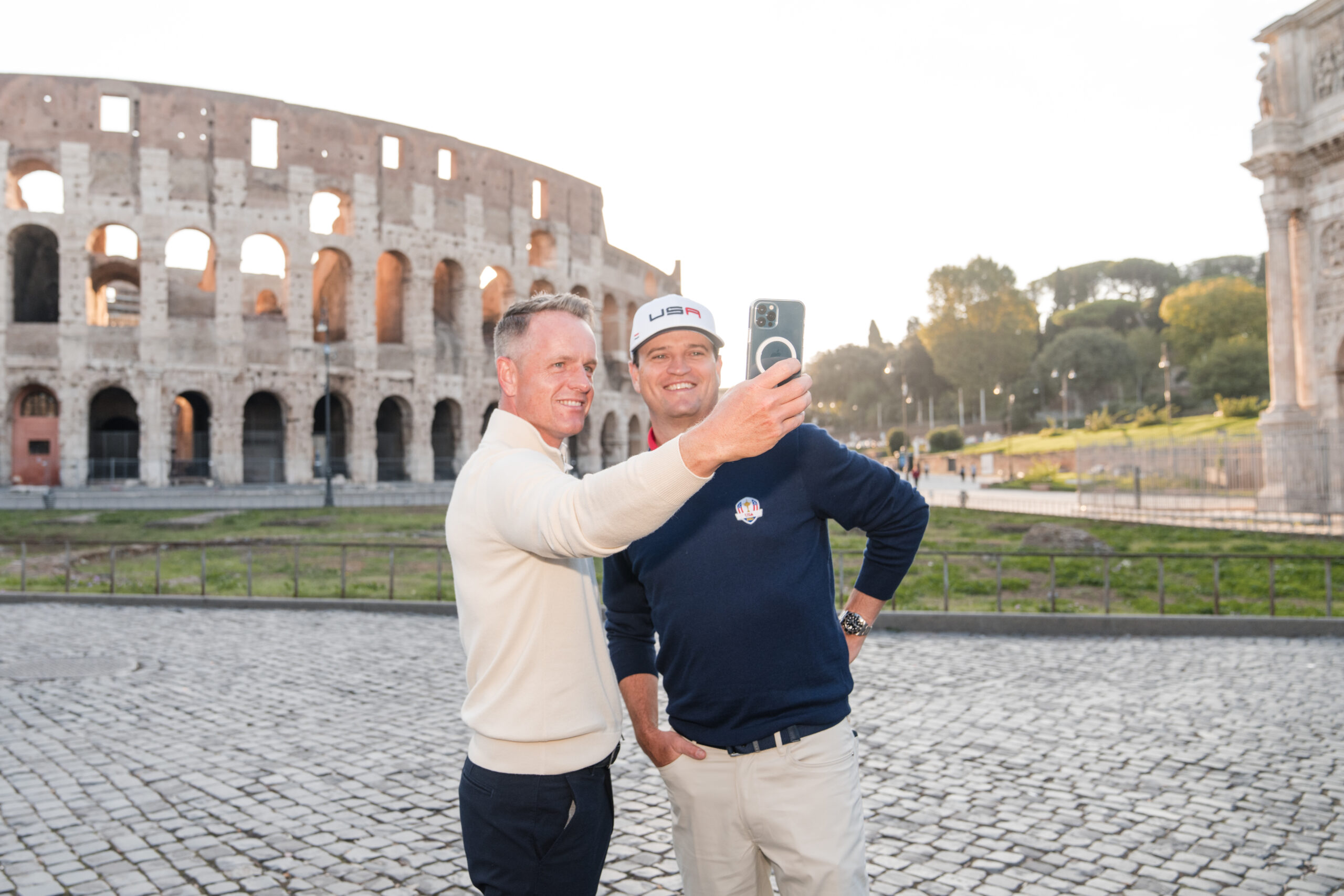 Johnston: How was the planning leading up to this event?
Johnson: Planning is continually going on and never stops. But that's one of the many joys of being one of the captains. My wife Kim and I take the responsibility very seriously and want to put forth a week the team will never forget – from the mundane little items to the heavy-weighted items and everything in between. We are enjoying the process, and we have a tremendous team with the PGA of America to help us along the way.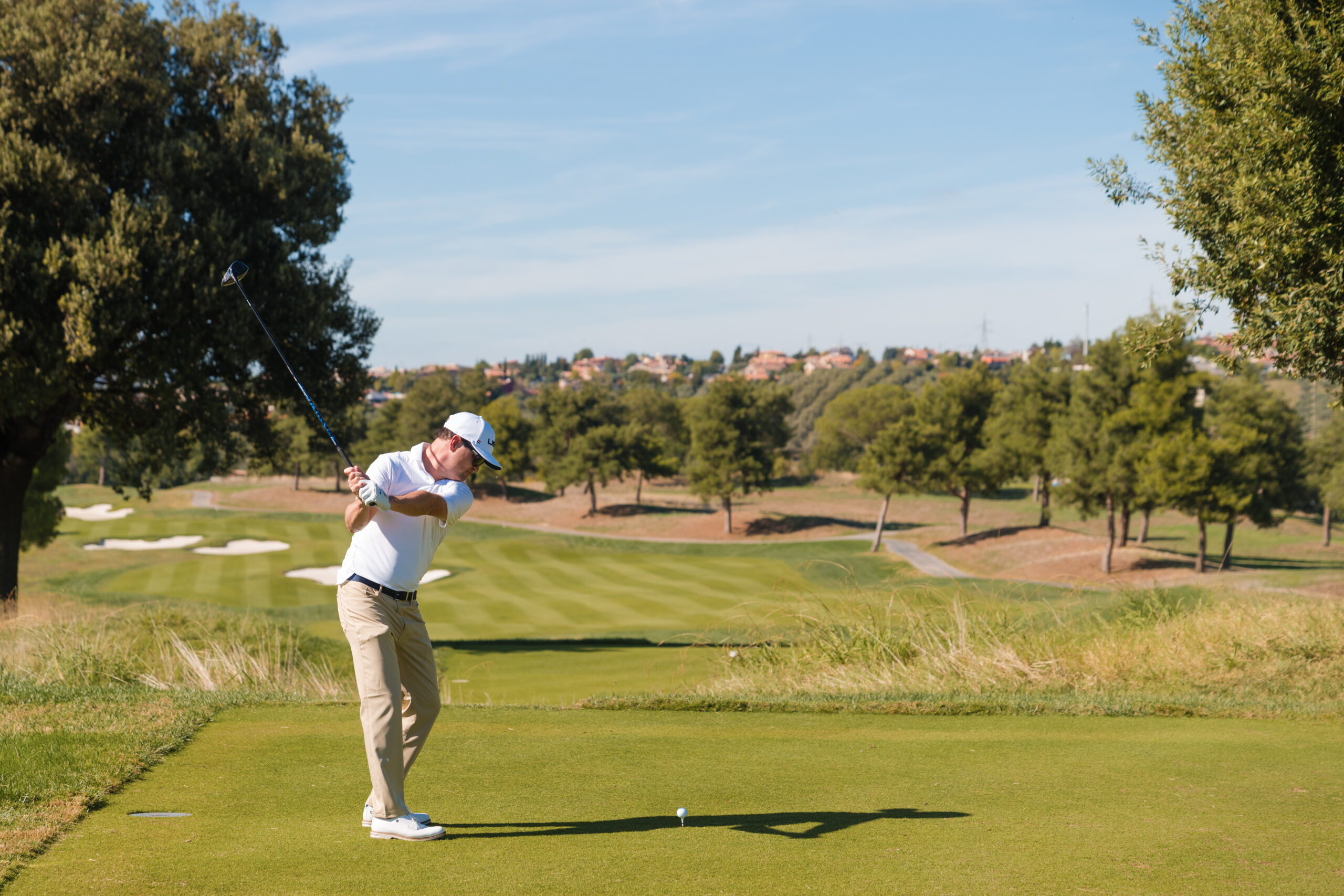 Johnston: With the captaincy, you've been quite busy, yet you still managed to play in 20 PGA Tour events in 2022-23. How has your game been?
Johnson: My play as of late is showing definite signs of progress. I am encouraged. My team has realigned our goals and objectives to a space that has everyone excited. Now it's my place to work and execute.
Johnston: You're always going to be remembered for winning the 2007 Masters – what does that event mean to you each year?
Johnson: The Masters is a week that my family and I look forward to each year. It's not hard to find motivation to get your game ready for Augusta National. I believe I have a great plan to prepare during the weeks leading up to Masters Week and I do so based on the elements Augusta National Golf Club presents that week. With each passing year, I can't wait for the Masters.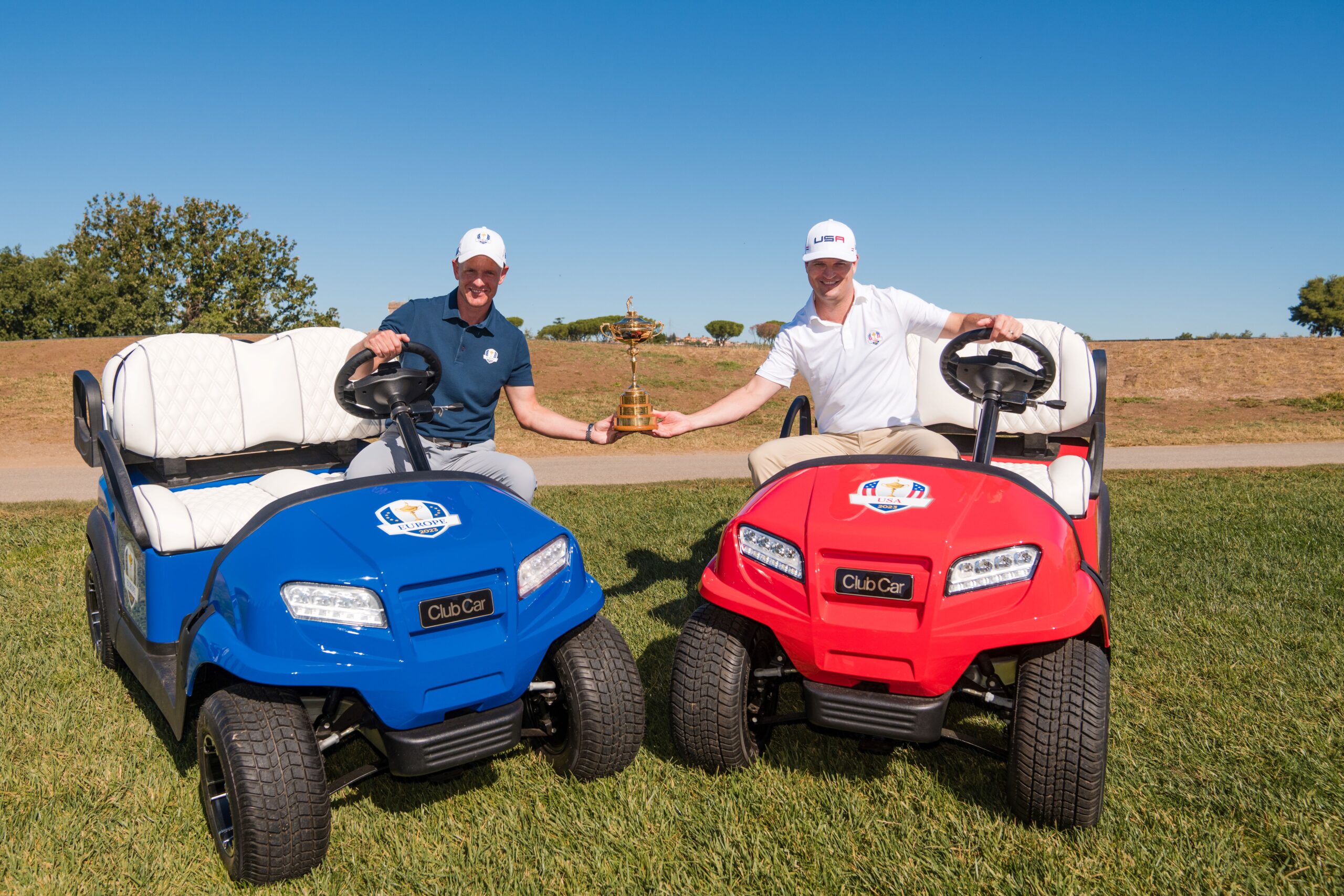 Johnston: We always love to find out more about how the best players in the world practice, but before we ask that, how can the everyday golfer get more out of their range sessions?
Johnson: It's important to get the feel of solid contact, so even if it's just for seven or eight minutes, you want to get out on the range and get your rhythm going. Get started with a lofted club like a wedge. Then hit a couple of 7-irons and get a few good driver swings in as well. It's always important to consider where you hit the most shots each round. To me, it's usually your putter, your driver and your wedge. I would say to focus on them on the range. But if you don't have that much time, then focus predominantly on the flat stick.
In addition to putting, you've got to get loose too – so you want to be able to stretch. Pros like us have already been to the gym for quite some time before we get to the range. So, my body is warmed up and in a proper position before I even get to the range. Most of your amateur golfers are going to be more stiff coming from work after sitting all day, so it's important that they get loose however they can.
Johnston: How do you like to prepare for your rounds?
Johnson: I try to meet with my caddie about 60 minutes before my tee time. But for practice, I think a lot of times it varies based on the conditions of the course that week. Is there rain or wind going on that week? The first thing I'll do is a little bit of putting. Then I'll move on to chipping and bunker play. I'll hit the range and then end with more putting. That's essentially how I like to get ready for my competitive rounds.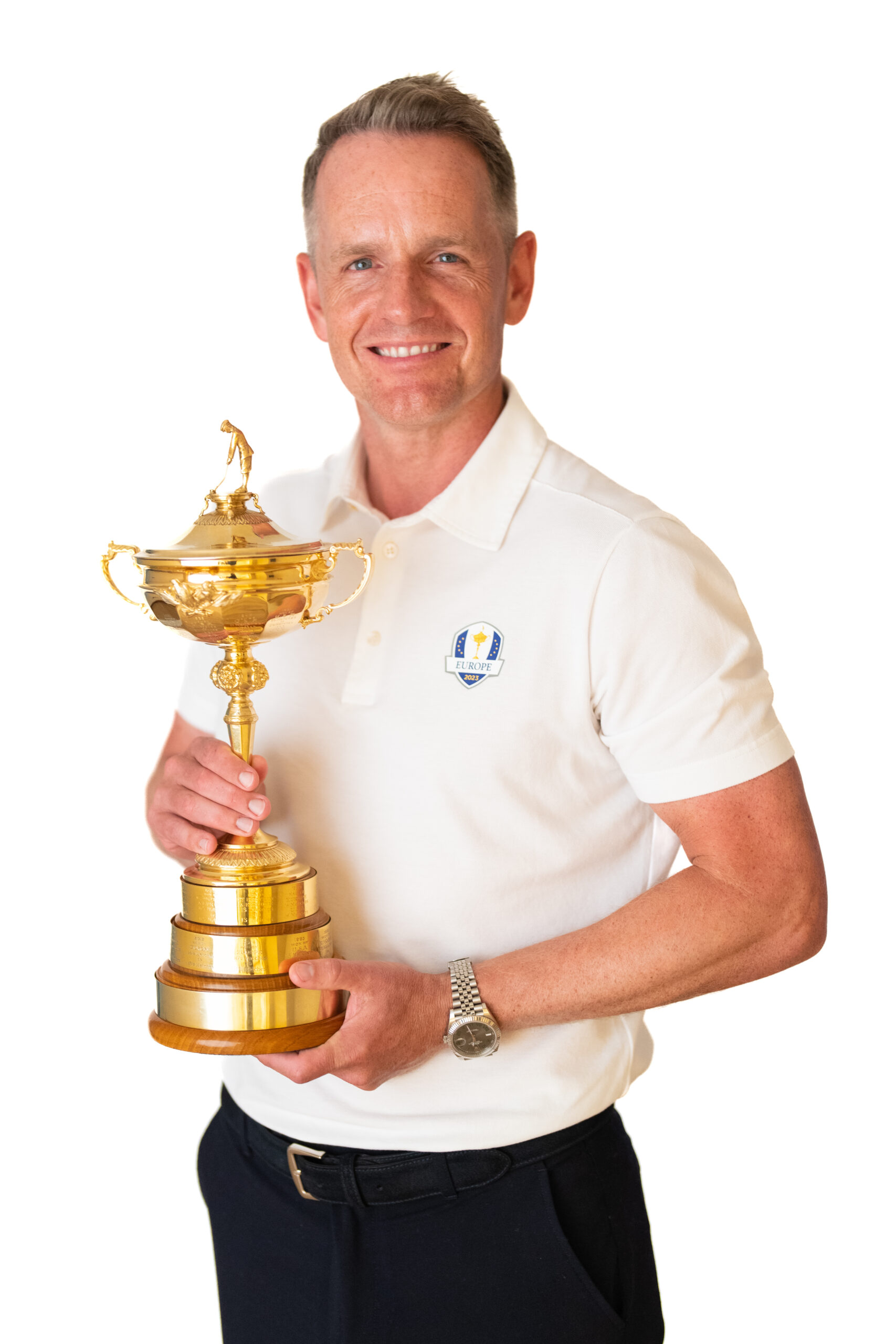 Now, let's hear from European Ryder Cup Captain Luke Donald on his pre-round warm-up routine and get his take on what it means to captain one of the squads at such a storied event like the Ryder Cup.
Johnston: What's the focus of your pre-round warm-up?
Donald: The focus during my warmup is to get the body loose, and do everything in my power to be prepared when I get to that first tee. I do a lot of the prep before the day of a round, but the focus just prior to a round is to spend 50 minutes getting a feel for the speed of my swing and developing a sense on the range for the shot shape that I'm feeling and how to bring that to the course. Probably half of my pre-round warmup is dedicated to the range. However, it's important that I get a little rhythm going in my short game too. I'll spend 10 minutes chipping and 15 minutes putting.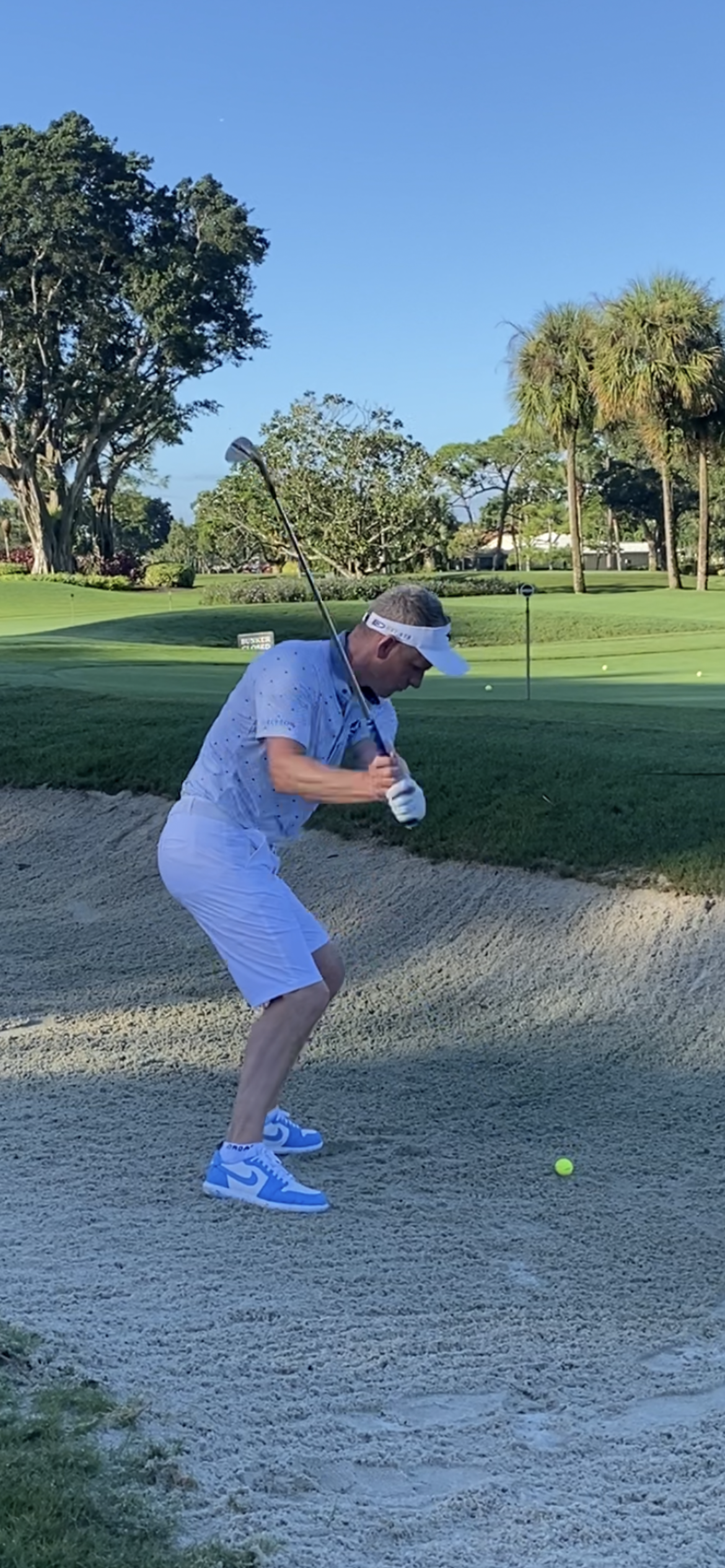 Johnston: Is there a certain feel you want to have on the range?
Donald: I'll sometimes visualize the first couple of holes while I'm hitting balls on the range. In addition, it's really about working through the bag, seeing my lines and trying to get loose. I've been working on some swing adjustments, so I'm just trying to get those feels and trying to incorporate some reps while also getting my shot shapes down and making sure I remember what each shot feels like.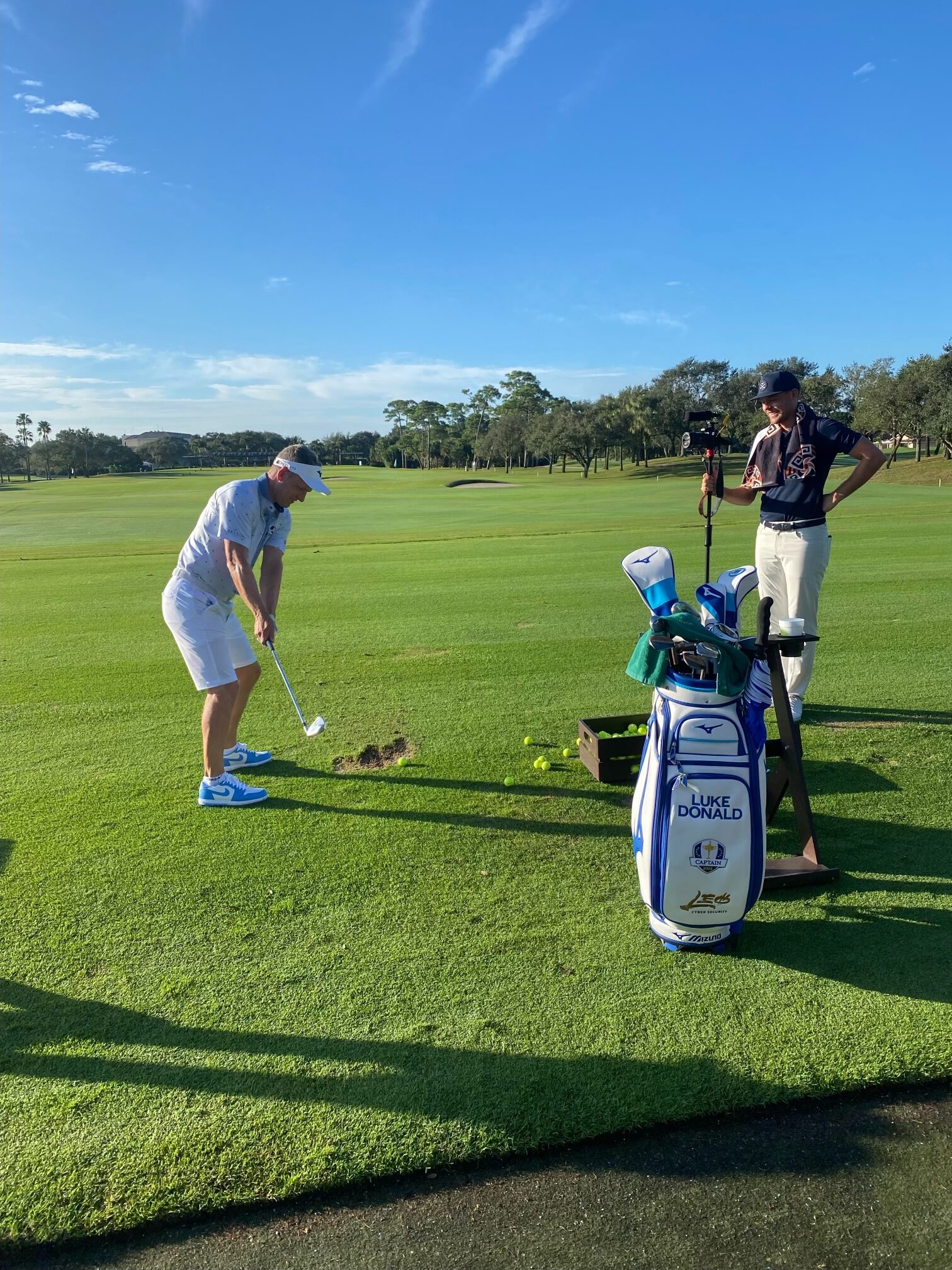 Johnston: How do you go through your bag?
Donald: I always start with my lob wedge or sand wedge and work up. Sometimes I'll go even clubs – sometimes I'll go odds. Sometimes I'll go odds and evens, so it just depends on how I feel.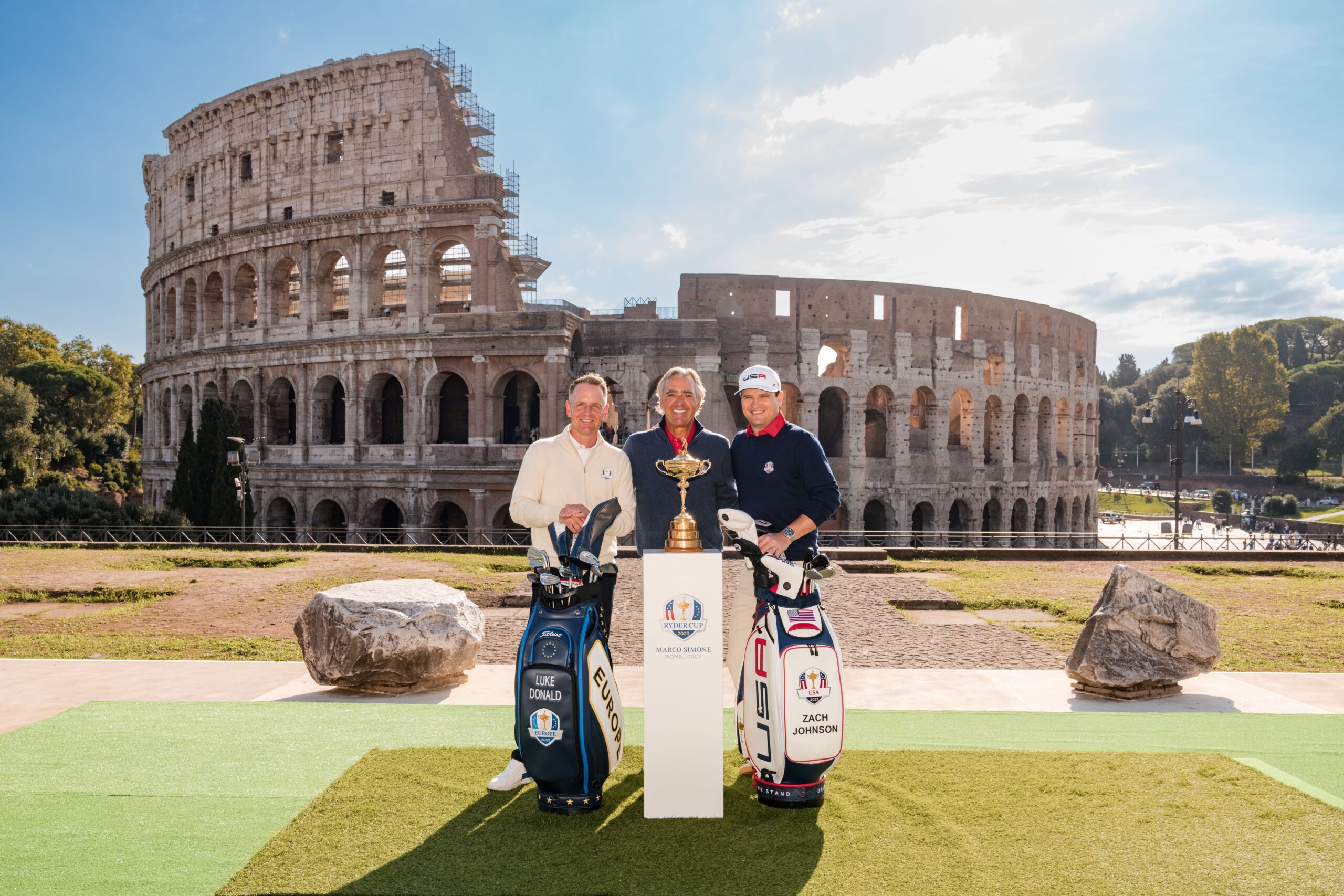 Johnston: You've always been known for your strong bunker play – what's a piece of advice you would give to amateurs about improving their bunker game?
Donald: A lot of people find bunker shots hard, but it's all about good technique and setup. Use the back edge of the wedge and use the bounce of the club. The best way to do that is in your setup. You want the ball very forward in your stance. You almost want the shaft of the club leaning backward to expose that back edge. That promotes a really open clubface and lets you glance across the blade and hit it as hard as you want to create more spin.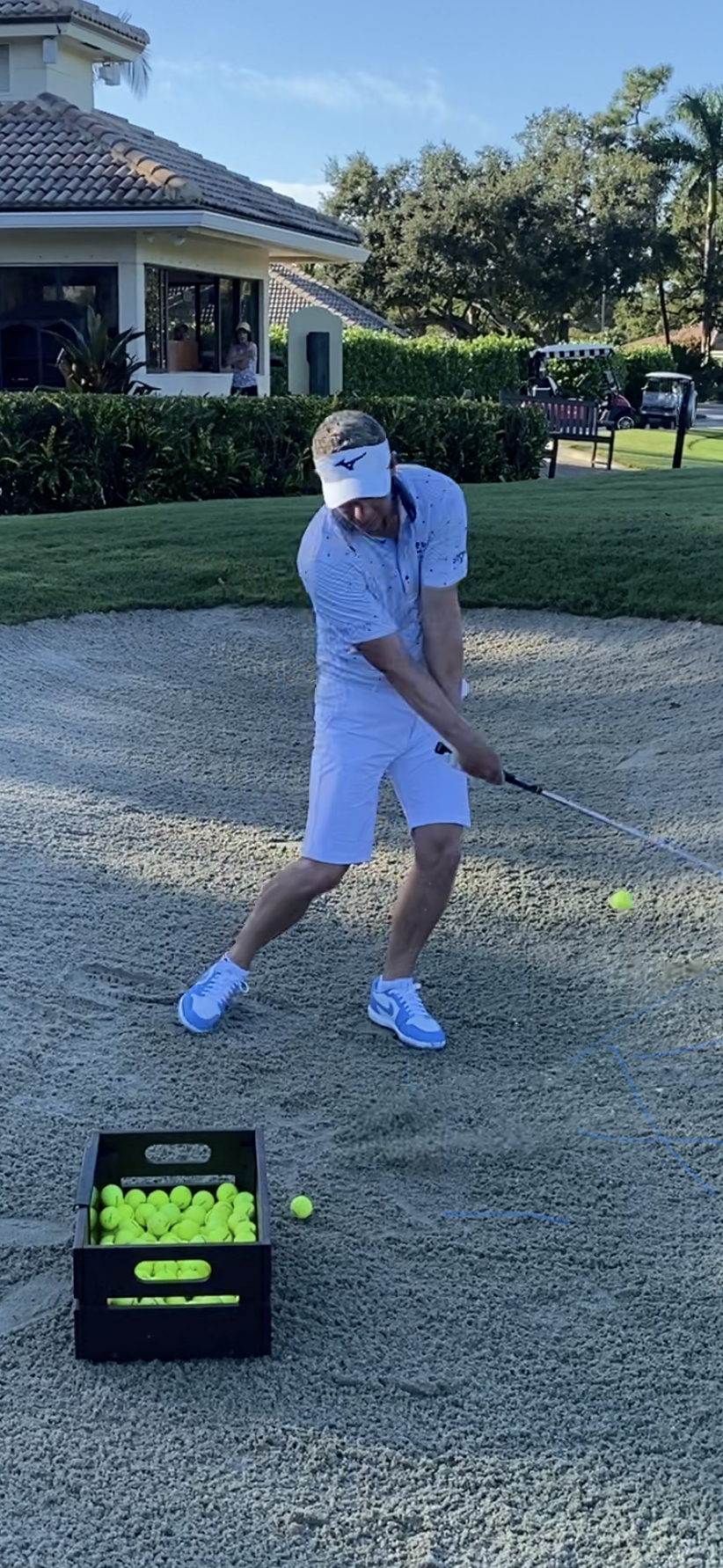 Johnston: How much are you looking forward to leading Team Europe in the Ryder Cup?
Donald: I'm extremely excited. After all, it's a huge privilege. A lot of the cogs have been in the works for a long time, and we're making great progress. It's been an exciting journey so far and I'm just trying to enjoy it as much as possible. It will be over before I know it, so I really just want to soak it all in. I love the Ryder Cup and leading the European team will be a thrill for sure. I remember how much fun I had as a player in the past, so leading it should be unforgettable.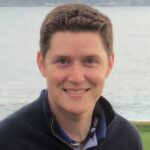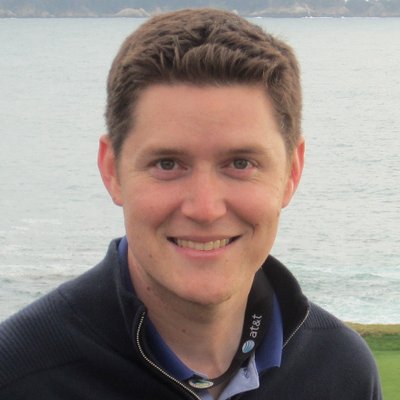 Garrett Johnston is a Washington, DC-based golf journalist who's covered 40 major championships over 13 years. He hosts the Beyond the Clubhouse Podcast with various players, caddies and broadcasters from throughout the world of golf. Hit him up on X (formerly known as Twitter) – @JohnstonGarrett
Photos by Darren Carroll/PGA of America.