Glenn Carlson is PGA Head Golf Professional at Torrington Country Club in Goshen, Connecticut.
Glenn Carlson on the importance of using inflatable chipping games for your juniors, members and outings:
Six years ago, I purchased a couple of inflatable chipping games with special balls, originally intended for our junior golf program. These are much nicer than chipping into a circle or barrel. We use them in our junior camps. The kids say it's their favorite skills challenge, and their parents enjoy watching their children play the chipping games. We also use them as a station for our member skill challenges throughout the year. In addition, more than half of our outside outings on Mondays use them for chipping contests to raise money on the course for their charities. We set up on the 17th hole, to the side of the tee, or out in front of our flagpole. It takes extra time for participants to play the game, but everyone enjoys it. The items are sturdy; I haven't even had to patch them. We hold them down with rings and tent stakes, wipe them down when they get wet and roll them around to get the air out, and I bought plastic bins to store them all.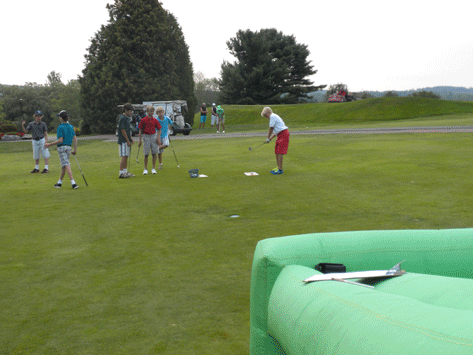 Glenn Carlson on the business impact of using inflatable chipping games for your juniors, members and outings:
These inflatable items are not inexpensive, but I have offset the pricing with the rental fees from our outside charity tournaments. We rent a unit to a tournament organizer for $50 per event, and we're up to $2,200 profit over the past six years. The units have more than paid for themselves, and they give a cleaner, more professional look to events. We're happy grabbing that extra revenue.
If you would like to email the author of this Best Practice directly, please email GCAR14@optonline.net