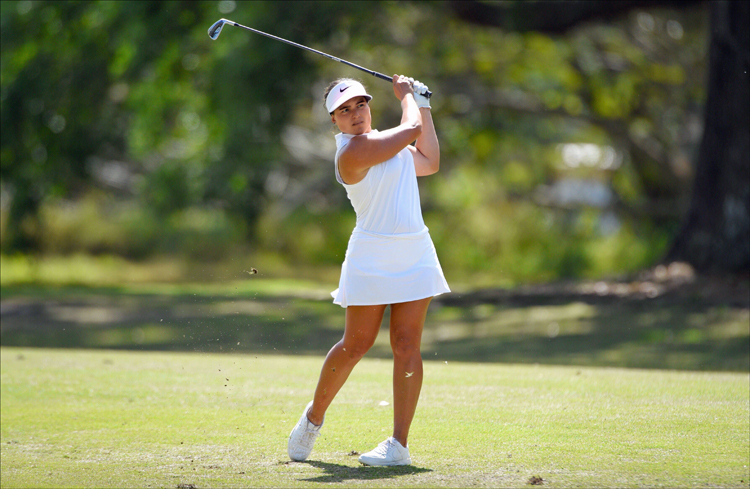 By Natalie Sheary, LPGA Symetra Tour
Like many of you, I love golf and cannot wait to get back on the links. As you know, this is a particularly tough time for golf, for sports, and society in general. So, as we wait for the COVID-19 pandemic to pass, how can we become "golf ready" so we are able to hit the ground running once the season begins? For those of us who find our recreational facilities shut down, we can still get into golf shape. With a little imagination, creativity, and drive, golfers of all ages and abilities can accomplish it from the comfort of their own homes.

These tips are simple yet crucial and can be performed in and around your home. Being from the Northeast, I often practiced indoors in an attempt to keep up my training. Things, such as reading books, performing exercises targeting lower body and core, stretching, and flexibility, golf swing mirror work, and indoor putting drills can help fill your downtime and prepare you for the upcoming season.
Reading and engaging your brain go hand in hand with golf. We have all heard the expression that golf is a "game of inches located between the ears". Strengthening your mind by becoming more knowledgeable, learning to quiet your thoughts (doubts over a shot), find peace and acceptance (positive self-talk), etc. can all help with shot creativity, patience, course management, and more. Rory McIlroy and Tiger Woods are both avid self-improvement readers and according to them, it makes them better golfers. I personally read a lot of self-help books. The more I learn about myself and my tendencies, the more self-aware I become of the thoughts or actions that negatively affect my golf game. One golf-specific author I recommend is Bob Rotella. Many of the serious golfers I have encountered have read one or more of his books. They won't disappoint.
Working out with bodyweight exercises, bands, heavier lifting, etc. has become a mainstay in golf at all levels. Golfers are athletes too – we need to stretch, strengthen, and get our bodies moving in ways that will keep us injury free while increasing movement patterns for our golf swing and regular way of life.
Although a gym is helpful, it is not always necessary. Personally, during this period of isolation, I have two-a-day "home workouts". One is walking 5-7 miles while listening to podcasts or audiobooks. I walk because I want to stay in "golf shape". Every round we play during the season, including practice rounds, is done by walking. Being able to walk a course with ease is very important, especially for those of you who carry your own clubs or use a pushcart. There is no need to play "sloppy" golf from the fifteenth hole on due to fatigue. Take the initiative now and get moving!
My second workout of the day during the stay-at-home order is a modified gym session from my trainer, Trevor Anderson. Social media has been very helpful in maintaining a level of normalcy for me. Every Monday through Friday my coaching crew goes LIVE on Instagram (@BetterEveryDayOrlando) with a daily workout that can be done with or without weights. Trevor is a top golf strength trainer that I think you all would greatly enjoy and benefit from – hop on and check him out. If you're not into high-intensity training, and yoga and stretching is more your style, I encourage you to search YouTube for countless routines made specifically for golf that are easy to follow. Just search "Yoga for Golf" for example and you will be surprised how many search results pop up.

Swinging a club in front of a mirror ("mirror work") is something that professional golfers do all the time, often in their hotel rooms after rounds. For some, it's just as important as stepping onto the range.
Stand in front of a mirror (side view and front view) and stop your swing at various points to check if the club is on plane. It's training your body to get consistent at various points of your swing. Additionally, it is crucial to work on the basics such as grip, stance, ball position, and alignment. You can work on alignment by setting a club on the ground with the grip pointing to a specific item in your house. Step into the shot as you would on the golf course while trying to line up to the focal point, then take your stance. Are your feet parallel to the club on the floor? These are very simple things, yet detrimental when neglected. These fundamental ideas can make all the difference if you take some time to learn your natural tendencies and how to adjust them.
Your putting skills can certainly be honed indoors as well. As with the long game, the most important aspects of putting are the small things (grip, stance, and ball position) and mirror work can also be great for those factors.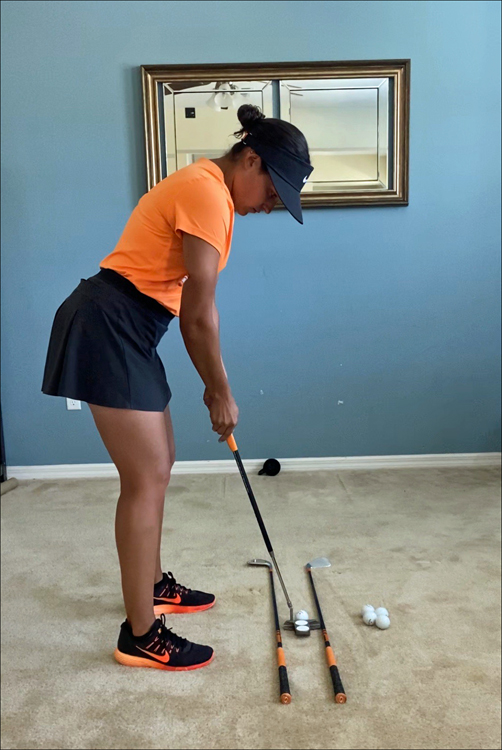 Practice your putting stroke by laying two clubs parallel to each other on the floor, slightly wider than your putter head. Can you hit the ball without your putter hitting the clubs? This is an instant feedback drill, and you will know right away whether or not you made a solid stroke. You may have seen Tiger doing something similar with tees on the practice green – it's his famous "gate drill". Starting the ball on the line of your target is an integral part of putting. If you can work indoors so your stroke and "step-up" become second nature, the only things you will have to consider on the course are break and speed.
I hope these ideas are helpful. In this difficult time, I wish you all a very safe and productive offseason. Happy Golfing.
Natalie Sheary is a professional golfer from Hartford, Connecticut. She was a well-decorated college golfer and earned her degree from Wake Forest University. She is in her ninth season as a touring professional, and has competed on the LPGA and LPGA Symetra Tours. She has one recorded win on Tour and has held the number one position in driving accuracy and greens in regulation for the last few seasons. She looks forward to starting her season with full status on the Symetra Tour.