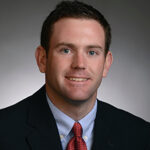 Gaylon Cude, a 2020 GRAA Growth of the Game Teaching Professional, is a PGA Teaching Professional at The Little Course in Franklin, Tennessee.
Gaylon Cude on the importance of developing a building block approach for juniors:
Golf House Tennessee is owned and operated by the Tennessee Golf Foundation, a non-profit organization that was created to grow the game across the state of Tennessee. It was created by the Tennessee PGA and Tennessee Golf Association in 1990, and we now house all three organizations within our building. We host roughly 400 hours of clinics, in addition to day camps during the summer, that serve 1,200 junior golfers each year. With a full driving range and nine-hole short course that is maintained by our neighbors at Vanderbilt Legends Club, we have everything in place to develop a passion for golf among our many young students. We follow a six-step skill series as the player development path for our juniors. With Welcome to Golf basics and Putting Fundamentals being the first two steps and Short Game Fundamentals and Full Swing Fundamentals as steps three and four, students have an extensive introduction to the game that is reinforced by steps five and six, Full Swing 2 and Short Game 2, where we really get into the individual performance of each student. To diversify an already all-encompassing program, we implement a playing lesson within the first three steps and another within the final three. This building block approach covers all the basics of grip, stance, setup, the swing, putting and short game, and puts their new skills to the test on the course, where they will need to perform going forward. Each step is three weekly sessions. With the education provided being stretched across several months, we give homework between sessions to encourage juniors to come back and practice what they've learned and to simply play more golf.

Gaylon Cude on the business impact of developing a building block approach for juniors:
From a facility standpoint, more golfers on the range and golf course means we're doing something right. When it's the same young golfers who are attending your specialized programming, it's even more of a motivating factor from our point of view. We recently teamed up with Operation 36 on the course to synchronize the transition from range to course, adding to the fun and excitement we want our juniors to experience. After all, if they're not having fun, all the expertise and top-notch facilities possible won't keep them coming back. We welcome twelve students per class (with two instructors) and have multiple classes for all age groups going every day from mid-March through October. Age groups include 4-5, 6-8, 9-12 and 13+, always ensuring that next step of learning is available. In fact, once they finish one level, the next level usually starts the very next week. That progression through the program keeps the kids engaged, the parents happy and our golf instructors very busy, just as it was envisioned more than 30 years ago when our framework to grow the game was established.

If you would like to email the author of this Best Practice directly, please email gcude@pgahq.com.