Utilizing your green space to host unique family-oriented family-oriented activities
The owners and management at Alico Family Golf (AFG) in Fort Myers, Florida believe the game should be fun – lots of fun. That's why they place so much emphasis on hosting unique activities that make the facility a destination for mom, dad and the kids. "Our motto is to learn, practice and play the game of golf," says PGA Professional Kraig Feighery, the managing general partner of the facility, which is aligned with The First Tee of Lee County. "This triangular philosophy is so important to growing the game. We believe in a low cost, time sensitive and user-friendly approach. These are three essentials that operators cannot ignore." As Feighery describes, AFG does the basics very well. They have all the boxes checked with a large practice range, a dedicated clubfitting business, food & beverage offerings, as well as a lounge area with televisions. But what sets them apart is the variety of family-friendly programing they offer that extends beyond enjoying golf.
To take advantage of its green space the facility has a ping pong table and horseshoe pit to help bring in customers who might not otherwise visit. Says Feighery, "We do a variety of games, such as kicking a soccer ball into a large hole on a green, and we have used our green space for various events like 'Hunger Games' and 'Survivor' types of activities. We are looking at Frisbee golf and other outof-the-box things to do." In the past, they've even worked with a local reptile house to bring in a few special guests – including a baby alligator and an albino python (pictured). Both of which were very popular with kids. To keep the fun going 52 weeks a year, AFG host "Funtastic Fridays," where there are food & beverage specials and golf at three all-day price tiers: $12 for unlimited range balls; $20 for unlimited range balls and unlimited miniature golf; and $30 for unlimited balls and mini golf, as well as nine holes on the short course.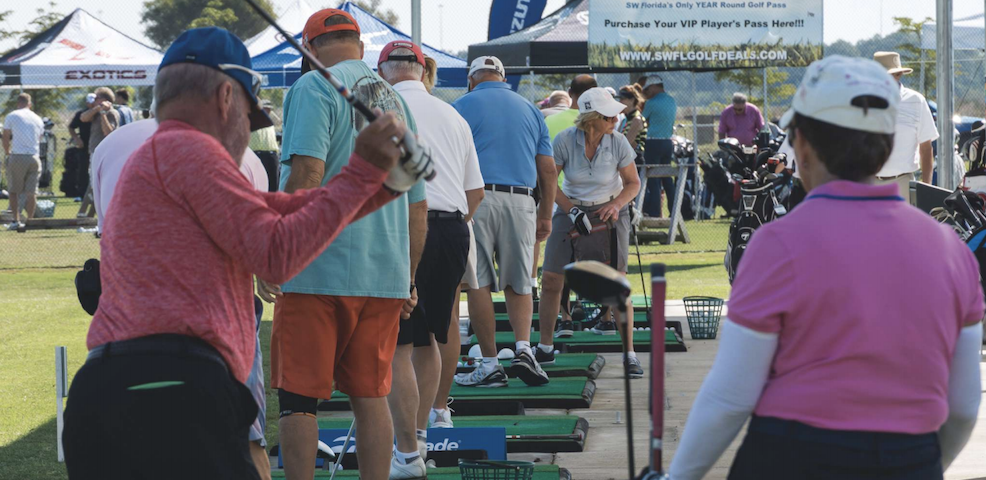 Launched in December of 2015, about a year after the main facility opened, the nine-hole short course has been a valuable asset. "It changes the perspective of golf and golfers on a significant scale," describes Feighery. "It really is golf and it allows us to have something for the more serious player who wants to practice their game but also test it out in an actual golf setting." While the short course has made the facility more attractive to serious players, here's an important observation for other range owners to chew on. Feighery reports that some of his most faithful customers have never played a round on a regulation course, yet hit balls late into the night using AGF's light-up targets and practice their short games on the short course. Hence, a captive audience that returns time and time again. During the summer months there are "family days," which include unlimited miniature golf ice cream for the kids, and range time for the adults. There's a summer instruction program for $99; a summer range pass for $450, which gets the holder unlimited range balls and $10 18- hole rounds on the short course; a short course summer league; and junior summer camps. For the adults, happy hour lasts from 5 to 10 p.m., with inexpensive beer and wine, all with a backdrop of rock, hip hop and country music.
Focusing on the next generation of golfers, while still satisfying the core golfer presents challenges but "will be fun," says Feighery, who envisions new formats of the game emerging, with a heavy focus on "short term fun, like our short course." He adds, "We believe old concepts will reinvent themselves, with closest to the pin and hole-in-one contests, all mixed with music, networking and socializing. A miniature golf tournament and a short game championship that rewards chipping and putting rather than traditional stroke play will bring new golfers to the game. "It's time for imagination to take over. The game deserves it."