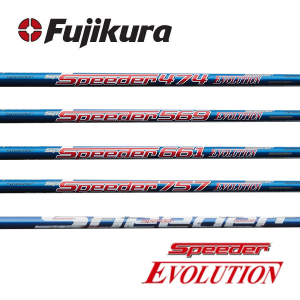 As the golf industry wraps up another successful PGA Merchandising Show in Orlando, Florida last week, there is a lot of buzzing about the "what's hot?" and "What's new?" in the equipment news outlets. It is certainly an exciting time of year for golfers who are looking for that next big thing to improve their game.
Fujikura golf shafts have been among the most trending conversations with the debut of their 2015 product offering at the PGA Show. In fact, the newest global release from Fujikura Japan, the Speeder Evolution, is already being played by 22 players on tour. Additionally, in the Open tournament 2 weeks ago, there were an astonishing 72 Speeder shafts put into play according to the Darrell Survey count. That count is Speeders only and does not include the other models such as the PRO and Fuel shafts which have claimed many wins.
Also in tour news, the winner of the Qatar Masters used Fujikura Fuel 75x in his Big Bertha Alpha 815 Double Black Diamond 815 (8.5 loft) and Fujikura PRO 73x in his Big Bertha V Series three metal. The champion has averaged 308 yards per drive this year.
Fujikura golf shafts are getting some long overdue credit for their performance and fitting heritage now as golfers seek more credible promises from equipment manufacturers. Consumers are relying on trial more than ever and have really embraced a "seeing is believing" mindset as part of their pre-purchase behavior.
Fujikura has always maintained a reputation of fitting shafts to unique swing characteristics as their foundation to making the world's best performance golf shafts. Alex Dee, Vice President of Fujikura explains: "Fujikura employs advanced technologies and analytics to enrich knowledge in this field. Our Enso system is at the heart of Fujikura shaft design and development. Enso allows us to measure the shaft's dynamic performance and effect on the club head orientations, position, and velocities with incredible accuracy. With systems at our US and Tokyo offices, the knowledge we gain on a daily basis with Enso enables Fujikura to validate new design concepts and enhances our ability to fit golfers to the optimal Fujikura shaft."
Fujikura's commitment to fitting and making shafts that optimize the performance of the entire club has resulted in an astonishing statistic that Fujikura can claim after years of measuring their commitment to excellence. 99.6% of all golfers who are fitted with a Fujikura custom shaft to instantly gain an average of 13.5 yards.
As a result, the Fujikura Speeder Evolution has been a highly anticipated release among equipment experts in online and offline conversations. The new Speeder Evolution has increased the overall club performance by increasing the club head speed, which in turn has increased the ball speed, resulting in measurable distance increases combined with the un-matched accuracy that Fujikura shafts always provide in every shaft they make.
About Fujikura
Fujikura makes the world's best performing golf shafts and is a primary supplier of custom golf shafts to many original equipment manufacturers (OEMs). 100% of Tour Professionals use custom fit golf shafts and with the help of our 900+ certified Charter Dealers, you can too! Amateur and everyday golfers have the opportunity to find a shaft to fit their unique swing profile, ultimately adding yards, tightening dispersion, and increasing confidence with every swing. The first step to a custom fit shaft can be done right from your iPhone or Android or at FujikuraGolf.com. The Fujikura Fitting Application for iPhone and Android fits you to one of Fujikura's shaft families, then the fitting is completed at a Fujikura Charter Dealer. For more information on the Speeder757, Motore Speeder, PRO, FUEL, and EXS shafts, visit FujikuraGolf.com.
To learn more about Fujikura Golf and Fujikura Composites of America:
Website: FujikuraGolf.com
Facebook: facebook.com/fujikuragolf
Twitter: @FujikuraOnTour
Instagram: @FujikuraGolf
YouTube: youtube.com/FujikuraTour
Contact:
Stephanie Hartgraves @ SHartgraves@FujikuraGolf.com