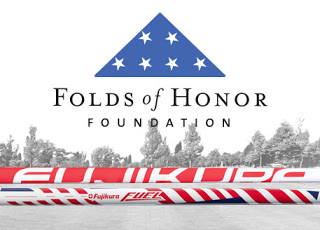 Fujikura and the Folds of Honor Foundation have teamed up to give golfers a way to improve their game while showing their patriotism and giving educational scholarships to the military families of those who have been killed or disabled while in active duty.
As many know, Fujikura makes the most highly sought after, high performance golf shafts in the world. In fact, the Darrell Survey recently reported Fujikura the #1 Driver shaft brand on the PGA, LPGA and Champions tour.
Fujikura has announced that they are teaming up with the Folds of Honor to provide support to these families by creating a custom painted and limited edition "Patriot" edition of their PRO series and Fuel Tour Spec branded shafts. The shafts are red, white and blue and have the Folds of Honor logo and the words "Patriot Edition" printed on each shaft.
Fujikura aftermarket shafts are only available via certified specialty golf retailers and club fitters traditionally, but Fujikura has also partnered with club and grip manufacturers so that they can offer golfers the ability to customize their shaft on FujikuraGolf.com and ship it play-ready direct to the customer. They are still encouraging golfers to visit one of their Charter Dealers to get properly fit, but for players who know their specs and want to buy online, Fujikura is hopeful that giving customers and supporters more options will increase sales and therefore, increase the proceeds donated to the F.O.H. Foundation.
Dave Schnider, President and Chief Operations Officer at Fujikura Composites LLC explains why Fujikura is going above and beyond to support the Folds of Honor Foundation.
"I had the pleasure of meeting Major Dan Rooney at a PGA Ambassador Conference in the Dominican Republic back in 2012. My wife and I had dinner with Dan and his wife and got to hear Dan's inspirational story about that fateful night, as he describes it, he decided to create the Folds of Honor Foundation. I was really drawn in by the fact that here is a PGA Professional who is applying his two biggest passions, Golf and the Folds of Honor Foundation, to help the children and spouses of the military sacrificing their lives for our country. "
Schnider added, "We have been committed to supporting the Folds of Honor Foundation ever since and we look forward to increasing our level of support year over year. We feel fortunate that we can contribute to such a wonderful cause in a way that is also helping to grow the game of golf."
The Patriot edition shafts are available on the Fujikura website at FujikuraGolf.com within their online accessories store. Customers can choose from 11 different weight/flex options and then choose the tip and grip of their choice. Custom length is also an option offered. The price is $175 and Fujikura is offering to build up the custom driver shaft and ship directly to customers so that they can plug-and-play! The proceeds will go to the Folds of Honor Foundation via a check presentation at the 2016 PGA Merchandising Show in Orlando Florida at the end of January.
About The Folds of Honor Foundation
Honoring Their Sacrifice, Educating Their Legacy.
Of the one million-plus dependents adversely affected by deployments to Iraq and Afghanistan, nearly nine out of 10 do not qualify for federal scholarship assistance. Folds of Honor seeks to meet this need by providing annual educational scholarships to the military families of those who have been killed or disabled while in active duty. These help support private education tuition, tutoring and educational summer camps for children K-12, as well as higher education tuition assistance for spouses and children. Since its founding in 2007, the organization is proud to have awarded over 7,500 scholarships, including over 2,000 in 2014 alone.
To learn more about Folds of Honor, please go to: foldsofhonor.org
About Fujikura Golf
Fujikura is the primary supplier to many national club brands offering both proprietary and brand product shaft designs. Fujikura products also can be custom fit through it's network of over 900 Charter Dealers worldwide. Custom fit shafts are used by 100% of Tour professionals. Amateur and everyday golfers also have the opportunity to find a shaft to fit their unique swing profile – adding yards, tighter dispersion and more confidence to their swing. The first step to a custom fit shaft can be done by using the online fitting tool at Fujikuragolf.com, then the fitting is completed at a Fujikura Charter Dealer nearest you.
To learn more about Fujikura, visit fujikuragolf.com or Like us on Facebook facebook.com/fujikuragolf
Follow us on twitter @FujikuraonTour
Follow us on Instagram #FujikuraGolf
Contact:
Stephanie Hartgraves
SHartgraves@FujikuraGolf.com