A collection of ideas from some of the game's leading instructional minds on how to "transfer training"
BY: DAVID GOULD
Golfers who take lessons and hit balls so they can shoot lower scores need to change how they train. That's the growing consensus among top teachers, who are advising amateurs to reduce their repetitive ball-hitting on the range — a.k.a. simple "block" practice — and find challenges that mimic the real game as played on-course. Obviously, going out on the fairways with an instructor — or with an instructor-designed on-course practice program — is the ideal way to encounter the challenges we're talking about. At some facilities this may require some negotiation with course managers, but logic tells us that courses need enthusiastic golfers and teaching that works is the ticket for filling that need.
Dedicated golf instructors in the U.S. are looking to get better at the part of their craft known as "transfer training." Recently a group of Colorado PGA Members met at Castle Pines Golf Club in the Denver suburbs for a full day to share ideas and trade questions about how to give effective playing lessons. During introductions over breakfast, one professional put it very simply, saying, "All I know is I have to get my students off the range."
You can enter the search phrase "can't take my driving range swing to the course" and find pages of online articles and forums addressing the problem. Of course, 90-shooters who make this complaint usually fail to track how many poor shots they produce in a range session. Still, they're not wrong in thinking that on-course performance can seem dramatically different from the on-range rehearsal.
Among early adopters of the "transfer" approach to skill building and score lowering are Pia Nilsson and Lynn Marriott of Vision54. Indeed, the renowned Scottsdale teaching tandem just devoted an entire book to this general concept: their recently published "Be A Player." In the introduction they put the matter bluntly: "You have to be in the pool to learn how to swim, you have to be on a tennis court to learn to play tennis, and you have to be on the golf course to learn the game of golf," they write. "You need to dedicate time on the course when you're not focused on keeping score. You need to be on the course to discover what works."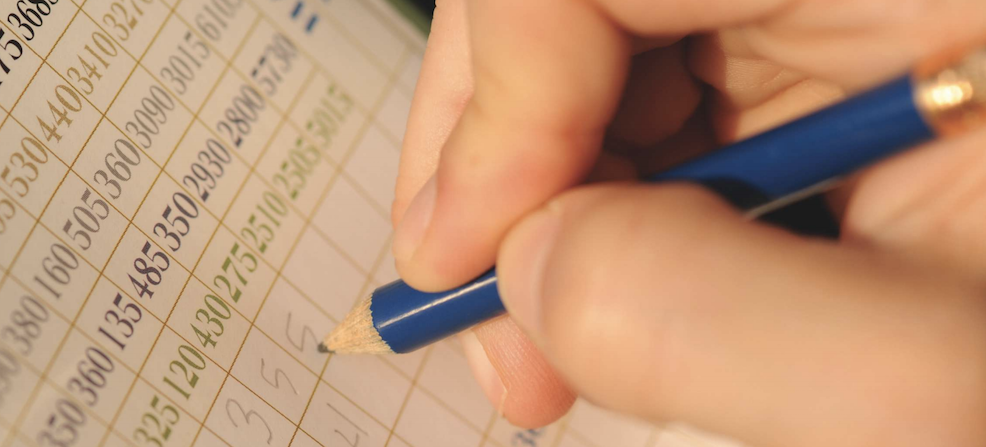 If you have some familiarity with Vision54 and its techniques, you probably know about Think Box, Play Box and Memory Box. That's the academy's terminology for how a student behaves and feels while preparing to hit a shot, while standing over it and hitting it, and while observing the result. Vision54 students are taught to imagine these "boxes" as phone-booth-sized spaces behind and alongside the ball. Depending on which box you're in, you call upon a particular brain center and mental state to be dominant. Then you move on to the next box and turn your attention to the neurological sector that fits that box's purpose.
Two younger but widely praised golf coaches, Matthew Cooke and Iain Highfield, have looked so long and hard at take-it-to-the-course golf instruction that their program and joint website is actually called Game Like Training Golf. Like the Vision54 professionals, they ground their beliefs in a fairly extensive study of neurology and the central nervous system. Highfield, a transplant from the U.K., oversees mental training strategies at Bishops Gate Golf Academy, an elite-junior facility north of Orlando, as well as at the International Junior Golf Academy near Hilton Head, South Carolina. One of the scientific principles he's been emphasizing is "metacognition." By that he means "the awareness and understanding of one's own thought processes."
Young people, Highfield has found, lack metacognitive skills and certainly lack training in this area. As a result they're generally unable to leverage the "happiness advantage" researchers have identified as a performance edge brought on by a positive emotional state. "Golfers have to be happy first, then they'll play well," advises Highfield. "Waiting to be happy, and having happiness depend on playing a good round, doesn't work." Golf hit upon the importance of "the mental side" a generation ago, but all the neurological detail we've heard lately is fairly new. So is the belief that you tie together physical/technical and mental/emotional training as part of your ongoing improvement program, then, during competition, remain well aware of how you've integrated these parallel skill sets. Obviously, that means the golfer has to be taught how to move from one cortex to another when they're out on the fairways fending for themselves, but apparently that's a pretty instinctive process, once someone's received the tools.
Cooke and Highfield pay great attention to the learning environment. They try to bring the course to the range, in a sense, by "creating environments that represent tournament conditions while simulating appropriate stress-response situations," according to their mission statement. If a student goes the distance with this instruction, they end up in SIT, with stands for Stress Inoculation Training. Mike Perpich (pictured)is a sought-after PGA Professional based at in the Atlanta suburb of John's River. His teaching facility at the River Pines Golf Club has a threehole practice loop alongside the range. That makes it easy for him to work the "transfer" process, where skill coaching and shooting a score come together, but Perpich tries to think range-to-golf-course as often as possible. "Basically all golf instructors interview their students about strengths and weaknesses," Perpich says. "From the beginning, I'm looking for all the places where what they're telling me about their play on-course and what I see on the range doesn't add up." He credits Dr. Paul Schempp, author of seminal research into how the finest teachers develop their skills and capacities, for helping him "see" the student's needs and progress more clearly.
"One thing Dr. Schempp opened me up to was the problem of over-focus by the student on their deficiencies," says Perpich. "Out on the course, you see their strengths — what they can do well when there's only one ball, not a basket of balls. As a coach you make sure they give themselves credit for that." In fact, you might even let them "practice" what they're good at, even though that doesn't seem like the best use of time, because what golfers do well is foundational to their confidence every time they step on the first tee of the golf course. Another range-to-course facilitator Perpich uses is simulation of the flow of a round even while a student is on the practice tee. This includes water breaks between shots and other interruptions of block-style repetitions.
The writings and teachings of Scott Fawcett — math whiz, frustrated tour player and poker professional — are getting a lot of attention within the teaching community. Fawcett offers fellow instructors his "DECADE" course-management concepts, which calls upon his host of skills including Fawcett's expertise in poker and blackjack odds. His version of a course map is a study in sophistication. He fills it with geometric axes and vectors, all generating likely numerical outcomes, depending on how a player positions him or herself along the route of a hole. Generally it's a system that encourages smarter, safer play, very much erring on the side of caution. But Fawcett has a legion of followers, including tour players and top NCAA D-1 coaches.
If you want to improve your skills in on-course teaching, Dan Sniffin suggests making yourself both the coach and the student, with an assistant along to help. "I basically gave myself a playing lesson," explains Sniffin, who is PGA Director of Instruction at Omni Interlachen Resort in Broomfield, Colorado. He had a fellow golf professional along and they began this innovative session with the video camera rolling and the "student" hitting a drive on the range while picturing the fairway of the first tee and the shot shape he tries for to start that hole.
"I hit the tee shot, and it went where I was aiming," says Dan, "and then we set up a side-by-side viewing of the two swings, on my buddy's phone." The comparison floored Sniffin — his tempo being so much faster on the second swing. "The two swings felt very similar, but one was seven frames quicker on the replay. That really drove home the reality of how big a deal it is for our amateur students to try and go from the range to the first tee."
Bill Davis, based at Abacoa Golf Club in Jupiter, Fla., uses the term "Scenario Sessions" for the work he and his students do on-course. Much of what Davis teaches out there is detailed and nuanced — he's focused on how a player "reads" the course, manages their round and matches the various challenges with their own stage of skill-development.
Davis spoke of a woman whom he's coached as she has lowered her handicap from 30 down to 20. During a recent playing lesson, he stood with her over a pine-straw lie just inside the treeline and gave her permission to hit driver from that spot. Making contact was no problem (with driver she was used to not touching the ground), the strong loft worked in her favor, her ball stayed below a series of limbs and it ran all the way to the front of the green. "She has that shot in her bag for the rest of her life, when she needs it," muses Davis, noting that tricks like this add confidence and lead a player to feel generally more open and creative in their shotmaking.
In greater Chicago, the go-to elite junior academy is The Player Service, or TPS, and John Perna runs it. His philosophy and talents have helped no fewer than 85 students earn golf scholarships at Division I colleges in just seven years. Perna's message to his young aspirants is that you don't get better at golf when you're working on your swing, and you don't get better at golf when you're using the repetitive or "block" form of practice. Even random practice, the alternative to block, isn't effective unless there are games, competitions, "combines" or other forms of feedback built into the random-practice session.
"Block practice is a regimen that the student follows until they've corrected their ball-flight problem," says Perna. "By doing that, they earn the privilege of returning to our academy's particular style of random practice, our TPS Combines. Random practice with feedback — and a consequence — is the only way a tournament player can build skills that transfer to competition."
If you're intent on tilting your teaching practice more toward an on-course and scoring-based approach, you'll want to know about a concern that came up at the Colorado PGA seminar referred to at the start of this article. It had to do with what a playing lesson actually is, at least in the mind of the student as they prepare to take one. It was fairly unanimous among seminar attendees that the many different ways you can actually run a playing lesson lead to a strong chance of confusion and dissatisfaction among golfers, when the purpose, process and protocol aren't spelled out carefully in detail ahead of time. In cases where there's a full explanation and all questions answered, the student's satisfaction is high and a second playing lesson gets scheduled — which is good for the student, good for the teacher and good for the game.