Range makeover and the leadership of a top-rank director of instruction have turned a socially prominent club into a serious place for game-improvement
BY: SCOTT KRAMER
Andrée Martin can be found on her new golf practice range most days from sunrise to sunset. And that's great news for members at Fairbanks Ranch Country Club in Rancho Santa Fe, Calif. Now in her second year as the club's director of golf instruction, the New England native is a student of her craft known for seeking out the latest in coaching techniques and technology.
With 30-plus years in golf, Martin is both experienced and well credentialed. She is an LPGA Class A professional, a certified golf coach and an inductee to the Maine Golf Hall of Fame. She's worked for PING and Titleist, was executive director for the LPGA Urban Junior Golf program and spent two decades teaching in Peggy Kirk Bell's Golf Schools as well as in the Craft-Zavichas Golf Schools. Martin has received the Golf Digest Award for Leadership in Junior Golf and was named one of the Top 50 Teachers in the U.S. five times by Golf for Women magazine. Under her familiar cowboy hat, Martin's eyes remain peeled for the hitches and lunges that a weekend golfer needs help in fixing. "I've been very blessed with my career in golf," says Martin. "My goal is to see every student light up as they feel a new technique working for the first time." Every golfer has a different reason for playing the game, in Martin's experience, so it can take some detective work to truly understand their goals. "I love working with the variety of learning styles," she says. "The ideal is to find your students some fast and purposeful routes toward fulfillment of their goals— given the time they legitimately have to work on skills."
Regarding the cowboy headwear, Martin says she made the move during a teaching stint in Denver. "A baseball cap wasn't warm enough as the cooler days came around," she says. "I've always liked cowboy hats and then one day I found a felt one at a local festival. I got so many compliments that over time I bought one more, then another. They're fun to wear and I guess they've become a trademark."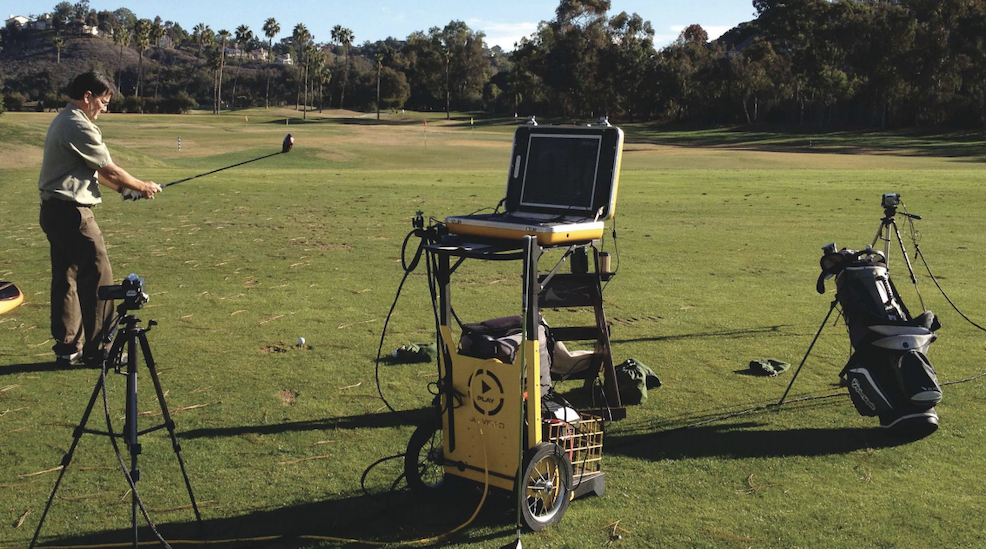 It has been a true pleasure for Martin to exploit the great advantages of her club's fully renovated and expanded practice complex. Members were striking more than 10,000 balls a day, a volume the old range couldn't accommodate. Despite best efforts to rotate hitting space, the range turf didn't have enough recovery time. So in 2013 the facility was renovated on a tight budget, with a new layout that yielded an additional 15,000 square feet of teeing ground. The short game area was moved to the opposite end of the complex. The two tiers used for hitting were leveled to one, then widened over the old short-game area, meanwhile getting lengthened by 15 feet. "All the changes resulted in two additional weeks for new turf to grow back," says Martin. "It makes for an overall more enjoyable practice experience."
The second issue improved was landing area visibility: Hills were flattened and reworked so golfers could see their shots land. Third, an improved target area contrast was added around all of the pins. The grass is now cut shorter and the target green pigment has been tweaked to greatly improve visual contrast. The reinvented range is now 270 yards deep with 10 target flags. Thanks to what's been done for short-game practice space at the far end of the range, members now enjoy a genuine USGA-spec green and a bunker practice area. The Littler Short Game Area green–named after Gene, who frequents the practice range—is three times the size of the old one. "We can stretch to 75 yards on the short-game area," says Martin. "Most members are using it from 40 yards and in, because we have such a great target area on the range itself now. The bunker area was contoured to simulate conditions and shapes members will experience on the course." Around the clubhouse, a USGA practice green with challenging breaks was added, too. "We wanted a putting green closer to the new range where members would practice putting more frequently, because of the convenience factor," says Martin. "We also built it with challenging breaks and undulations to simulate the course more." To complete the makeover, Fairbanks Ranch installed lights around the greens and even installed lighted cups. Bag stands with putters and chairs are green-side for members and guests to enjoy, while they're having a drink and dining on the patio.
Overall, the improvements have also enhanced Martin's instruction. The added targets and flags allow her to encourage students to get more target-oriented, while the range and short game area allow her to create specific and purposeful practice plans customized for each student. "It's also laid out well for group clinics," she says. "We have a specific teaching area with a power port that's proven very valuable for video instruction and clubfitting. I also have uneven lies and rough off to the side that we use for instruction. And since the bunker area was contoured to simulate conditions and shapes members will experience on the course, they've been great for teaching bunker play during private and group instruction." As for technology, Martin incorporates high-speed video into the instruction via her iPad. "I have several teaching aids, use Swing-byte and will soon have FlightScope," she says. "You'd think serious golfers would respond best to technology, but all ability levels do when using it properly and appropriately. I definitely use it with juniors, visual learners, and the technically oriented learner. I prefer to use it more to reinforce what I saw, to make a point. I also forward to students their swings and drills to review from home."
Two other areas Martin's been addressing: Instructing long-term golfers who have had injuries and need to make challenging adjustments; and teaching upcoming Fairbanks Ranch pros how to become better teachers, while sharing her vast knowledge. Martin can often be found teaching individual lessons, women's groups and juniors. "Junior golf will always be special to me because of the impact we can make in their lives," she says. The program was minimal when she arrived and was in fact a key reason they offered Martin the position. "We've now created a year-round program with seasons and brought back the junior club championship," she reports, "which was a big hit. Camps, participation in little league golf, and expanded programs are next."
Most of all, Martin says she enjoys being able to teach diverse types of lessons all year, as the San Diego climate is conducive to that. "I taught 16 clinics in my first three-and-a half weeks there," she says. "I enjoy the learning that happens in a group setting, as well as the intimate private setting. Our membership is primarily comprised of educated golfers, many of whom have taken many lessons. I often need to break down all the information they've taken in and determine what really applies to them and their games where they are right now. I often simplify, so they're better able to transfer what they learn to the course."