-Press Release, Fairhaven, Mass.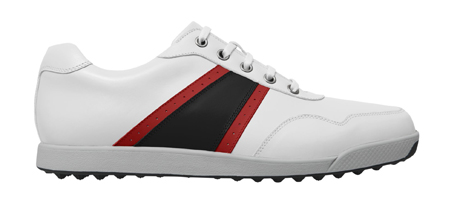 FootJoy, the #1 Shoe in Golf, announces the introduction of Contour Casual™ to its industry-leading custom shoe program, MyJoys®. According to the most recent Golf Datatech survey (Golf Datatech April Retail Market Share Report), Contour Casual is the #1 spikeless golf shoe in both the on and off course retail locations and trails only FJ's cleated Contour Series in total overall golf shoe sales.
The versatile Contour Casual golf shoes utilize super-soft premium leathers, lightweight underfoot comfort, waterproof protection, industry-leading size options and world-renowned fit. Now available in the MyJoys program, Contour Casual will also deliver 1.6 million possible customization options through four areas that can be colorized, including:
• Base color
• Contemporary swept-back saddle
• Underlays on either side of the saddle
• A second accent adds a pop of color around the toes, tongue, and heel areas.
"These shoes are an ideal option for the golfer who enjoys the convenience of wearing the same shoes from the golf course to the grill room but still demands the premium materials, comfort, style and fit that FootJoy is known for," said Mike Foley, Director of Marketing, Footwear. "With the addition to the MyJoys program, you now have the additional versatility to make them truly unique."
In addition to dozens of popular colors, animal prints and patent leathers, custom logos can also be added on the heel of each shoe. Choose to support your favorite Major League Baseball or Collegiate team with licensed logos, show your national pride with a flag, or pick from one of 98 novelty logos to give your shoes that special one-of-a-kind look.
Availability: June 17, 2013
MSRP: $175.00
MSRP (MLB or Collegiate licensed): $185
About MyJoys
MyJoys® offers consumers over 2,500,000 ways to customize the #1 Shoe in Golf, including exotic print leathers, personalization, country flags and MLB and Collegiate logos. Men's and women's cleated and spikeless options are available. Size options range from 4 XN to 17 XXW.
To learn more, visit: www.myjoys.com
IMAGES can be downloaded here: https://footjoy.imagerelay.com/sb/67a20e47-5856-45dd-951a-7254229e833a
FJ. The #1 Shoe in Golf.
FootJoy, headquartered in Fairhaven, MA has become synonymous with comfort, fit and performance products. The FJ brand combines an unmatched heritage and tradition of excellence with scientific materials and design technologies to provide superior and comfortable products to the world's most discerning golfers. For more information on FJ, please visit our website at http://www.footjoy.com.